Visitors take photos of the exhibits. [Xinhua]
A Special Exhibition of Cultural Relics and Documents of Soong Chingling, wife of revolutionist Sun Yat-sen (1866-1925) and a prominent political figure in the early 20th century, opened in Shanghai on September 4. It displays more than 400 precious documents, cultural relics and photos from six institutions about Song Chingling in Beijing and Shanghai.
The exhibition, marking the 70th anniversary of the founding of the People' Republic of China, was co-organized by the Shanghai Soong Chingling Research Association, the Shanghai Sun Yat-sen and Song Chingling Cultural Relics Management Committee and the China Welfare Institute. The exhibits include Soong Chingling's work "The Struggle for New China", Soong's seals and the first issue of China Construction Magazine.
The exhibition has designated areas for audios, videos and photos as well as theme books and cultural creative products.
Soong Chingling (1893–1981), also known as Madame Sun Yat-sen, was one of the three Soong sisters—who, along with their husbands, were amongst China's most significant political figures of the early 20th century. She had been the Vice Chairman of the People's Republic of China.
The exhibition will last until October 15.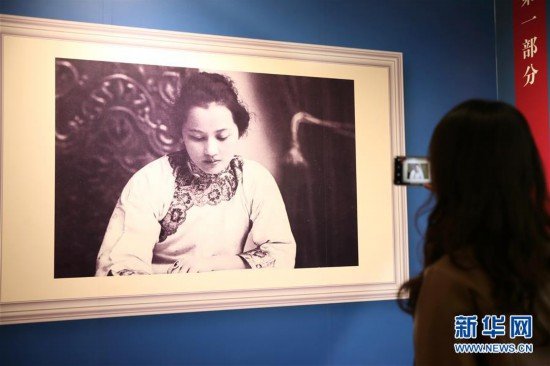 A woman takes a photo of Soong Chingling's photo. [Xinhua]
A woman takes photos of the exhibits. [Xinhua]
(Source: Women Voice / Translated and edited by Women of China)