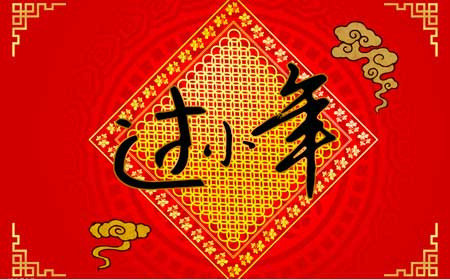 A poster of the 'Xiaonian' Festival [Xinhua]
Chinese people living in the north celebrated the nation's Xiaonian Festival on January 20 this year—one day earlier than those celebrating in the south.
Xiaonian, or the preliminary eve of China's Spring Festival, marks the final countdown week before the Lunar New Year eve (January 27). In terms of the Chinese lunar calendar, these traditional rituals were performed on the 23th or 24th day of the final month of the year—the month of sacrifice.
The holiday implies the beginning of household cleanup work and, historically, involved sacrifices to the God of Fire, whom folklore scholars believed to be a source of fire for use in food preparation during festivals.
According to many historians, ancient China had a strict system of hierarchy. Under this system, people of different statuses at various levels were asked to celebrate an assortment of festivals on specific days, both of which differed from those of their senior officials.
Emperor Daoguang, a monarch of the Qing dynasty, issued in 1651 a decree whereby the highest sovereign would regulate a unified celebration time period on the 23th day of the sacrifice month.
Since then, residents in the north started acting in accordance with the order. However, because of the vast geographical territory across which the Chinese people were dispersed, such imperial rulings could not properly reach the faraway parts of the nation. As a result, the residents of the south still performed the folklore rituals on the 24th day.
The nation's ethnic minorities also celebrated a similar festival based on their own calendar. It is said that some citizens nowadays living in east China's Shandong Province chose to hold such traditional gatherings amid summer vacation.
In two specific cases, Xiaonian has been incorporated into the Lantern Festival Holiday—or the night of the 15th of the first lunar month—in northern parts of east China's Anhui Province and in Nanjing, capital of east China's Jiangsu Province.
People from the Yi ethnic minority group attend their annual June 24 gala for the Torch Festival, which is widely believed to be a show of respect paid to the God of Fire as well.
Even though Xiaonian may seem to vary from region to region, Chinese people have been passing down such rituals up until this very day and will continue passing them on to future generations, commented a folklore expert.
(Source: Guangming Daily/Translated and edited by Women of China)