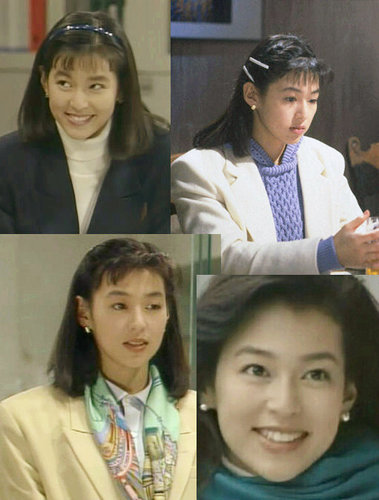 Japanese actress Honami Suzuki in the 1991 TV series Tokyo Love Story. [Mtime]
Nothing changes one's mood better than suits and high heels, though the former one once belonged exclusively to men's wardrobe.
However, when a woman puts on a suit, she projects a mix of masculine and feminine beauty.
In the 1980s and 1990s, suits were widely popular among women in China and other Asian countries.
Especially the ones with large shoulder pads.
The actress Honami Suzuki in such suits in the hit Japanese TV series Tokyo Love Story (1991) still looks impressive and proves the charm of a woman in suits.
Similar suit also appeared on Chinese women, from entertainment celebrities to common people. During China Central Television's Spring Festival Gala in 1991, Ni Ping, who later became one of the most famous TV hosts, sported a bright orange yellow suit with large shoulder pads.
At that time, Chinese women and their Asian sisters all endeavored to speak aloud in a male-dominated world. They studied hard, worked industriously and raised babies with no regrets. The large shoulder pads became a symbol or a demonstration of a woman who was not afraid to take on responsibilities.
However, as the time went by, large padded suits began looking funny. And more women decided to show their feminine side and reduce the masculine look a suit often brings.
Then suits with normal sized shoulder returned, yet with more designs, in more materials.
For example, lace began to be used in suits, which turned the then men's wear into a women's wear.
Additionally, heels are not the only choices to go with suits. Loafers (another thing from men's wardrobe) and ballet flats are more comfortable replacements.
Sneakers could be worn to show your attitude too, as British actress Emma Thompson showed by sporting a pair of white sneakers and navy suits when she was named dame this month.
If you are a working lady, then you must have a woolen suit for this winter.
It will be the most useful outfit to give you a smart yet posh look, with either shirts or turtle-neck sweaters.
But unless you have patience and time to brush such a wool coat every day, or even many times a day, earth colors could be a better choice.
Because the black one is prone to be disfigured by unidentified white things from other textures, and looks untidy and unclean.
(Source: China Daily)