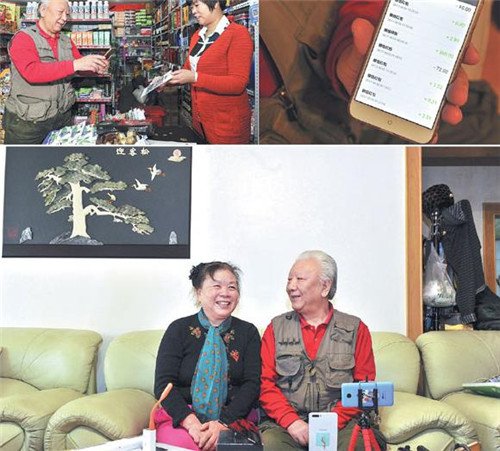 Clockwise from top left: Fan Wenhao, a 69-year-old man in Urumqi, capital of the Xinjiang Uygur autonomous region, pays with his mobile phone at a grocery; Fan shows his mobile payment records; Fan and his wife take a selfie at home. [Photo/Xinhua]
An increasing number of Chinese elderly people are embracing the digital world, China Daily said Tuesday.
It quoted data from major Internet companies and a big data firm to predict that there are about 50 to 60 million mobile Internet users in the country who are seniors.
WeChat, the most popular social media app in China, reported having 61 million users aged between 55 and 70 as of September 2018. Alibaba's Taobao and Tmall, two of the biggest e-commerce sites, reported having about 30 million middle-aged and elderly online shoppers. Their average spending was about 5,000 yuan (730 U.S. dollars) in the first nine month of 2018.
"New content, connections and lifestyles have popped up, buoyed by rapidly changing technologies," Cheng Wu, vice president of Chinese Internet giant Tencent Holdings Ltd, was quoted as saying. "The Internet can open a new world for seniors."
One of the reasons behind the rise of tech-savvy elderly is higher literacy rate, the paper said. And more middle-aged people are retiring with high familiarity with technology. They have already started shopping and chatting online.
Chinese elderly create new market as well. Many apps have emerged catering to the needs of elderly square dancers.
"The vast elderly group is gradually becoming a new market force," Si Xiao, head of the Tencent Research Institute, was quoted as saying. "We need to better serve their specific needs."
Chinese society is rapidly aging. According to the Office of the National Working Commission on Aging, there were 241 million people aged 60 and above in China at the end of 2017, accounting for 17.3 percent of the total population.
That number is expected to hit 487 million by 2050, it said. One in every three Chinese will be a senior citizen.
(Source: Xinhua)