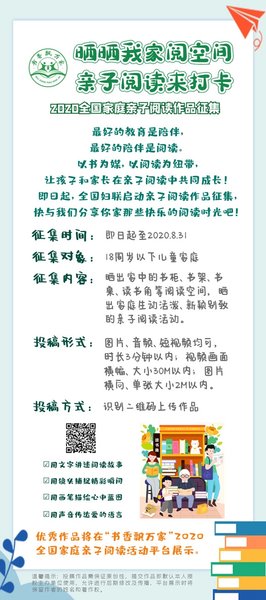 Guidance on the submission of works to the national parent-child reading activity [cctv.com]
As World Book and Copyright Day that falls on April 23 approaches, the Department of Family and Children's Affairs of the All-China Women's Federation, CCTV.com and the China National Children's Center launched a national parent-child reading activity on April 18.
According to the organizers, the themed event includes two campaigns, in which families with children aged under 18 are encouraged to share with the public their participation in parent-child reading and their bookcases, bookshelves, reading desks and other places where they read at home, and to showcase letters written to family members and to those on the front line of the fight against the novel coronavirus epidemic.
Participating families can also talk about the noticeable changes in their lives amid the national endeavor to build a moderately prosperous society in all respects and share their understanding of happiness and beautiful things in their letters.
All entries need to be submitted to organizers in the forms of image, audio and video through the CCTV.com, domestic short-video and livestreaming platform Kuaishou, and twitter-like weibo.com from April 16 to August 31.
During the event, sponsors will invite experts to give parents guidance on how to read books with their children.
Guidance on the submission of works to the national parent-child reading activity [cctv.com]
(Source: cctv.com/Translated and edited by Women of China)