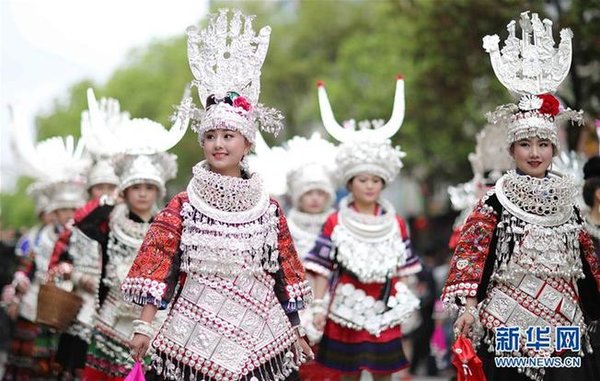 Young women attend the competition wearing traditional clothes. [Xinhua]
China Times Media has recently launched a competition to find and elect three new female cultural tourism ambassadors for Taijiang County, Southwest China's Guizhou Province.
The first round of the so-called 4th Miao Ethnic Group Flower event took place in Taijiang County. The top 20 candidates will be selected and later attend the final contest on May 1.
China Promoting Minority Culture and Art Association (CPMCAA) co-hosted the activity, with the support from China's Internet News Center, Edamei, Tencent and the local government of Taijiang.
The project has been held three times so far. It aims to promote historical culture and cultural exchanges among ethnic groups, and select the most outstanding women representatives
Taijiang Couty is known as the home of many members of the Miao ethnic group, and is where they stage the annual Sister Rice Festival.
In addition, organizers plan awards ceremonies for women from 56 ethnic groups, with parade activities taking place at home and abroad to promote the area.
The final three winners are expected to show the distinctive clothes of the Miao ethnic group and take part in a special talent show.
A senior helps a young women put on headwear. [Xinhua]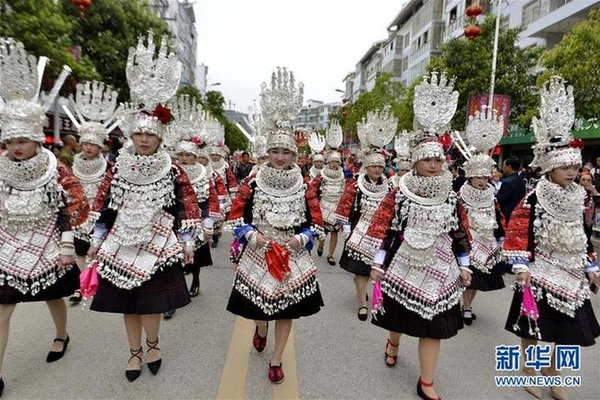 Participants walk in the street. [Xinhua]
(Source: politics.gmw.cn/Translated and edited by Women of China)