Gulou are the most representative symbols in the wooden buildings in Huanggang Village. [Women of China / Zhang Ping]
Ethnic Dong people from Huanggang Village in Liping County, Southwest China's Guizhou province, have held a primitive singing activity, called Yueye, during Spring Festival every two years to celebrate their culture.
The four-day activity begins on the third day of the first month of the lunar year. Each day young men who live in one of the two areas of the village invite young women living in the other areas to visit and sing folk songs together.
Both men and women dress up in best costumes for this important activity.
As the hosts, some men get up early to prepare meals for the visiting women and others welcome the women by playing the lusheng, a reed-pipe wind instrument, and setting off firecrackers.
After they finish singing, the men walk the women home, carrying ciba (rice cakes), meat and candies with them. The women also invite the men into the house of one of the women, where they share a simple meal.
The participants usually start learning, rehearsing and organizing for the chorus two months ahead of Yueye.
During that period, their sound is heard everywhere till late night in the village. Many find it amazing that although the choruses do not have conductors or any accompaniment, the singers can harmonize perfectly.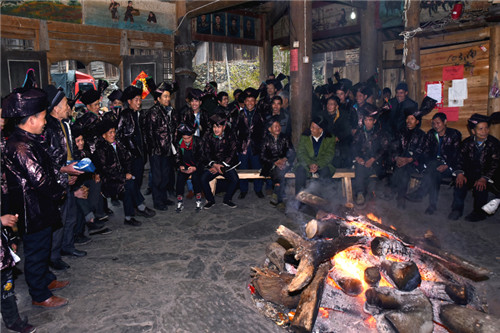 Village heads talk with young men who will take part in Yueye the next day. [Women of China / Zhang Ping]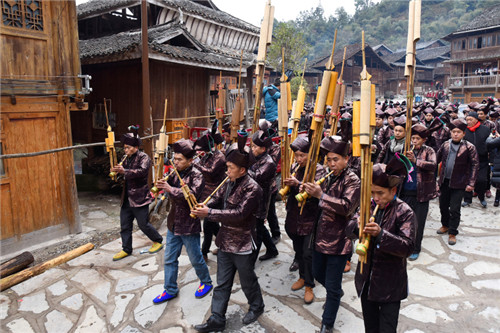 Men set off to greet the women. [Women of China / Zhang Ping]
Women in traditional costumes walk to the men's areas. [Women of China / Zhang Ping]
Boys and girls in the activity [Women of China / Zhang Ping]
Performers sing in a gulou. [Women of China / Zhang Ping]
(Women of China)