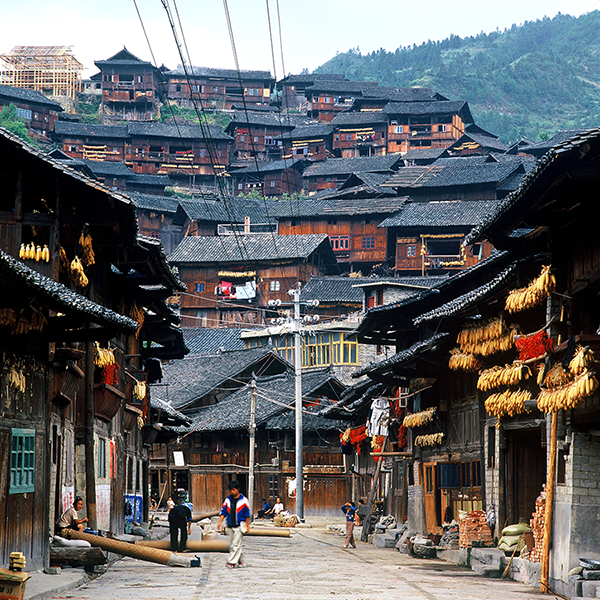 Traditional dwellings dominate a village of the Miao ethnic group in Leishan county, Guizhou province. [Photo by Zhan Rencai/Provided to China Daily]
Photographer Zhan Rencai is preparing to take his 5-year-old daughter to visit the She ethnic group in the provinces of Jiangsu and Zhejiang in April.
He hopes she will eventually be able to see all the country's ethnic groups, matching his own achievement in the first decade of this century.
"With the rapid development of society, some formerly isolated ethnic group settlements have had opportunities to communicate with the outside world," the 57-year-old, from Mudanjiang, in northeastern China's Heilongjiang Province, said. "It is a good chance for them to learn more about modern civilization, but it can also be a challenge for them to preserve original ethnic characteristics.
"I want to understand their daily lives in various ethnic dwellings through my photographs."
From 2003 to 2009, Zhan traveled around the country, taking more than 40,000 photographs of ethnic groups' daily lives.
In April last year, he decided to donate all his precious negatives to the Museum of Ethnic Cultures at Minzu University of China, in Beijing.
After five years of service in the military, Zhan began working in the publicity department of the railway bureau in Mudanjiang in 1990, devoting himself to photography.
During the decade of rapid development in the 1990s, Zhan took a series of photographs recording the great changes in the railway system and outstanding railway staff.
To improve the quality of his photography, Zhan spent 120,000 yuan buying a camera set in 1998.
"That was almost all my savings, with which I had originally planned to buy a new apartment," he said. "At that time, the money could have bought a 200-square-meter apartment in Mudanjiang."
In 2003, he was tasked with taking a set of photographs featuring China's railways to welcome the Beijing Olympic Games in 2008.
During that project, Zhan came up with the idea of simultaneously photographing ethnic groups.
With the privilege of free train travel as a railway employee, Zhan traveled more than 300,000 kilometers in a seven-year period for the project.
He recorded his entire journey in 1.2 million words in 22 photographic diaries.
"Before I started, I spent eight months looking up information, including the distribution, locations, cultural and local customs, and historical changes of ethnic groups," he said.
"Therefore, I focused my photography on ethnic dwellings that can represent their customs, migration and integration well.
"From the dwellings, we can find evidence of caves, tents, houses and other forms during the process of human development. They can even tell the historical changes of a nation, as well as the balance between man and nature."
During the project, he visited more than 500 ethnic villages in 50 regions.
"Even in the same ethnic group, residents in different regions have different characteristics in dwellings and lifestyles," he said.
"For example, in the pastures of the Tibet autonomous region, Tibetan residents usually choose to live in tents, while in the farming areas, residents choose dwellings made of earth, stones and wood."
The long journeys also brought him lots of unforgettable difficulties, such as the lack of food in the mountains, poor road conditions and walking dozens of kilometers on mountain roads to get to remote villages, especially when he had to carry 20 kilograms of photographic equipment.
"However, the hardest part for me was communicating well with local residents," he said. "I was often rejected by my interviewees for various reasons."
But he worked hard to win their trust.
"In 2005, for instance, I came across a funeral ceremony in a village of the ethnic Zhuang people in Napo county (in southern China's Guangxi Zhuang Autonomous Region)," Zhan said.
"Before that, I had shot several wedding ceremonies of different ethnic groups, but it was my first time experiencing a funeral ceremony. To grasp the unique opportunity, I tried my very best to ask for the family's permission."
He helped them with chores such as splitting firewood and carrying water, which made the family and the villagers treat him as a family member.
They allowed him to shoot the three-day funeral ceremony and the villagers introduced him to lots of Zhuang funerary customs.
To retain the most realistic images, Zhan insisted on recording them on film.
"Compared with digital photographs, negatives can't be modified at all," he said.
"Furthermore, the film can be kept for about 100 years with good preservation."
Buying film and printing photographs became his biggest expenses.
He sold his apartment in Mudanjiang in 2005 and spent 800,000 yuan during the seven-year project. "Almost all my friends couldn't understand why I decided to donate all the negatives," Zhan said.
"They advised me to leave them to my daughter, but I believed the films could be of huge value to the museum, which is a great platform to present China's ethnic groups.
"I hope we can finish the journey of visiting all the ethnic groups before my daughter goes to college, just like what I did before. It will be the most precious treasure for her growth."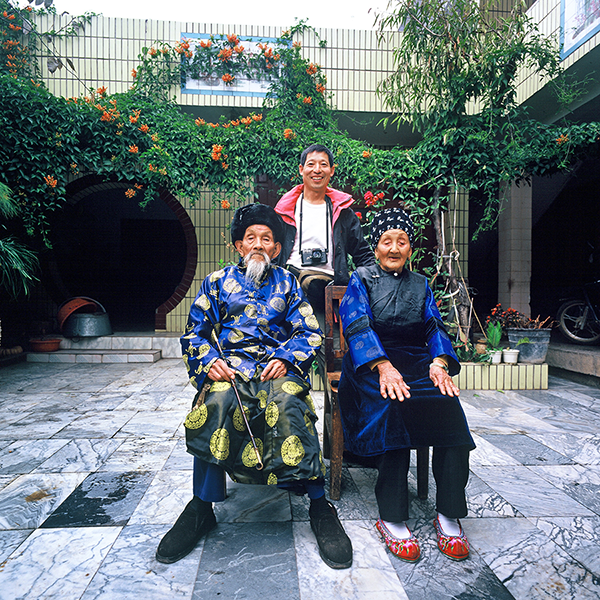 Zhan with a couple from the Bai ethnic group in Dali, Yunnan province, in 2004. [Photo by Zhan Rencai/Provided to China Daily]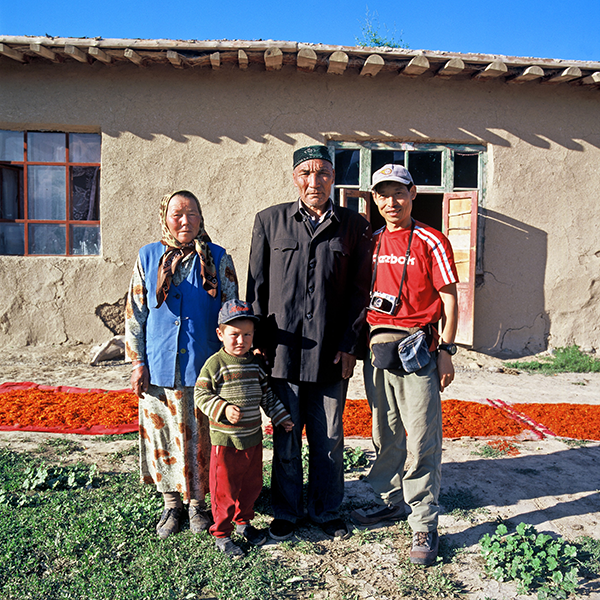 Zhan with a couple from the Tatar ethnic group and their grandchild in Qitai, Xinjiang Uygur autonomous region, in 2006. [Photo by Zhan Rencai/Provided to China Daily]
(Source: China Daily)