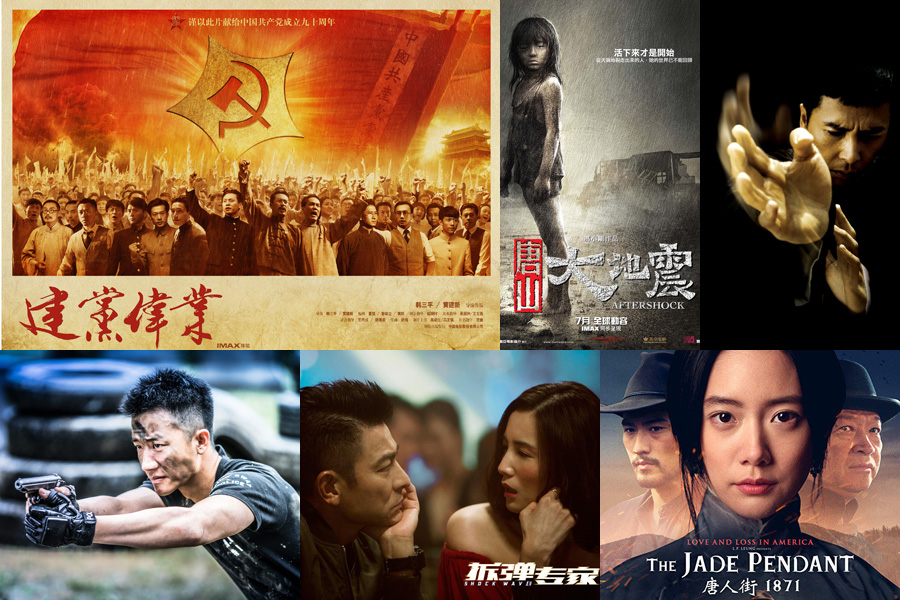 In recent years, Cinedigm Corporation has successfully helped a number of Chinese films such as Aftershock, Beginning of The Great Revival, Yip Man and Extraordinary Mission to reach more audiences in North America. [China Daily]
As an integral part of the 8th Beijing International Film Festival, a signing ceremony between Cinedigm, one of the largest independent studios in the United States, and six Chinese partners establishing a cooperation agreement was held at the Beijing International Hotel on April 19.
Meanwhile, seven insiders from the Chinese and American film and TV industries held a panel discussion on further co-production and co-distribution and on the grave challenges facing Chinese film corporations wishing to compete on the global stage.
Chris McGurk, Chairman and CEO of Cinedigm, delivered the keynote speech during the event. He believes that the overseas market is a great opportunity for Chinese film content providers and can be expected to boom in the next ten years.
Chinese Best-performing Movie Model Can Be Duplicated
As Chinese filmmakers have long struggled to promote domestic hits to an international audience, the country's best-performing movies have been two martial arts films, Crouching Tiger, Hidden Dragon directed by Ang Lee and Zhang Yimou's Hero.
As a veteran who has worked in the US movie and television industries for more than 30 years, McGurk believes that the huge success of the two movies was not accidental and can be duplicated.
"Both of these films told the sort of stories that Western audiences can relate to, with a clear progression from beginning to middle to end. They were linear in form and non-chaotic in presentation, which Western audiences are comfortable with," McGurk said.
The two films' directors well understand Western storytelling sensibilities. Ang Lee and Zhang Yimou studied the film elements, including visuals, pacing and character development, with Western audiences and selected top-notch stars known to US audiences, such as Chow Yun-fat and Michelle Yeoh for Crouching Tiger, Hidden Dragon, and Jet Li for Hero.
Yu Jianhong, President of Youth Film Studio, agreed with McGurk, adding that "One of the key factors in film marketing is to produce a good story that resonates with the domestic and international audience. There are some misunderstandings in the process of film creation. Some think that the story line should be more complicated and audiences should find one clue after another in watching the movie. And that's not true."
"Picking the right partner is one of the key factors for their success," adds McGurk, who held that the careful marketing and wide promotion Sony Classics did for Crouching Tiger, Hidden Dragon and that Miramax Films did for Hero effectively convinced Americans to think the two were must-see movies.
Golden Ten Years to Take Chinese Films to the World
China's film industry has witnessed huge growth in the past several years. In 2012, the Chinese comedy film, Lost in Thailand, grossed more than 1.27 billion yuan ($191 million) at the Chinese box-office, representing the first movie in China to earn over a billion yuan.
Last year, the film phenomenon Wolf Warrior 2 achieved huge success both at the box office and in public appraisal, breaking numerous box office records both at home and aboard and scoring 5.68 billion yuan.
From Lost in Thailand to Wolf Warrior 2, the domestic film industry growth has not really translated yet into a similarly burgeoning business in the theatrical or home entertainment markets outside of China.
On the other hand, Hollywood hits like The Avengers, Transformers or Star Wars consistently earn more than twice their domestic box office and home entertainment revenues outside of the United States.
With regard to these kinds of issue, McGurk said that the conditions the Chinese film industry now faces are very similar to those challenging American films when he was first engaged in the industry. The journey for Hollywood filmmakers to go out of United States was not that smooth and underwent many setbacks and difficulties. But time will prove that Chinese will gain the glory of an overseas box office boom by 2020, just as American films did in the 1980s and 1990s.
"Therefore, I believe we are at the doorstep of an even greater new global age for Chinese cinema," said McGurk.
Bai Yicong, CEO of Shanghai Linghe Media Company, echoed McGurk's opinion and said that Chinese filmmakers should consider more options in selecting film materials.
"At present, many Chinese filmmakers seem to appeal to a majority Chinese taste and produce many similar films. They may make a lot of money in the short run, but, actually, this behavior is totally harmful to the entire industry in the long term. In the process of going global, more movies of different genres should be provided to viewers," Bai added.
Unlike Crouching Tiger, Hidden Dragon and Hero, most Chinese movies are still distributed globally by smaller, niche companies that lack the necessary expertise and resources, and operate with financial and business incentives that are not aligned with their Chinese partners.
These niche distributors usually release films cheaply in a fast and easy way, with consistently disappointing results. Also, major U.S. studios are also not always well-suited for delivering results for Chinese films. Some are almost always overwhelmingly focused on recovering the huge investments they have made in their own films, and tend to not give any internationally-produced films the proper care, executive talent and due attention they need to succeed.
In response to this, McGurk offered the solution: OTT streaming, which can immediately begin digitally delivering Chinese films, TV series and other content directly to audiences abroad.
"The ability to deliver films and other programming directly to audiences whenever they want to view them at whatever time they choose on whatever device they prefer through digital streaming is a catalyst that is revolutionizing entertainment and is the ideal way to begin to change global perceptions of Chinese entertainment and culture now," said McGurk.
At present, an OTT channel can provide direct access to audiences, with no intermediaries, which leads to two-way interaction, with audiences providing invaluable feedback on what they like and what they don't like, what they find cool and relevant and what doesn't pass that test.
"Also, the largest segment of the OTT audience is young people. These are the viewers who most value this medium for its flexibility and ability to put them in direct charge of the content they watch. Again, these young people are the trend-setters and will be key to shifting how the rest of the world views China and its culture."
In recent years, Cinedigm Corporation has successfully helped a number of Chinese films such as Aftershock, Beginning of The Great Revival, Yip Man and Extraordinary Mission to reach more audiences in North America.
Cinedigm Corp is about to launch a Chinese channel in the United States and Canada to present a broader ray of Chinese entertainment and cultural content in a positive way, opening up a sort of new world viewing for audiences in North America.
According to McGurk, "Close cooperation and leadership from China and the United States is absolutely vital to the positive growth of the Internet and entertainment business."
(Source: China Daily)