China's Kunlun Red Star in the game [People's Daily Online]
China's Kunlun Red Star has made history by becoming runner-up at the Clarkson Cup in the Canadian Women's Hockey League.
It's the best result that Chinese ice hockey has achieved so far in a world's top league
Red Star narrowly missed the trophy by conceding an overtime goal to eventual winners Markham Thunder.
Though the result is not what they wanted, Kunlun coach Digit Murphy said the team gave it their all and she was very proud. She said: "We played very well today. Markham played exceptionally well today. For them to have three Olympians added at the end of the year. And for us to still hang with them and take them to overtime. Noora Raty was amazing today. We have a bit of a slow start. I think a lot of our players at this championship level they are still gaining experiences. We don't have that many players on our team that have played at this level in the championships."
The Thunder went into the lead courtesy of a Nicole Brown goal about midway through the first period.
The Canadian team comfortably held on to that lead and continued to threaten Kunlun, until Kunlun's Clarkson MVP Kelli Stack put a deflected puck into the goal.
Neither team made any more successful attempts for the rest of the game and it went into overtime with the score at 1-1.
The Thunder's Laura Stacey made no mistake in converting Nicole Kosta's feed past Red Star goalie Noora Raty with 2:11 remaining in overtime.
It earned Markham a 2-1 victory and sealed the victory for the Canadian franchise.
Despite conceding two goals in the final, Red Star's Noora Raty came on top of all goalies with a 16-3 record.
First-year team Kunlun Red Star is the first Chinese team participating in the Clarkson Cup.
As host of the next Winter Olympic Games in 2022, China is training its women's ice hockey players in the Clarkson Cup.
Murphy recognized the progress made by the Chinese players: "The Chinese players have gotten better and better. To have some of our players out on the ice like Zhu Rui playing the finals. And Yu Baiwei and Big Liu (Zhixin). And Sherry (Wang Yuqing) our goaltender. Some of these Chinese players really have stepped up to the plate and have done a great job for us. And the No.1 goal is to have China win in the world championships. So we prepare them for that and that's the goal moving forward."
Kunlun Red Star and the Vanke Rays are now involved in the 7-team league.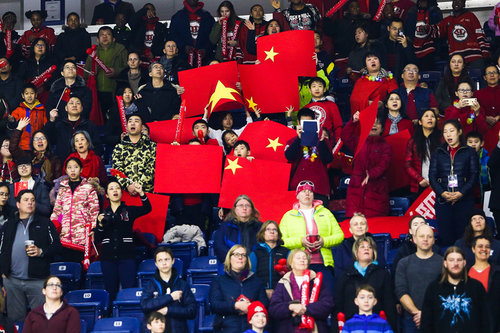 The Chinese audience on the platform [People's Daily Online]
China's Kunlun Red Star [People's Daily Online]
(Source: People's Daily Online)