Chris Pratt shows off his Mandarin by speaking such words as "dinosaur" and "velociraptor" in a promotional event in Shanghai. [China Daily]
The special effects team behind Jurassic World: Fallen Kingdom has created a visual feast with the fifth installment of the dinosaur-themed franchise.
In a dimly lit hall, the stage is decorated like a soon-to-erupt volcano. Suddenly, the roars and growls of dinosaurs rattle the floorboards. Then, under the direction of Spanish filmmaker J.A. Bayona, Chris Pratt and Bryce Dallas Howard began to run, feigning outright panic.
As one of the more interesting moments of their recent promotional tour in Shanghai, the stars were performing an epic sequence from the upcoming movie Jurassic World: Fallen Kingdom, much to the delight of the audience of screaming onlookers, which was mainly comprised of domestic movie fans.
With more dinosaurs than the past four films in the 25-year-old Jurassic Park franchise combined, the fifth installment will open in Chinese mainland cinemas on June 15, a week earlier than its debut in North America.
When the first installment Jurassic World was released in 2015, it became the first movie to take in more than $500 million at the global box office on its opening weekend, with a considerable haul coming from China.
And this may help explain the stars' passion for promoting the upcoming sequel here.
From speaking in Chinese using words like "dinosaur" and "velociraptor" to fictionalizing an anecdote to tease reporters, Pratt was happy to show off his stylish blend of charm and humor to the world's second-largest movie market.
With his popularity stemming from Marvel's Guardians of the Galaxy franchise, the star who only recently opened his Sina Weibo account already has more than 170,000 Chinese followers.
Interestingly, taking place within the same time span as the off-screen world, the new story is set three years on from where the 2015 film ends and pulls a thrilling conspiracy into the frame.
Since the demise of the Jurassic World theme park, the island of Isla Nublar has been abandoned by humans and overrun by surviving dinosaurs. When an active volcano threatens to erupt, raptor researcher Owen Grady and Claire Dearing, the former park manager, return to the hazardous island and try to rescue the prehistoric creatures from their second extinction.
Speaking about his character Owen's relationship with Blue, a clever raptor that he raised and trained from its infancy, Pratt describes it as a father-and-child connection.
He believes it typifies the way for humankind to harmoniously coexist with other species on the planet, and demonstrates how that relationship should not be built on fear or intimidation.
Nowadays, most sci-fi blockbusters are shot on greenscreen soundstages, where the actors usually have to use their imaginations to picture the aliens or monsters in mind. But stars in Jurassic World 2 have a much better, if not slightly more terrifying, working environment.
And one of the key elements behind the enduring popularity of the dinosaur-disaster-themed franchise is its blend of physical effects and computer-generated images to create its visual feast.
In the new movie, Bayona reveals that the special-effects artists made a lot of animatronic dinosaurs, which he believes were "very helpful to the actors".
Animatronic dinosaurs are robotic puppets that have people hiding inside the creatures' bodies to manipulate their movements, such as opening their mouths or turning their heads.
"The Jurassic universe is grounded. It's not fantasy. The franchise is special because it's talking about our relationship with dinosaurs, and the interaction is more real than ever," explains the 43-year-old director.
And besides, Bayona - who is perhaps best known for his 2007 horror film The Orphanage - has plenty of tricks up his sleeve to make his actors appear genuinely terrified.
"We made an agreement that I have permission to scare them from time to time. When I was on the set, I played sudden roaring sounds from my computer to capture the actors' reaction on camera. You should have seen the faces of these people," says the director, wearing a big smile.
The lifelike props even scared the stars' children. Howard recalls her daughter, Beatrice, and Pratt's son, Jack, came to the film set one day, and were allowed to touch Blue. But Blue was so realistic that the young girl was too scared to approach it, and she kept muttering, "I want to go".
Reprising her character of Claire, who sparked an online controversy for running across the jungle to escape hungry dinosaurs on high heels, Howard reveals she will wear a pair of more comfortable shoes in the sequel.
But the Los Angeles native also gives a convincing reason for her choice of footwear. "If you wear high heels in real life, then you can run through the jungle in high heels," she explains.
Speaking about her role, Howard says: "Usually, there is just one moment or one event that completely changes a person's life. For Claire, that is Jurassic World. Now she is someone who is dedicated to ensuring these animals will have the protection like any other endangered species."
With so many action sequences, the stars were called on to perform some death-defying stunts, including an underwater escape scene and a sequence shot on a specially built roller coaster to simulate a fall from a cliff.
Recalling the experience, Pratt jokes: "We relied heavily on the brilliance of our director to keep us alive. We trusted him with our lives."
But Howard believes these scenes help add a certain charm to the new film.
"Honestly, the truth is that the more intense a scene is, the funnier Chris becomes. I think he lightened the mood on the set," she says.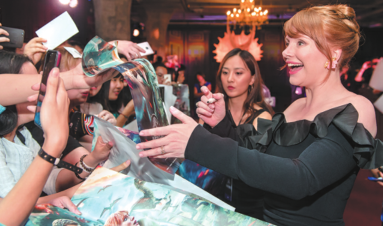 Bryce Dallas Howard meets Chinese fans at the event. The upcoming movie, Jurassic World: Fallen Kingdom, will open in Chinese mainland cinemas on June 15. [China Daily]
(Source: China Daily)