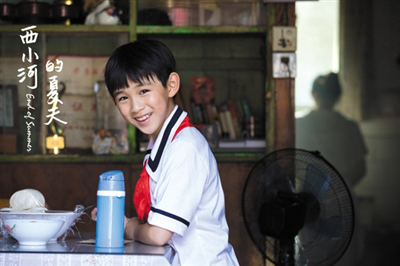 A poster of the film End of Summers [Xinhua]
Some experts and professionals in the film industry were recently invited to discuss the current situation of Chinese children's movie production and offer some advice in regard to its improvement.
Chinese movies have repeatedly achieved excellent box office numbers during the last ten years, reaching 55.9 billion yuan in 2017, including 5 billion from domestically produced animated series of children's movies such as Pleasant Goat, Boonie Bears and Where Are We Going, Dad.
Apart from these, there are only 12 other domestically produced children's videos with available screenings and box office records.
Looking at movies released on Children's Day on June 1 this year, they were either classified by monotonic themes or defined as lacking a reflection of children's life.
It can be easily observed that in addition to cartoons, there are only a few other outstanding and impressive works. According to statistics, the amount of children's films at the box office has increased year on year in the past five years. However, the themes and roughly produced subject matter have been criticized until now.
Why do people think more highly of movies made in the past?
State-owned Company Ensures Quality
After the founding of the People's Republic of China, outstanding children's movies such as Kung Fu Kids Break Away, Little Soldier Chang Ka, and The Letter With Feathers have been witnessed by many generations in their childhoods. Among which, the film The Letter With Feathers won the top prize at the 9th Edinburgh International Film Festival in the UK, which was the first time that a Chinese children's film received an international award.
With China's reform and opening up, domestically produced children's movies developed rapidly with great momentum every year. The Children's Film Studio, established on June 1, 1981, produced five movies with different themes each year.
These movies have a wide range of subjects and novel ideas. Despite the average box office returns, they were able to cover the costs. According to statistics, in terms of cultural exchanges, more than 60 Chinese children's films have so far won more than 140 awards in 25 countries and regions.
Novel Subjects, Ideas
Due to the effects brought about by the market economy, the production of children's movies was also pushed in accordance with the market rules. Coupled with the fact that the senior predecessors of children's movies had gradually retired or moved to other professions, children's movies were also facing a dilemma of getting help from novices.
Besides this, parents and children were not interested in domestically produced children's movies since they were exposed to a large number of outstanding foreign children's films such as The Lion King, Home Alone and The Fox and the Child, which led to a decline both in the quality and quantity of Chinese children's movies since 1990.
In relation to this issue, Hou Keming, president of the China Children Film Association and professor at Beijing Film Academy, summarized that, "In recent years, domestic children's films (excluding cartoons) have produced about 50 films each year. However, it's hard for them to be screened in theaters since they are produced on a small scale, with low costs and a lack of promotion."
Apart from problems such as low costs, screening difficulties, poor box office returns, and a lack of attention, domestic children's movies were also harshly reviewed in terms of content presentation and thematic expression.
Most of them were either obsolete and didactic in terms of subject matter, or fully presented with child-oriented characters, which could not meet the viewing needs of parents and children simultaneously.
In contrast, in the international mainstream of children's movies as represented by Hollywood and Japan, children's animations have always focused on adults so that they don't feel like they're watching something dumbed down but the film is still understandable to children.
Luo Tianwen, an analyst of the box office, believes that domestic children's movies have always been provided with a large target market and huge potential in achieving high box office returns, whilst there is still much room for improvement when it comes to filming quality and promotion.
Song Weicai, an associate professor at the School of Arts and Media of Beijing Normal University, said that the creation of domestic children's movies needs to focus on the needs of different age groups, which requires an effective, hierarchical understanding and expression of children's perceptions and values.
Song also mentioned that, "Domestic children's movies now have a lot of room for improvement in terms of creative potential and personnel training, and children's movies can be greatly improved thanks to the creation and investment provided by related departments and industries."
(Source: Xinhua/Translated and edited by Women of China)