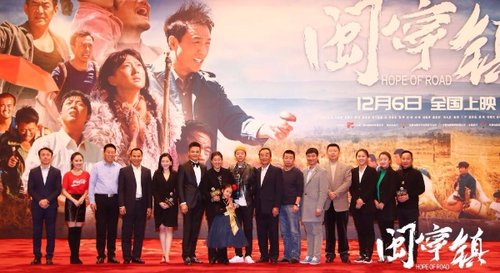 Cast and crew of the film Road of Hope [China Daily]
Over the past two decades, Minning — a town in Northwest China's Ningxia Hui autonomous region — has transformed from a piece of uninhabited land to a nationwide example in the battle against poverty.
Road of Hope, a feature-length film reflecting locals' struggles to get alleviate poverty, opened across Chinese mainland theaters on Dec 6.
Directed by Dong Ling and written by Hu Hanwen and Dong Danrui, the film stars actor Ji Ta and actress Cao Xinyue.
Centering on a group of local villagers, the film depicts how they move from southern Ningxia's isolated, poverty-stricken mountains to Minning to strive for a new life.
During a recent interview with domestic media, director Dong recalled that she toured to the town earlier this year to interview the locals.
She says Xihaigu — an area covering more than seven poverty-stricken towns in southern Ningxia — was one of the poorest areas in China.
Thanks to a program whereby Fujian province has offered assistance to Ningxia since 1996, Xihaigu has relocated 1.3 million people from Xihaigu to Minning and their annual income is now more than 20 times that what they earned before the relocation.
"To shoot the film has also expanded my knowledge of the battle against poverty. I hope more audiences will see the effort and achievement of the people in Minning through this film," says Dong.
The film is also one of the nine productions highlighted by the China Film Administration, the country's top regulator of the sector, to mark the 40th anniversary of the launch of reform and opening-up policy.
Actor Ji Ta and actress Cao Xinyue (left) of the film Road of Hope.[China Daily]
(Source: China Daily)