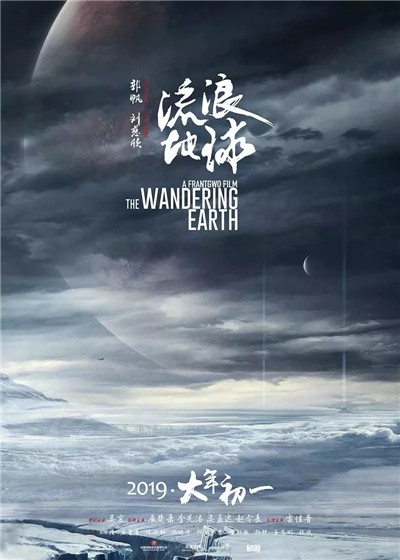 Poster of The Wandering Earth
Many foreign media and netizens recently shared their views on the significance of China releasing its first ever blockbuster movie set in space, The Wandering Earth.
Since its premiere on February 5, the film has grossed more than 4 billion yuan at the box office.
Many foreign journalist delivered special reports. The New York Times said that, amid grandiose expectations, the picture represented the dawning of a new era in Chinese filmmaking.
"Both The Wandering Earth and Crazy Alien are adapted from works by Liu Cixin, a writer who has led a renaissance in science fiction in China, becoming the first Chinese winner of the Hugo Award for the genre in 2015.
"His novels are sprawling epics that are deeply researched. That makes them plausible fantasies about humanity's encounters with a dangerous universe. The Wandering Earth is one of a series of ambitious, big-budget films tackling the space sci-fi genre that, until now, has been beyond the reach of most filmmakers in the Middle Kingdom — technically and financially," according to the article.
Financial Times said that the leap into sci-fi reflects the growing budgets of Chinese filmmakers and their confidence to tackle topics previously monopolized by Hollywood.
South China Morning Post also wrote in its report that, "Like Hollywood space movies where Americans are portrayed as the only ones capable of saving humanity, here Chinese astronauts are the sole adventurers among the global space community determined to complete the arduous task of fending off the Apocalypse."
In an article on the Australian website Flicks.com, critics highlighted the different values of Chinese and Westerners reflected in the film. They said the film integrates the Chinese cultural virtues of duty, humility, self-sacrifice, and loyalty, both to family and society as a whole into its breathtaking plot.
"The Wandering Earth's heroes are just the kind of gung-ho go-getters who can go off plan and do what needs to be done when the chips are down — but they're explicitly doing it out of selfless service to the greater good, which is often a by-product rather than an aim of American heroes' actions," the article said.
Foreign netizens also actively commented on the Chinese blockbuster. One website poster, Dave Taylor, said that "Like all good science fiction, the film asks the viewer to ponder some fundamental questions about who should be saved, what cost we're willing to pay to survive, and what plans we might create if we're really heading to hell in a hand basket, however big or small. The visual effects are stunning and rival the best of Hollywood's sci-fi epics."
(Source: China Daily / Edited and Translated by Women of China)