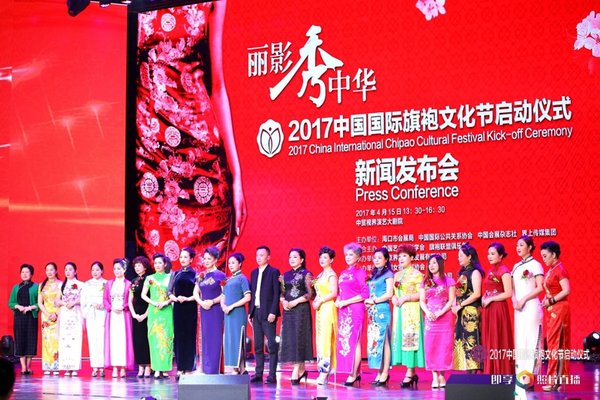 The 2017 China International Chipao Cultural Festival Kick-off Ceremony was held on April 15 in China Vision Performance Theater in Beijing. [The Organizing Committee of China International Chipao Cultural Festival]
The 2017 China International Chipao Cultural Festival will be held from November 16-19 in Haikou, south China's Hainan Province, organizers announced last week at a special press conference.
The festival, aimed at promoting the popularity of the iconic, traditional figure-hugging dress, is a collaboration between senior official from various governmental departments, professional associations and Cheongsam organizations, as well as fashion and photography enthusiasts nationwide.
At the press conference, Ni Wei, director of the event's organizing committee and chairperson of Advanced Media Group gave a speech. He said that the festival is designed to carry forward traditional Chinese culture and encourage national pride.
"We are devoted to promoting the festival as a cultural feast for the public, delivered with the spirit of sharing, openness and inclusiveness," said Ni.
Speakers at the gathering also included: Cheng Zhuo, deputy to Beijing Municipal People's Congress and vice director of the Female Committee of China National Democratic Construction Association; Lü Jingbo, vice chairperson and general secretary of the Chinese Women Photographers Association; and, Sui Bing, deputy head and chief director of the festival.
This year's festival will develop the theme of "Carrying Forward Traditional Culture, Inheriting Craftsmen's Spirits" in response to the Opinions on Implementing Project Development of the Inheritance of Traditional Chinese Fine Culture issued by the General Office of the Communist Party of China Central Committee.
Lan said that the festival will feature an exhibition focusing on high-end products and a forum to explore innovative business models.
In addition, the festival will include the World Cheongsam Cultural Ambassador Final, a photography competition, an award ceremony, a fashion design contest, and an interactive activity for photographers to shoot pictures of models wearing the Qipao and enjoying cultural experiences in Haikou.
Those also in attendance included: Zhang Xinmin, deputy director of China Chamber of Commerce for Import and Export of Textiles and Apparel; Han Yungang, vice director of China Textile Commerce Association; Lan Xinyu, vice director and general secretary of the organizing committee of the festival; and, Bai Mei, deputy secretary-general of the organizing committee and program producer director of the event.
A woman wearing a Cheongsam signs her name on a poster at the event. [The Organizing Committee of China International Chipao Cultural Festival]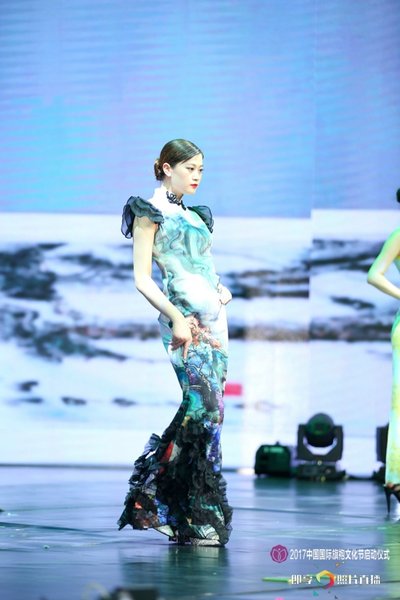 A model wears a Cheongsam at the 2017 China International Chipao Cultural Festival Kick-off Ceremony. [The Organizing Committee of China International Chipao Cultural Festival]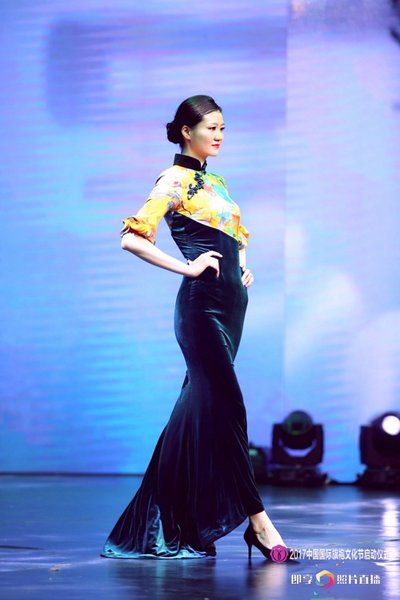 A model wears a Cheongsam at the 2017 China International Chipao Cultural Festival Kick-off Ceremony. [The Organizing Committee of China International Chipao Cultural Festival]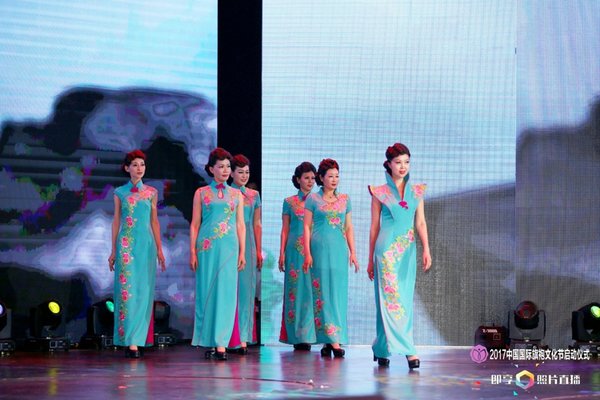 Models a Cheongsam at the 2017 China International Chipao Cultural Festival Kick-off Ceremony. [The Organizing Committee of China International Chipao Cultural Festival]
Models a Cheongsam at the 2017 China International Chipao Cultural Festival Kick-off Ceremony. [The Organizing Committee of China International Chipao Cultural Festival]
Models a Cheongsam at the 2017 China International Chipao Cultural Festival Kick-off Ceremony. [The Organizing Committee of China International Chipao Cultural Festival]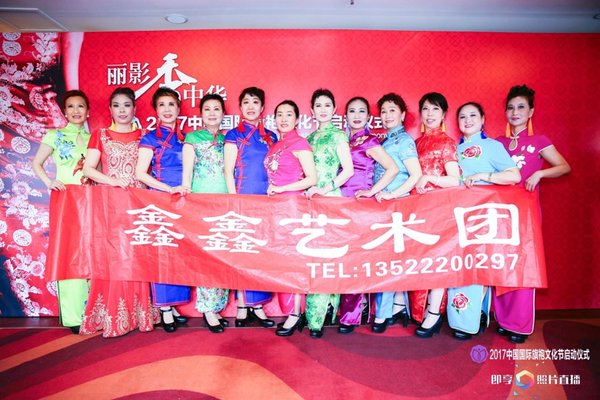 Models a Cheongsam at the 2017 China International Chipao Cultural Festival Kick-off Ceremony. [The Organizing Committee of China International Chipao Cultural Festival]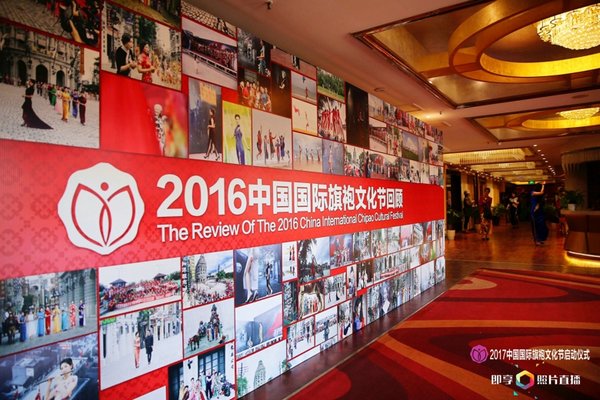 The Review of the 2016 China International Chipao Cultural Festival [The Organizing Committee of China International Chipao Cultural Festival]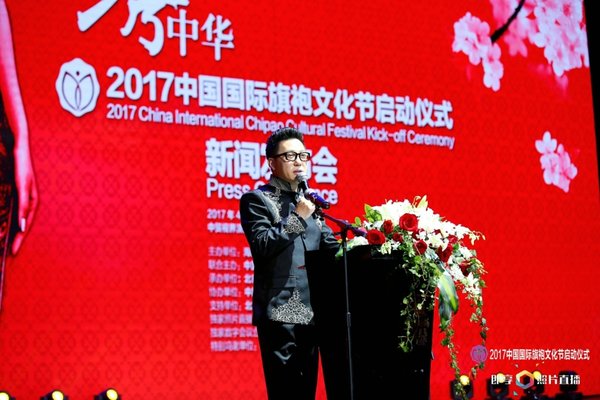 Sui Bing, deputy head and chief director of the festival, delivers a speech at the ceremony. [The Organizing Committee of China International Chipao Cultural Festival]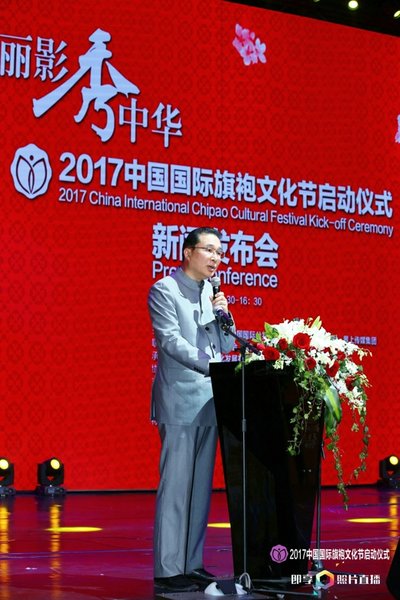 Ni Wei, director of the event's organizing committee and chairperson of Advanced Media Group, delivers a speech at the ceremony. [The Organizing Committee of China International Chipao Cultural Festival]
Lü Jingbo, vice chairperson and general secretary of Chinese Women Photographers Association, delivers a speech at the ceremony. [The Organizing Committee of China International Chipao Cultural Festival]
(Women of China)