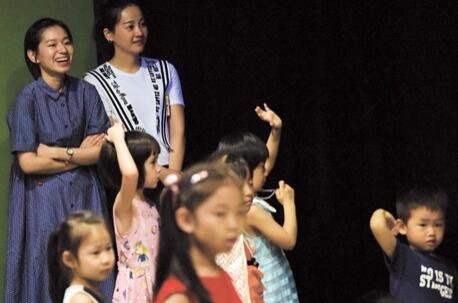 Theater director Lu Yisha (left) shares a laughter with the children audience when watching "The Solar System." ​[Shanghai Daily]
Young theater director Lu Yisha's latest offering, "The Solar System," a children's drama about the secrets of space, received acclaim from both audience and critics when it was presented in Shanghai last week. It is said to be China's first children's drama in the form of black light theater.
Lu, in her 20s, combined distinctive elements of black light theater with puppetry. Black light, a well-known theatrical performance style popular in the Czech Republic, is still new to Chinese audience.
It uses black curtains, a darkened stage, "black lighting" and fluorescent costumes to create stunning visual effects.
A lot of children became immersed in "The Solar System" and interacted with the characters, through which they also learned amazing facts about space.
Lu is a postgraduate student in theater and performance studies at King's College London. She used to study theater directing at Shanghai Theater Academy. Her mother, Wang Liping, is one of China's best-known screenwriters, whose credits include "My Beautiful Life" and "A Beautiful Daughter-in-Law Era."
It is Lu's first attempt at children's drama following her works "Handsome & Beautiful" (2012) and "Twelfth Night" (2016). She also directed short plays "Night of Potatoes" (2013) and "Love/Object" (2017).
Lu says a successful children's drama "should be created from the perspective of kids, who are curious and emotional. But a good and interesting story is always the foundation."
(Source: Shanghai Daily)