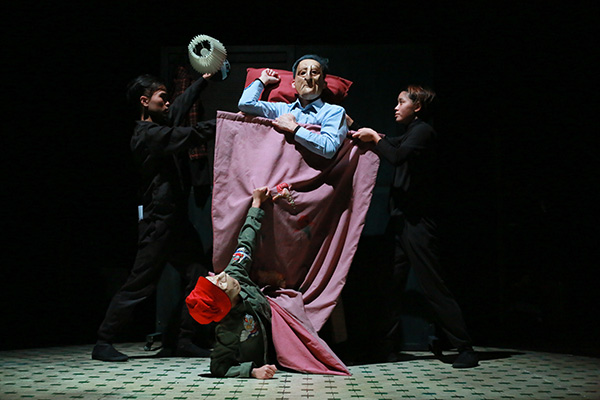 Hong Kong theater, Theatre de la Feuille, will bring its production Papa in Beijing.[China Daily]
Hong Kong director Ata Wong Chun-tat's production Papa will premiere in the capital over April 30 to May 1 as part of the 18th Meet in Beijing Arts Festival.
The clock is ticking. An old man sits in his watchmaking studio, repairing watches. He looks at the door from time to time and the sound of the clock seems to be very loud in the tiny room.
This is the opening scene of Hong Kong director Ata Wong Chun-tat's production, Papa, which will premiere in Beijing over April 30 to May 1.
The show, which follows a retired watchmaker father living in a home for the elderly, was created by the director as a gift to his family, and to raise the awareness about the elderly, who suffer from isolation from the society.
Speaking about the issue, Wong says: "I have a very close relationship with my family members and they support me a lot. But a lot of Hong Kong families are not that intimate, especially when it comes to father-son and father-daughter relationships.
"The Chinese people always keep their love in their hearts and never express it," says the 34-year-old director.
"The problem of the elderly is very serious. They are very lonely and have no one to talk to. I hope that our audiences will hug their parents after watching Papa."
The nonverbal, one-hour show, premiered in Guangzhou in 2016 and has been staged 15 times so far, including at the Wuzhen Theater Festival in Zhejiang province; at the World Stage Design in Taipei and at the Asia TYA Festival in Tokyo.
The upcoming show in the capital is part of the ongoing 18th Meet in Beijing Arts Festival, the largest annual festival in Beijing, which celebrates dance, music, drama and art, with nearly 800 artists from 44 performing arts groups from 19 countries and regions.
The production features leather masks, and the actors use their bodies in the show.
"Mask acting requires good physicality and body control," says the director.
Besides, the audience also need to get involved in the performance as they have to use their imagination.
"I wanted to create a good piece that is entertaining, but also where people can think and reflect," the director says, adding that the process of designing for the show was very "organic."
"I had a big concept at the very beginning, and the whole team modified the use of the set during rehearsals.
"The idea came from the limited space in Hong Kong. We live in small space, but we are distanced from other people."
Wong, who was born in Hong Kong, did his first public performance when he was in secondary school. It was a show based on the play Hamlet directed by a UK director, and he realized then that "the world is very big, and there are many ways to share stories."
The director, who graduated from the School of Dance at the Hong Kong Academy for Performing Arts, later studied at Ecole Internationale de Theatre Jacques Lecoq in Paris, France, a school of physical theater which was founded by French mime actor and theater director Jacques Lecoq in 1956.
Wong returned to Hong Kong in 2014, after four years in Paris.
But, in 2010, Wong set up a theater, Theatre de la Feuille, in Paris, which he later moved to Hong Kong.
He also studied about leather masks while living in Paris.
Speaking about this art, he says: "I love mask-acting, because then I can no long use facial expressions to act, but have to involve our bodies.
"I started making masks because I wanted to challenge myself, and because I also wanted to learn more about masks, so I can help actors to develop their bodies.
"I also wanted to create a set of masks for Asian actors, as most of the expressive masks are in a Western style," he says.
So far, with a group of 20 creative actors from mixed backgrounds, whose average age is 25 or below, the theater has created five theater performances, and two dance performances, which tour internationally.
Papa is the theater's first nonverbal mask show for all ages, and the director wants to show that the theater has dimensions and that there is not just one way to communicate with audiences.
One of their productions, L'Orphelin 2.0, which is based on The Orphan of Zhao, one of China's oldest plays, and the first to be translated into a European language, will be staged at Tsinghua University in Beijing on May 19 and 20 in Mandarin with Chinese and English subtitles.
Speaking about his work, Wong says: "To me, physical theater is an actor-training and creative method, it is not a performance style.
"We train actors to use their bodies to tell stories, and it is applicable to different art forms. Physical theater doesn't have to be something abstract," he says.
(Source: China Daily)