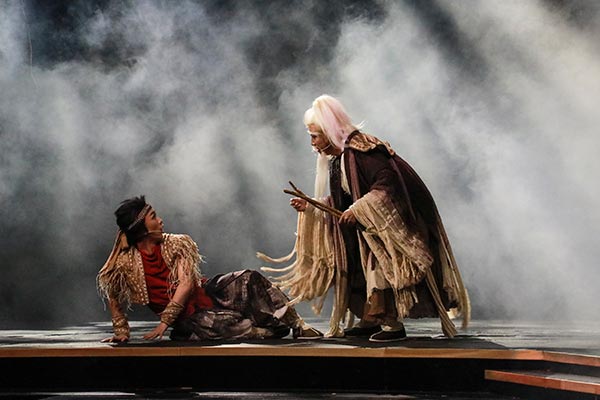 A scene from Yueliang Cao. [China Daily]
After more than three months in gestation, the China National Theatre for Children's first new play of 2018, Yueliang Cao (Moon Grass), is due to premiere on July 7 at their Beijing theater to kick off the 8th China Children's Theater Festival opening on July 14.
The production has been adapted from a folk comedy of the same title, written by Xu Baoqi and first staged in 1993. The story draws inspiration from Laoshan Daoshi (The Taoist of Laoshan Mountain), a piece from the classical story collection, Liaozhai Zhiyi (Strange Tales from a Chinese Studio).
The play features a pair of siblings as the protagonists, a conscientious and practical younger sister and her idle and greedy older brother, who go in search of the mythical treasure of "moon grass". However, having acquired the moon grass, the brother is faced with imminent disaster rather than the wealth and honor he expected.
Retaining the sarcasm and humor innate to the folk story, the play intends to convey its moral through the form of comedy. "We aspire to express the utmost good and beauty through sarcasm", Zhong Hao, director of the play, says, "It ridicules the pursuit of moon grass, a metaphor for aiming too high, and praises down-to-earth and industrious qualities."
While holding respect for the original work, the new production has welcomed innovations to keep up with the changing times. The playwright behind this adaptation, Yang Shuo, says, "The script has been modified five times in order to conform to the aesthetics and values of today's children. I want it to be fun and enjoyable, but also close to reality."
The play tells the story through a dream, which allows the audience to be quickly immersed in its context. It also matches the style of Liaozhai Zhiyi, which is presented as a collection of myths, but actually gives a realistic account of everyday life.
This production also includes some members of the original crew, including Shang Hongyou, the director of the 1993 production, as a consultant, and Zou Ye, the original composer, who rewrote the original score for this play. As the story is set in Laoshan Mountain, Shandong province, the music adopts the melodies and tunes from Shandong folk songs and opera.
"Reproducing the old play and rewriting the story are the main features of this production," Yin Xiaodong, director of the China National Theatre for Children, says, "By repositioning the moral, modifying the plot, and choosing different art forms, we want to transform the play in a creative way."
"The themes of children's plays need to be simple and clear. We just want to convey one thing — happy lives can only be achieved through hard work rather than unrealistic fantasies," Yin says.
(Source: China Daily)