The collection Symphonic Music in China 1949-2019 is jointly launched by Shanghai Symphony Orchestra and Shanghai Music Publishing House. [China Daily]
A new project will chronicle the history of Chinese symphonic music and compile rare scores and recordings into one special collection.
The Shanghai Symphony Orchestra and Shanghai Music Publishing House have jointly launched a new project documenting the development of symphonic music in China since 1949.
The project will result in the compilation of a collection called Symphonic Music in China 1949-2019.
What is commonly referred to as "classical music" has existed in China for no more than 90 years, as the first Chinese orchestra piece Nostalgia was composed by Huang Zi in 1929. "Since then, good compositions have emerged in all the historical periods of China," said Liu Lijuan, deputy director of SMPH, "but there has never been a systematic collection of Chinese symphonic compositions in chronological order."
"It's time we look back in history, and present China's symphonic compositions in an international perspective," says Fei Weiyao, director and editor-in-chief of SMPH. "The publication of Symphonic Music in China 1949-2019 will not only fill a void in this field, but will also help to establish the criteria of Chinese symphony music, and introduce it to the wider public."
A panel consisting of conductors, composers and music scholars from all over China will pick 70 symphonic works by Chinese composers, created during four time periods: 1949 to 1965, 1966 to 1976, 1977 to 1989, and 1990 to 2019.
"Impact is the primary criterion," says Sun Guozhong of Shanghai.
Conservatory of Music, a member of the panel. "We will then take into consideration other elements such as the age and geographical location, in order to present a panoramic picture of symphonic music composition in China."
SSO will present the pieces and make audio recordings, featuring some of China's most outstanding conductors and soloists. Some compositions have already been recorded, and "even though the recording quality may not be entirely satisfactory, we have chosen not to replace them with new recordings, because the original has a historical importance," says Zhou Ping, director of SSO.
The recordings will be published alongside an introduction to each composer, analysis of the piece, as well as background information of its composition and creation.
The book and musical recordings will be published in 2019, in tribute to the 70th anniversary of the People's Republic of China.
Aside from popular pieces such as Butterfly Lovers, Yellow River and Ode to the Red Flag, the collection will include some works that have never been published for historical reasons. "Some musicians have died, some didn't keep the score themselves, and some are hard to track down," Liu says.
Unfortunately, very few Chinese composers have worked with publishers in China to have their music scores printed and released, which is a common practice in the West. "Some contemporary Chinese composers, such as Ye Xiaogang, have worked with publishers overseas," Liu says. "In the past few years we have made efforts to convince Chinese musicians to work with us, and we have published some of their work.
"We hope to build long-term partnership with musicians, and systematically have their music scores published in China," she says.
SMPH and SSO declined to name any of the composers. Zhou of the SSO says that one of the most important missions of the orchestra is to introduce Chinese culture and music to the world.
"We play Chinese music on the international stage, and hope to have our music played by foreign orchestras," she says, "And a well-published music score is of vital importance in this process."
The collection Symphonic Music in China 1949-2019 is jointly launched by Shanghai Symphony Orchestra and Shanghai Music Publishing House. [China Daily]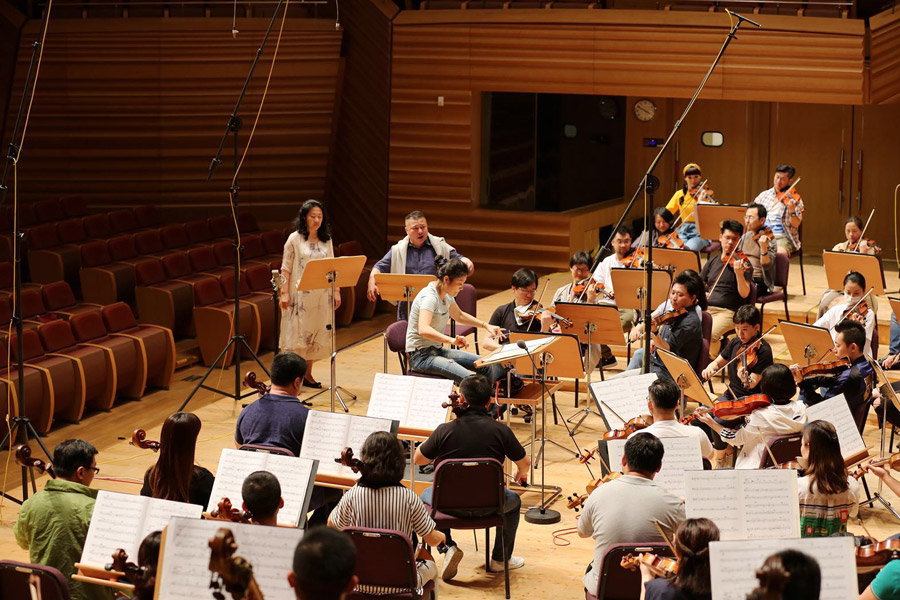 The collection Symphonic Music in China 1949-2019 is jointly launched by Shanghai Symphony Orchestra and Shanghai Music Publishing House. [China Daily]
(Source: China Daily)