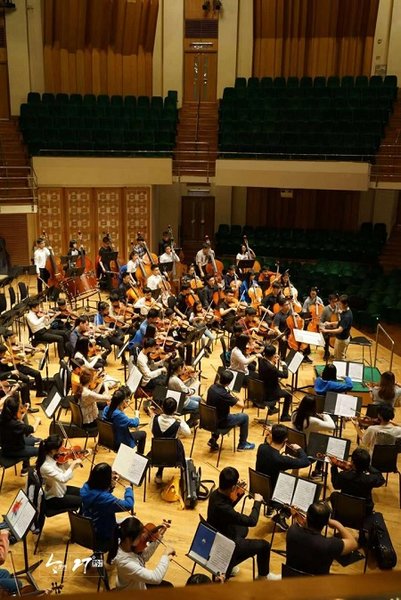 Teenage players from Guiyang practice before the performance at the Asia Pacific Youth Symphony Orchestra Festival. [todayguizhou.com]
The youth symphony orchestra belonging to Guiyang Symphony from Southwest China's Guizhou province was invited to perform at the Asia Pacific Youth Symphony Orchestra Festival, held in Hong Kong from December 25 to 27.
The festival was organized by Hong Kong Children's Symphony Orchestra Ltd, which was established by the famous music educator Doctor Yip Wai-hong. The festival not only provides performance opportunities for youth in the Asia Pacific region, but also strengthens the links between different orchestras.
It is the first time that Guiyang youth symphony orchestra has performed at an international festival. After two days of rehearsals, conducted by famous conductor Yip Wing-sie, the orchestra performed Tchaikovsky's famous work 1812 Overture, Op.49 on December 27.
The orchestra was also invited to join the Alliance of the Asia Pacific Youth Symphony Orchestras during the festival.
As one of the professional orchestras in China, Guiyang Symphony built the first youth symphony orchestra in the province. Taking advantage of its resources and equipment, Guiyang Symphony aims to provide professional, efficient and systematic music education for youth in Guizhou.
(Source: China Daily)