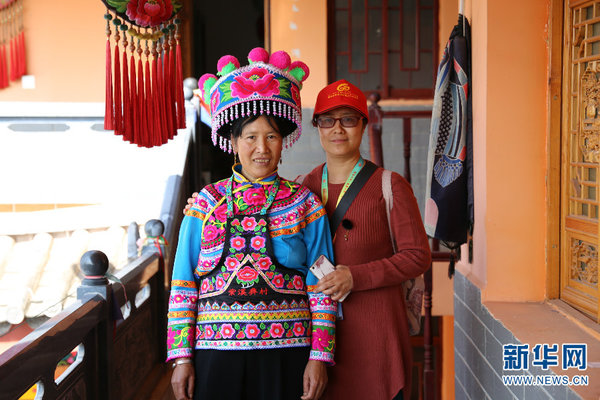 A tourist takes a photo with a local elderly Yi woman. [Xinhua]
The Zixi Yi Village, a well-protected Yi ethnic village, has become a well-known tourism village with its total income from tourism reaching over eight million yuan in 2017.
Located 12 kilometers away from the Zixi Mountain in Chuxiong, southwest China's Yunnan Province, it has 365 residents of 84 households, with the Yi people occupying 93 percent. It has some titles, such as the National Civilized Ecological Village, China's Distinctive Ethnic Village, and China's Beautiful Countryside.
After many years of development since 1994, there have been great changes. A total of 84 households in the village have escaped poverty through developing rural tourism.
Villager Li Xiaolan told the reporter: "It was particularly inconvenient to live in the village before because it always rained heavily in the summer, whilst it seldom rains in the winter."
Although it was not far away from downtown, it would take more than two hours to travel down the mountain by car, she said.
"However, now, it only takes ten minutes to travel down the mountain," Li added.
Furthermore, Li's family has already escaped poverty by raising chickens in mountains, with their annual income increasing to about 60,000 yuan.
Li Chengqin, a pre-college student, seemed happy when talking about her family's agritainment business.
"Our business is flourishing and there are many visitors during the holidays. So, I need to come back to help my parents, especially every Torch Festival." Li said.
I will learn more about rural tourism to better contribute to my hometown's development, Li added.
The Zixi Yi Village has formed innovative mechanisms, such as integrating tourism institutions, branches, and peasants.
Furthermore, it will consecutively introduce market mechanisms, with key points concerning some characteristic projects, such as leisure, and characteristic planting.
As of now, there are 28 agritainment businesses and four small stores in the Zixi Yi Village, with eight Yi-style hotels.
Meanwhile, the local government has also introduced some enterprises, including the grass-skating field and flowers-related industry, which has provided peasants with the opportunity to earn money.
The disposable income for peasants has increased from 5,240 yuan in 2011 to 12,673.5 yuan in 2017.
An aerial photo shows the beautiful scenery around Zixi Yi Village. [Xinhua]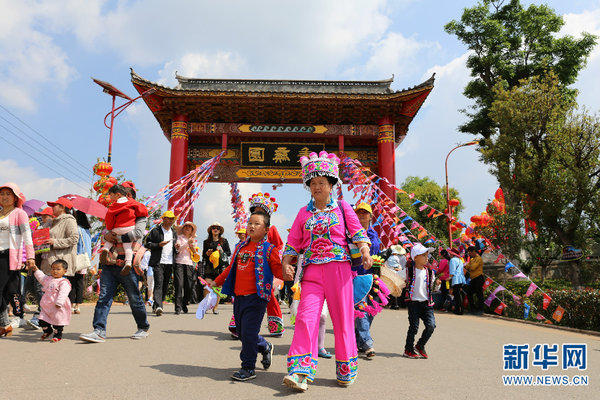 An elderly woman wearing traditional Yi ethnic clothing walks along the street with a boy. [Xinhua]
The agritainment of the Yi ethnic group in the village [Xinhua]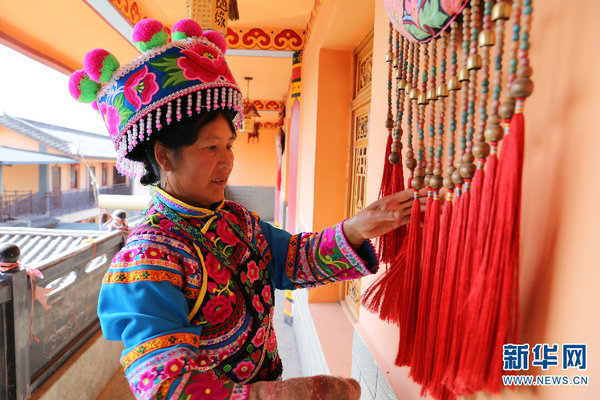 Li Xiaolan tidies decorations hanging outside her house. [Xinhua]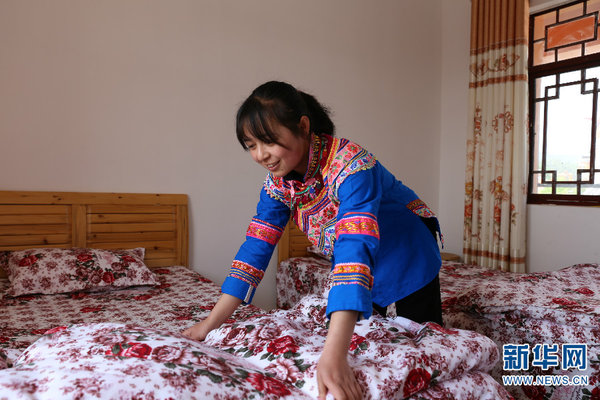 Li Chengqin tidies a room in a hotel. [Xinhua]
(Source: Xinhua/Translated and edited by Women of China)