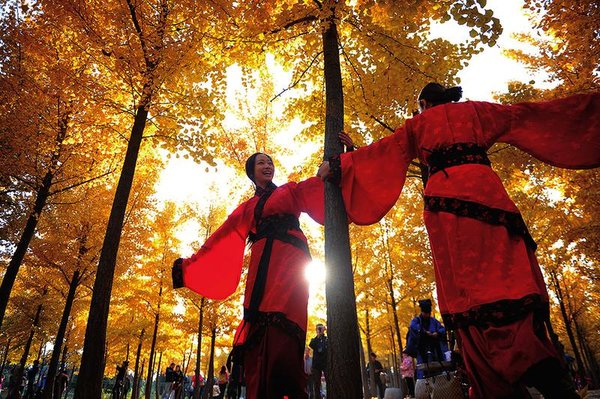 Hanyangling attracts a large number of tourists to enjoy the autumn scenery. [Shaanxi Daily/Liu Qiang]
Each autumn, Hanyangling, better known as the Yang Mausoleum of Han, attracts thousands of visitors to the historic location in Xi'an, northwest China's Shaanxi province.
At this time of year, tourists visit the area to enjoy the scenic forests composed of acres upon acres of brightly colored yellow ginkgo trees.
On October 26, organizers at the site launched the fourth season of their annual educational activity series, Visiting Ancient Culture in Autumn.
The first event was called "Night of Yangling Museum", which, as the name suggested, took place in the evening.
The event included a performance by guqin musicians, a Han Fu poetry recital, a sinology forum, a Han etiquette performance and a Hanfu fashion show.
The program lasts for one month, aiming to popularize Chinese traditional culture and heritage knowledge among adults, students and visitors of different age groups.
Further activities include a kite flying show, interview sessions, a discussion on Hanfu fashion, an online quiz, an anime exhibition, a paper-cutting performance as well as a handicrafts market to benefit impoverished locals.
Hanyangling has carried out several poverty-alleviation initiatives since 2014 in Qiaojia village in response to instructions from the provincial Party committee and the provincial government.
The museum also introduced a gourd growing project to the village this year. By training impoverished locals to grow and process gourds and produce gourd crafts for sale at Hanyangling Ginkgo Festival, organizers strive to help villagers increase their income.
"This series of education activities are intended to strengthen the protection and utilization of cultural relics, and raise public awareness on the importance of heritage protection," said Bi Sheng, deputy director of the museum.
Hanyangling attracts a large number of tourists to enjoy the autumn scenery. [Shaanxi Daily/Liu Qiang]
(Source: Shaanxi Daily/Translated and edited by Women of China)