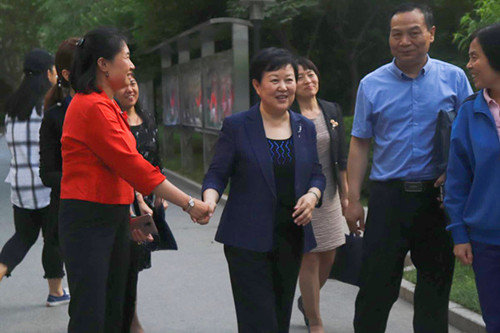 Tan Lin (C) shakes hands with a faculty member. [China Women's University]
Tan Lin, vice-president and member of the Secretariat of the All-China Women's Federation, held an inspection tour to learn more about campus life and the teaching program at China Women's University (CWU) on May 8.
During a meeting, Tan called on mid-level faculty members to better follow the two keynote speeches of President Xi Jinping – that he delivered during a conference on May 4 to mark the 200th anniversary of the birth of Karl Marx, and at a gathering with students and staff at Peking University on May 2, respectively.
Tan urged them to strictly adhere to the fundamental objective of cultivating more builders and successors of socialism with Chinese characteristics; act on correct political orientation; improve their competence; establish a system conducive to the growth of high-level personnel; and, build the CWU into one of top Chinese women-oriented educational institutions.
Accompanied by the CWU's Party Committee Secretary Li Mingshun and Member of the Standing Committee of the CWU Party Committee Zhao Hao, Tan visited the Student Affairs Office and the Department of the Communist Youth League (CYL) Affairs.
There, she learned more about the university's financial assistance to students from impoverished families, and its work carried out on mental health, national defense and ideological and political education.
Tan gave high praise to CWU's work concerning the cultivation of high-quality students and the improvement of their lives on campus over the past few years in accordance with core socialist values and relevant instructions by President Xi.
She made the remarks after listening to a work report by Han Yan, director of the Student Affairs Office and secretary of the CYL Committee at CWU.
She stressed that CWU should integrate Marxist ideas on women's affairs into its curricular activities, translate the celebrations of the annual International Women's Festival into key carriers amid the development of advanced campus culture with an emphasis upon gender equality, and closely monitor the healthy growth of students.
Tan sat down with several students, asked them about their difficulties in academic studies and personal lives, and responded to their concerns when she went to the campus dining hall.
Moreover, she encouraged local students to cherish their four-year college life, make full preparations for upcoming graduation, spare no efforts to pursue personal dream, and contribute their efforts to the realization of the Chinese Dream of national rejuvenation.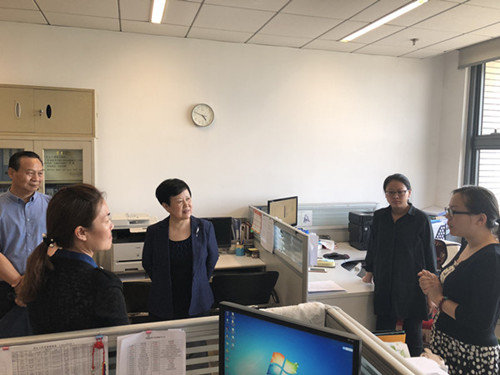 Tan Lin (C) listens to the introduction of CWU's work on student affairs. [China Women's University]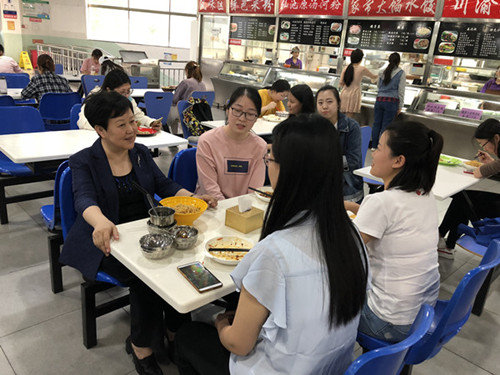 Tan Lin (L) talks with several students about academic studies and personal lives. [China Women's University]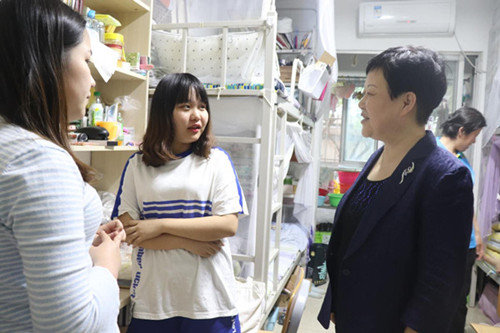 Tan Lin (R) visits a student dormitory. [China Women's University]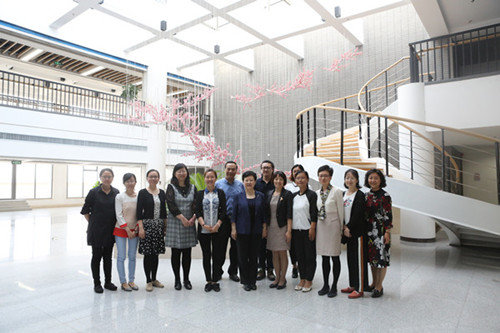 Tan Lin (C) and faculty members of China Women's University [China Women's University]
(Source: China Women's News/Translated and edited by Women of China)