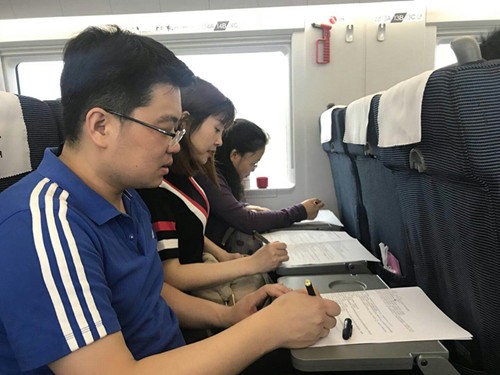 Attendees take a test about Party-building topics on their train to Baoding. [China Women's University]
The Party branch of the Quality Supervision Department at China Women's University (CWU) organized its Party members and applicants for Party membership to visit Xiongan New Area in north China's Hebei Province as part of their regular Party day activities.
The Xiongan New Area, which is an administrative region formed on the basis of three counties in the city of Baoding by the CPC Central Committee and the State Council in April last year, is set to become a global financial and technology center to rival Shenzhen and Shanghai, two coastal metropolises in China.
Members of the Party branch committee of the CWU Quality Supervision Department attended an online training seminar on Party-building affairs and joined a contest to further familiarize themselves with relevant topics while they were taking a train from Beijing to Baoding.
The tour of the Museum of Tunnel Warfare at Ranzhuang, one of the national patriotism educational bases, drew all participants back to the history of Chinese People's War of Resistance Against Japanese Aggression from 1931 to 1945.
They talked with local middle school students, who had held a firm belief in the bright future of their hometown. They also visited the headquarters of Xiongan New Area Administration Commission.
Along with comprehensive studies of President Xi Jinping's keynote speeches and instructions concerning the construction of Xiongan New Area, the field trip further increased participants' knowledge about the CPC and its leadership of the Chinese revolution, reconsolidated their faith in the Party and its undertakings, deepened their understanding of the importance of the establishment of Xiongan New Area, and boosted their enthusiasm in the building of socialist causes with Chinese characteristics.
Participants tour revolutionary sites in Xiongan New Area. [China Women's University]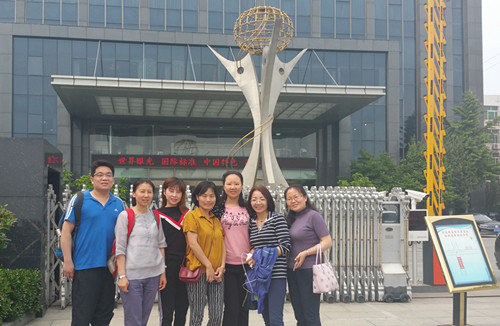 Attendees pose for a group photo in front of the headquarters of Xiongan New Area Administration Commission. [China Women's University]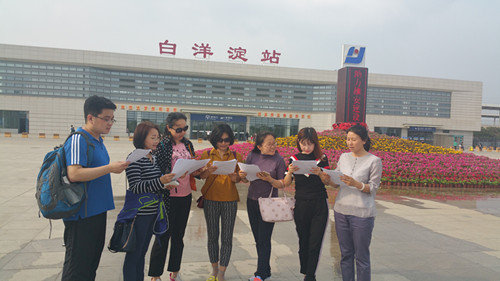 Participants read relevant materials before they take a train back to Beijing. [China Women's University]
(Source: China Women's University/Translated and edited by Women of China)