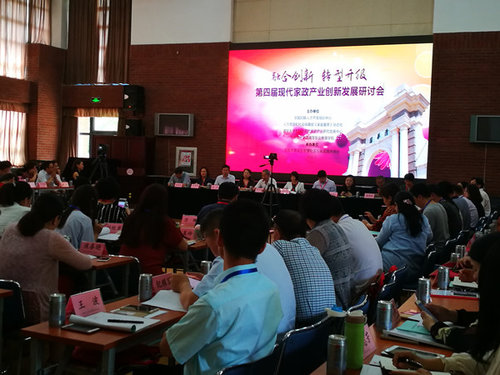 Participants at the symposium [China Women's University]
The 4th Symposium on the Innovative Growth of Housekeeping Industries took place at Tsinghua University in Beijing from May 19-20.
The event was co-hosted by the College of Higher Occupation Education at China Women's University (CWU); the Talent Development Center affiliated to the All-China Women's Federation (ACWF); Home Service journal; the Research and Development Center of Housekeeping Industries under the leadership of the Tsinghua Association of Senior Scientists and Technologists; and, the Branch of Beijing Smart Communities and Housekeeping Services Association in the Chaoyang district.
The annual symposium has become a platform for professionals and practitioners to share personal insights and experiences on the development of the housekeeping industry, discuss supply and demand, and find innovative approaches to promoting the healthy growth of services and talent cultivation.
Former Vice-President of Tsinghua University Cen Zhangzhi and Deputy Chief-editor of Home Service Li Huangzhen gave speeches at the opening ceremony.
Deputy director of the ACWF Talent Development Center Zhao Hao, who is also a member of the Standing Committee at CWU Party Committee, talked about the main work done by the center and CWU's College of Higher Occupation Education to build up housekeeping disciplines, cultivate talent and promote relevant industries in his speech.
Zhao said the center and university are willing to strengthen their exchange and cooperation with other higher educational institutions, media organizations, and housekeeping companies in a drive to integrate theoretical studies into talent cultivation and build a closer connection between vocational training and social demands.
Founder and President of Jinan-based Sunshine Elder Sister Housekeeping Company Zhuo Changli; Han Wei, a professional from the Chinese Academy of Labor and Social Security; and, Huang Yuejia, president of Hunan Association of Housekeeping Services and Hunan WZH Community Services and Management Ltd.
Further attendees included Lei Yong, general-manager of Henan Xueronghua Maternal and Child Care Ltd.; Zhu Xiaozhuo, vice-president of Ningbo Housekeeping Services College; and, other professionals.
These officials voiced their views about the importance of the spirit of this year's annual two sessions meetings to the industries' healthy and sustainable growth; the innovative development of traditional homemaking services; the potential effects generated by the influx of foreign capital and practitioners upon domestic practitioners; and, the scheme of joint cultivation of housekeeping talent by higher educational institutions and enterprises.
The two-day symposium drew the attendance of nearly 200 university teachers, and representatives from nationwide housekeeping associations and enterprises.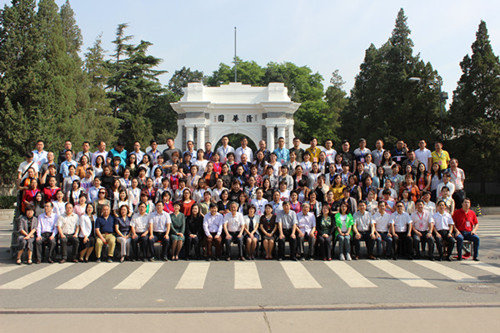 Attendees on campus at Tsinghua University [China Women's University]
(Source: China Women's University/Translated and edited by Women of China)