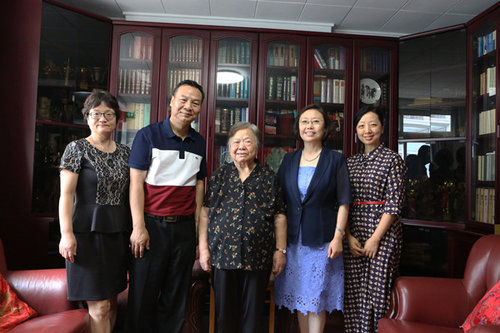 Peng Peiyun (C) and top officials from China Women's University at the donation ceremony [China Women's University]
Peng Peiyun, former vice-chairperson of the National People's Congress Standing Committee and former president of the All-China Women's Federation, donated nearly 500 books to the library of China Women's University from her home in Beijing on September 2.
Top CWU officials, including Li Mingshun, Liu Liqun and Liu Meng, represented the school to accept Peng's donation at the event.
In fact, it was the second time that Peng had contributed books from her collection to CWU.
Peng, 89, asked them about the university's latest developments and gave her recognition to its set objectives.
Peng emphasized that the CWU should underscore women's studies, the cultivation of female talents and people-to-people exchanges between Chinese women and their foreign peers.
Moreover, she noted that the university is expected to cultivate students into socialist builders and successors as required by President Xi Jinping at many occasions through their growth and ideological and political works.
Li, who is secretary of the CWU Party Committee, briefed Peng about the university's latest developments and expressed sincere gratitude for her long-term care and support.
CWU President Liu Liqun said that the university will promote the wisdom, thoughts and spirit of Peng in the future.
(Source: China Women's University/Translated and edited by Women of China)