Li Mingshun (R1) speaks with staff at a registration desk. [China Women's University]
Senior officials from China Women's University (CWU) inspected the work of departments engaged in student enrollment on different campuses on September 11.
During a visit to the campus near the Beijing Business School, Li Mingshun, secretary of CWU Party Committee, conveyed his greeting to staff at the registration desk, talked with first year students and their parents, and encouraged new entrants to make a fast adjustment to their academic studies as well as lives.
Liu Liqun, president of CWU, urged staff to ensure the safety of food on campus and beef up security checks in dormitories. Liu also spoke with freshmen about their upcoming studies and aspirations, and greeted faculty members in charge of enrollment work at the university's Huijia site.
Moreover, Sun Jianbei, vice-president of the CWU, also went to the campus of Huijia and offered her guidance on enrollment work.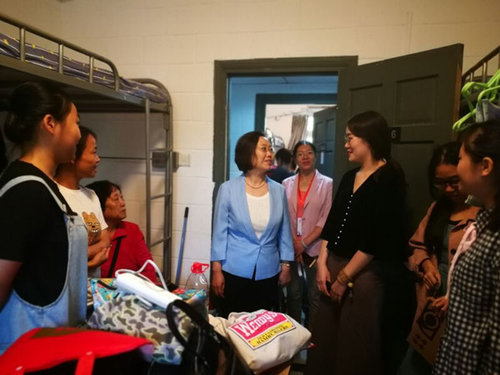 Liu Liqun (C) speaks with new entrants in their dormitory. [China Women's University]
(Source: China Women's University/Translated and edited by Women of China)