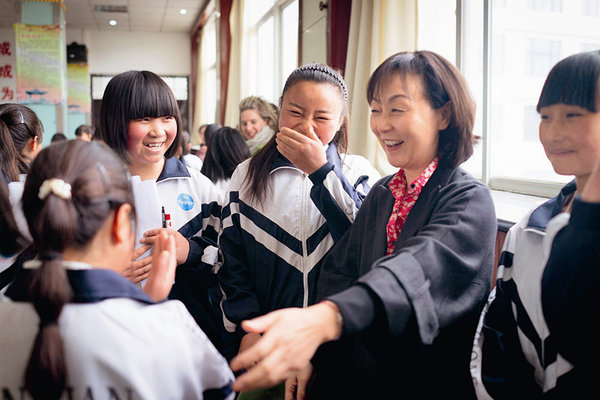 Ching Tien (2nd R) [Photo supplied by Ching Tien]
Ching Tien has been living in Vancouver, Canada, since 1983. She established Educating Girls of Rural China (EGRC) in Vancouver in 2005. The purpose of EGRC is to offer financial assistance to impoverished rural Chinese girls so they can finish senior middle school and attend university. The organization encourages the girls to fulfill their dreams. "If a woman is well-educated, then her offspring will definitely pursue an education. Education … helps to alleviate poverty and build a harmonious society," Tien says to Zhou Lin, with China Today.
Ma Feng is from an underdeveloped rural village in Northwest China's Gansu Province, and she works with a private equity fund in Shanghai. In September, she will begin studies to obtain a master's degree in finance at the University of Liverpool, in the United Kingdom. Ma is one of the girls who have received financial assistance from EGRC.
In 2008, Ma was given admission to China Women's University, in Beijing. "My anxious parents tried to borrow money from anywhere they could for my tuition fees and living expenses," Ma says. Fortunately, she received a grant from EGRC to cover her living expenses, and she also applied for a State-subsidized student loan to pay her tuition.
Ma likes to call Tien "Aunt Tien." Why? "Everyone meets somebody on their path of personal growth, who is there to give directions. Aunt Tien is the beacon light at the crossroads of my life. She sets an example, with her own life, for girls like me. She is the mentor of every girl sponsored by EGRC, and she is like family to us. She is also a life coach, who helps us with the direction of our future development," Ma says.
"Every time she came to Beijing, the students … would want to meet and chat with her about their studies, daily life and future plans. (Tien) would also talk about her most recent experiences, encourage us to learn English, and to face all difficulties in life with confidence and boldness. Aunt Tien often mentions that female independence must include both personal and economic independence," Ma adds.
Guided by Tien, Ma has participated in various activities, including Inspiring Women China, jointly held by the UK Embassy in China and the British Council, which invites a network of successful women, who volunteer their time, to talk to students about their jobs, careers and the paths they have taken. The purpose is to inspire girls and young women who are entering the working world.
Tien, a native of Beijing, moved to Vancouver in 1983. She came up with the idea of financially supporting girls in their academic studies after she participated in a charity event with her daughter in 2003. "My 14-year-old girl's chorus in Vancouver was giving a fundraising show for UNICEF (United Nations Children's Fund), and donations were to be used to support women's education in two African countries," Tien says. She was deeply moved by that event, and she decided to support rural Chinese girls.
"We have two financial-assistance programs for college students and senior middle school students from China's underdeveloped provinces, including Gansu and (Southwest China's) Guizhou provinces," she says.
"As most of the impoverished university students can receive State-subsidized student loans, our subsidies mainly cover their living expenses. The subsidies for senior middle school students cover 90 percent of their tuition fees, book fees and room and board … So far, 698 female students have received our subsidies," Tien says.
"I met Ma in the summer of 2008 in her hometown. I decided to help her after I learned about her family's situation. She served as a volunteer of EGRC after she graduated from university. The company with which she works made a donation to EGRC two years ago," Tien says.
Tien says it is necessary to increase women's knowledge and broaden their horizons. "We should encourage women to discover and pursue their own dreams. In the process of their education and growth, we should nourish their hearts, to help them feel safe and confident, which will definitely give them a brighter future," she adds.
"Many of the girls who have received our help become volunteers at EGRC. Some of them serve as EGRC's project managers and development managers. They have contributed a lot to the long-term development of EGRC. We will continue to support more rural Chinese girls. We plan to establish a scholarship for university students, and we also plan to offer university graduates the opportunities to study, work as interns, receive training or find employment in foreign countries," Tien says.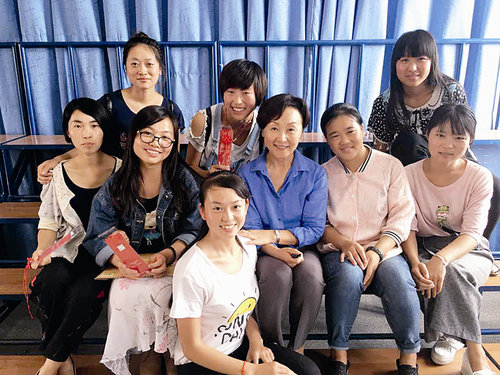 Ching Tien (2nd L) and Ma Feng (L) attend the launch of Inspiring Women China Platform. [Photo supplied by Ching Tien]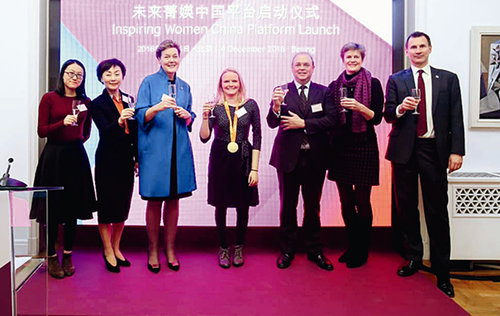 Ching Tien (M) with senior middle school girls [Photo supplied by Ching Tien]
(Source: Women of China English Monthly August 2017 Issue)