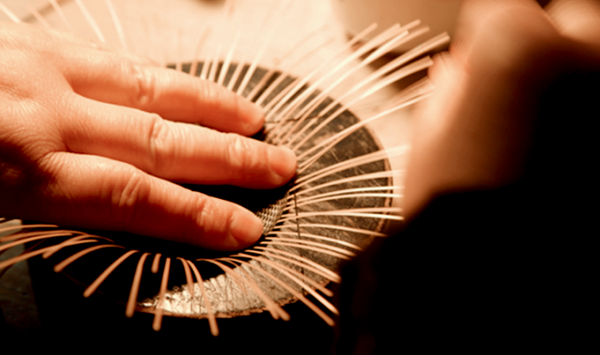 Bamboo item [Women of China]
Chengdu, capital of Southwest China's Sichuan Province, is commonly referred to as the "Hometown of Bamboo." Given the items' ingenious, creative designs, bamboo products woven around porcelain bases, made in Chengdu, have become world renowned. In 2008, China added the craft (of making the bamboo items) to the list of the country's items of intangible cultural heritage.
Records indicate the craft of making bamboo items originated during the Qing Dynasty (1644-1911). Zhang Guozheng, a Qing Dynasty craftsman, wove fine bamboo strips around porcelain bases, to shape the bamboo items. That was the embryonic form of the bamboo products.
During the reign of Emperor Guangxu (1871- 1908), the Industrial Bureau employed Zhang to teach residents the skills needed to create bamboo-woven products. Before that, the exquisite works of art were offered as tributes to members of the imperial families.
In 1929, Lin Shaoqing, a man from Guanghan (a city in Sichuan Province), began studying the skills of making bamboo items under Liu Fuxing, an apprentice of Zhang.
In 1954, Chengdu Bamboo Crafts Plant was established. Ye Guizhen, a young worker with the plant, apprenticed under Lin (soon after Ye was assigned to work at the plant in 1972), so she could learn how to make the items. Several years later, Ye took on an apprentice, Tan Daiming. Given her diligence and wisdom, Tan quickly honed her skills.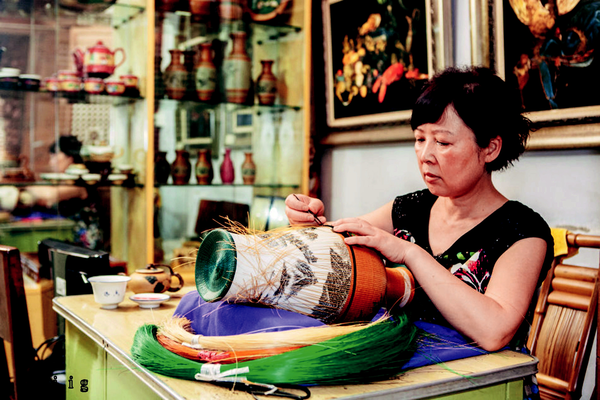 Tan Daiming [Women of China]
Tan, a native of Chengdu, is a provincial-level inheritor of the craft. She has been creating bamboo items for more than 30 years, during which she has won many prizes for her artworks.
"To create a bamboo item, craftspeople must complete complicated procedures, including cutting a section of a fresh, spotless bamboo stick, soaking the bamboo in water, peeling off the bamboo skin, scraping the bamboo stick into fine strips, weaving the strips around a porcelain base and packaging the work by hand. A mistake at any stage can ruin the item," says Tan.
Tao weaves bamboo strips into various items, including vases, plates, drinking vessels, and tea and coffee sets.
"Much owing to the help of my husband, who is good at creating oil paintings, I integrate the elements of paintings in the designs of my bamboo items," says Tan.
During the past three decades, the couple has created numerous items with different patterns, including pandas, red-crowned cranes, Han Dynasty (206 BC-220 AD)-dancers and wagons, and facial makeup used in Sichuan Opera. Given the ingenious and creative designs of the items, many Chinese and foreign artists recognize the craft as an exquisite art form.
Bamboo item [Women of China]
Tan is best at creating bamboo items with the patterns of pandas. "Weaving a panda's pattern takes a lot of skill and patience. It takes me at least a week to weave such a pattern," says Tan.
In 2003, Chengdu Bamboo Crafts Plant closed due to a drop in business. Despite the setback, Tan never gave up hope. Within a short time, she rented a small room to sell her items. Although she lacked capital and experience to develop her business at that time, she did not give up on her dream of promoting the traditional craft throughout the world. During the past decade, Tan has put much effort into inheriting and innovating techniques used to produce woven bamboo items, so they can display the unique charm of the art form to the world.
On May 20, 2013, CCTV (China Central Television) broadcast a documentary about Tan's efforts to promote the traditional craft. The next day, a businessman paid a high price for a bamboo tea set, which took Tan two and a half months to create.
To her pleasant surprise, within a short time, many people, from different parts of the country, visited Tan and asked her to teach them how to make the items. That strengthened her determination to make more efforts to keep the intangible cultural heritage alive.
At present, Tan teaches 20 residents, including university students, workers and migrant workers, how to create the items. "I take delight in helping my apprentices improve their craft-making skills … I hope to take on a full- time apprentice, so he/ she can create more, better crafts (than I do), after he/she learns all the skills from me," says Tan.
(Source: Women of China English Monthly November 2017 Issue)