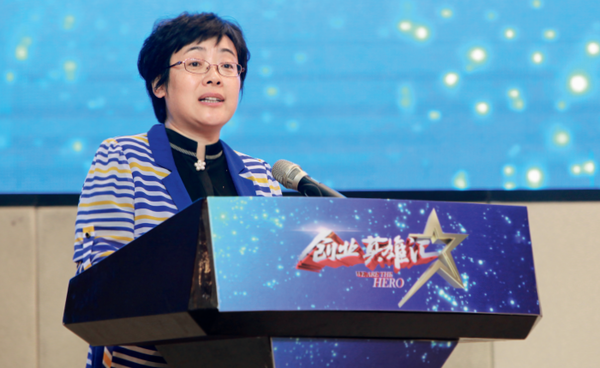 Yan Qiong [Photo/Women of China]
Yan Qiong, producer of We Are Heroes, a program of CCTV (China Central Television), has been working for the TV station for 21 years. During that time, she has worked as a reporter, a director, a chief editor and a producer. She has adhered to the principle of reporting objectively, but with a touch of humanity. Despite the hardships and difficulties she has experienced over the years, Yan says she believes all of her efforts have been worthwhile.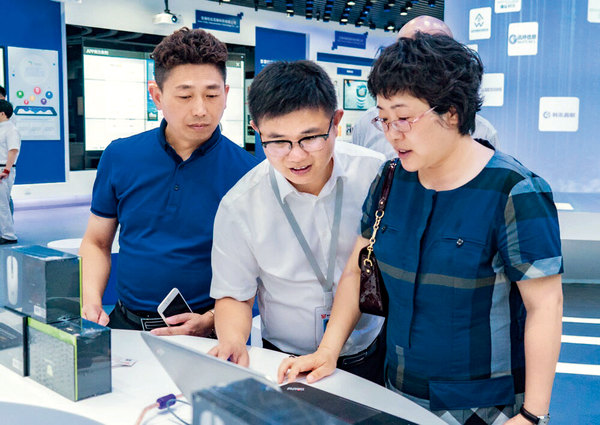 Yan Qiong visits a technologically innovative enterprise in China Sound Valley, China's only State-level artificial-intelligence industrial base. The base is situated in Hefei, capital of East China's Anhui Province. [Photo/Women of China]
Improving the Program
In December 2014, CCTV initiated We Are Heroes, in response to the Chinese Government's call for Chinese to promote entrepreneurship and economic innovation. In June 2015, Yan took over the TV program.
It was quite challenging for her to improve the program's quality and rating.
The broadcast group, composed of five women, rented a room in an office building in Beijing. Despite the hardships, they never complained. Yan led her team in studying venture capital. In their spare time, the team read articles about business startups and economic innovation, and analyzed the advantages of Chinese and foreign TV programs on venture capital. They also sought advice from venture-capital experts on how to improve the program, to attract more viewers.
Within a short time, the group established strict administrative regulations on the program's operation, personnel management and the selection of entrepreneurs (to be shown on TV). The regulations helped the group improve work efficiency and avoid risks.
Yan reported on many self-made entrepreneurs, who got rich by starting businesses related to people's daily necessities. Given Yan and her team's painstaking efforts, the program's popularity soared.
The group in recent years has organized special shows about businesspeople, who have helped impoverished people escape poverty, and young women entrepreneurs, who have started their own businesses, in response to the Chinese Government's calls for Chinese to use targeted measures to help impoverished people escape poverty and to promote entrepreneurship and economic innovation. The shows were well received by viewers.
The group has also reported, through multimedia, on individuals who have started their own businesses and promoted economic innovation. During the past year, the group has promoted, via new media, entrepreneurship and publicized information about business startups, to help Chinese establish correct values and a sound outlook on starting businesses.
In October 2016, the program was shown on the NASDAQ screen (in Times Square, in New York), one of the world's biggest digital billboards. The program attracted countless visitors from around the world.
As the old Chinese saying goes, "Those who work hard will be rewarded." Yan and her group members' efforts have paid off, as the program's excellent contents have been widely applauded. Wan Gang, Vice-President of the CPPCC (Chinese People's Political Consultative Conference) and Minister of Science and Technology, said the program had provided a platform for small and medium-sized enterprises to promote the transformation of their scientific and technological achievements into real productive forces. Wan made the remarks during the Fourth Session of the 12th NPC (National People's Congress), which was held in Beijing in March 2016. Five months later, Chinese Premier Li Keqiang affirmed the group's outstanding achievements in promoting entrepreneurship and economic innovation. During the past year, the State Administration of Radio, Film and Television has made positive comments about the program.
Some people say Yan's group has created a miracle, as We Are Heroes has become a "star program," in terms of its influence, rating and profit.
Yan Qiong (second row, fifth from left) poses for a photo with employees in China Suzhou (a city in East China's Jiangsu Province) Innovation Park. [Photo/Women of China]
Helping Chinese Establish Businesses
Yan and her team during the past two years have traveled across the country, to select outstanding, self-made entrepreneurs, to broadcast their stories on TV, to encourage Chinese, especially youths, to establish their own businesses. The group has conducted more than 30 activities, in different regions of China, to select entrepreneurs from among 100,000 candidates. The group has also worked hard to pool resources to help the entrepreneurs to realize their potential as businesspeople.
As the team is aware that, compared with men, many women tend to encounter greater difficulties in starting and developing their businesses, the team has put much effort into publicizing stories about women, who have started their own businesses and promoted economic innovation. So far, the group has reported on more than 70 outstanding women entrepreneurs.
As the TV shows have been well received by Chinese, the group has received numerous phone calls and letters, from different regions of the country, in which the callers and writers have said they appreciated the group for its efforts to promote entrepreneurship and economic innovation.
Many businesspeople have expressed gratitude to the group for having helped them achieve successes. For example, Yang Jian, founder of Dalian (a city in Northeast China's Liaoning Province) Idami Technology Co., Ltd., which uses new technologies to produce environmentally friendly and quality grain and cookers, told the group after the TV show introduced Idami in May 2017, many investors said they wanted to help finance his company. Given the sound development of his business, the company's monthly revenues have increased by five times.
The entrepreneurs' encouragement inspired Yan and her group members to provide better services to help more people start and develop their businesses. In addition to making greater efforts to improve the program, CCTV's only program on venture capital, the group has provided online-to- offline (O2O) services to individuals, as they establish and/or develop their businesses. The group has also implemented various activities to encourage Chinese to start their own enterprises, and has published books and offered courses to publicize information about venture capital.
By September 2017, Yan's group had reported on 395 entrepreneurs, among whom 276 reached, during the shows, oral agreements to cooperate with other businesspeople, who promised to offer them a combined 1.36 billion yuan (US $203 million) in investments. Many venture-capital firms, in different regions of the country, have considered the program to be the most reliable and influential source of information about Chinese entrepreneurs and business startups.
Challenging Task
In October 2016, during the 2016 National Week of promoting entrepreneurship and economic innovation (from October 12-18, 2016), CCTV, with the support of the National Development and Reform Commission and several other commissions, staged a special show to promote outstanding Chinese entrepreneurs. Yan led her team as it worked day and night. As a result, they fulfilled the task on time. The group made history in the TV station by staging such a grand show within 28 days. The show, which debuted on CCTV on October 18, 2016, was a hit with viewers.
Given her tight schedule, Yan has few opportunities to communicate with her relatives. "I'm grateful to my mother-in- law, who has helped me take care of my son during the past 10-plus years," says Yan. "I'll try my best to fulfill my social and family duties."
(Source: Women of China English Monthly November 2017 Issue)