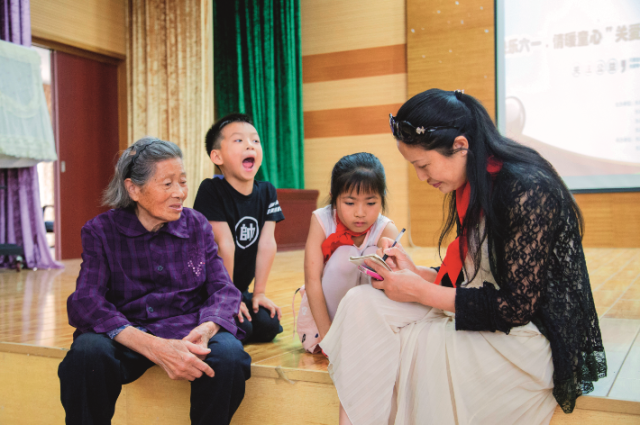 Ke Wenxiang interviews left-behind children in Wuhan [Women of China]
Many residents of Wuhan, capital of Central China's Hubei Province, have called Ke Wenxiang, 46, a reporter from Hubei Pictorial, "a warmhearted woman." Why? During the past several years, Ke has not only reported on the various difficulties that the prefecture's residents have faced, she has also provided financial aid to the residents, to help them solve the difficulties in their lives. Given the remarkable achievements in her work, and given her efforts to help disadvantaged residents, Ke in recent years has received accolades and special titles, including March 8th Red-banner Holder in Hubei Province, the May 1st Labor Medal in Hubei Province and the May 1st Women's Pacesetter in Hubei Province. As many Chinese have become impressed by Ke's accomplishments and accolades, they have wanted to learn more about her, including her experiences while growing up and her persevering efforts to realize her potential as reporter/writer.
Sticking to Her Dream
Ke was born in 1971 into a farmer's family in Ezhou, a city in Hubei Province. Given her diligence and wisdom, she became one of the top students in her class. However, she failed the national university-entrance examination in 1989, as she was out of form during the exams. Ke calmly faced the setback and, during the spring of 1991, she went, alone, to Wuhan, to work to help with her family meet its daily expenses — and to pursue her dream of becoming a writer. During the following two years, Ke worked as a bookstore clerk and a private tutor. Despite her tight schedule, she managed to find time to read books, while she taught herself how to write.
As the saying goes, "God helps those who help themselves," Ke's persevering efforts eventually yielded handsome rewards. A few months later, she was admitted to the department of Chinese Language and Literature at the Adult Education College, under Hubei University, after she passed the university-entrance examination for adults.
Two years later, Hubei TV Art Company employed her as an editor. However, the company failed to survive the fierce market competition, and it went bankrupt in 2004. Within a short time, Ke began contributing, under different pen names, to magazines and newspapers. She was thrilled each time she learned that one of her poems or short stories had been published.
At the end of 1993, Ke married a resident of Wuhan (she did not reveal her then- husband's name). Like most of the young women her age, Ke hoped to have a loving, caring husband. Unfortunately, her marriage was anything but smooth sailing. Her husband looked down upon her, as he believed he, an urban resident, was superior to his wife, who was born in a rural area. Eventually, Ke became a victim of domestic violence. In 2005, she divorced her husband.
Despite the hardships and difficulties she has experienced over the years, Ke has carried on. She was pleased when Hubei Pictorial employed her as a reporter/editor in early 2011. Given the outstanding achievements in her work, she was named the magazine's chief correspondent in 2015. Her work has not only enriched her life, but it has also become a rich source of inspiration for her writing. Several of her works, including poems, essays and novels, have been published in various magazines and periodicals.
"My mother has had a deep influence on my life. She has set a good example for me in working and studying hard," says Ke Yang, Ke Wenxiang's son. Ke Yang has been preparing to take the postgraduate school-entrance examination (at the end of 2017) since he graduated from Hubei University of Economics, with a bachelor's degree, five months ago. He received a State-level scholarship while he studied in the university. In 2015, Hubei's Education Department sent him to Cambridge University, in England, to study finance.