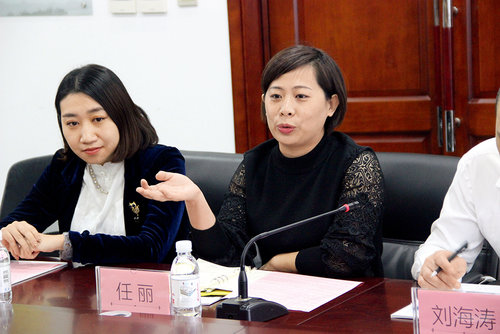 Ren Li (C)
Legend has it the phoenix, the queen of birds, led birds as they flew to paradise, so they could live happy lives. Like the lucky bird, Ren Li, an entrepreneur from Huangdian (a town in Heze, a city in East China's Shandong Province), and who has a strong enterprising spirit, uses her wisdom to develop her business.
Ren during the past three years has put a lot of effort into developing both Shanggu Farm and Shandong Shanggu Agricultural Development Co., Ltd. (both of which are in Qingdao, a city in Shandong Province). The pollution-free crops have been well received by customers. Given Ren and her employees' efforts to promote online sales of farmers' products, many rural residents have increased their incomes substantially.
Starting Her Business
In 1974, Ren was born into a farmer's family in Huangdian. At the age of 15, she went, alone, to Qingdao, to study in a senior middle school. She earned money by renting books to her schoolmates while she was studying in the department of business management at Qingdao University from 2000-2002. Shortly after she graduated from the university, she was employed by a well-known business, in Qingdao, as an office clerk.
Within a short time, she was promoted assistant to the enterprise's president. However, she was not satisfied with the "stable life." So, she quit her job half a year later, and she established SGOLD Investment Services Co., Ltd. (in Qingdao) with several of her friends.
People in her hometown were surprised when they learned, in 2014, that Ren was about to return home to start a business. Why? The people, who considered Ren "a phoenix rising out of the small town," thought she would settle down in the metropolitan Qingdao.
Before she returned home, news about State leaders making special trips to farms in other counties caught Ren's attention. She was aware of the Chinese Government's intention to encourage Chinese to develop the farm economy. That inspired her to establish a farm in her hometown.
By 2014, SGOLD had established 680 chain stores across the country. Instead of enjoying an easy, comfortable life, Ren, a strong-willed woman, chose a path beset with difficulties. However, she has never regretted her decision.
During the spring of 2014, Ren secured an investment from a shareholder of SGOLD. In August 2014, she established the 1,000-mu (67-hectare) Shanggu Farm.
'Tailor-made' Plantation
While leading her enterprise to remarkable success, Ren has been working hard to ensure residents' well-being.
Ren in 2014 discovered farmers in Huangdian had a hard time selling tomatoes, hot peppers and other vegetables after she conducted market surveys on fruit and vegetables. Then, she came up with a good idea to promote the products: To ask farmers to grow fruit and vegetables to meet the potential customers' needs, which she named "tailor-made" plantation.
Ren had a hard time cooperating with a Russian agricultural-development company, which agreed to buy tomatoes produced by the farm. The agreement, though, contained harsh terms, including growing a specific variety of tomatoes without fertilizing and spraying insecticides on the vegetables, and hiring hands to weed the fields.
Almost all of Ren's employees objected to her decision (to accept the Russians' terms), due mainly to the overwhelmingly high costs of growing tomatoes. Nevertheless, Ren insisted on cooperating with the Russians. As the saying goes, "Facts speak louder than words." The Russians in 2015 paid a high price for the farm's tomatoes.
In July 2015, Ren established Shandong Shanggu Agricultural Development Co., Ltd. The company, within three years, established, across the country, more than 20 agricultural bases to grow crops, fruit and vegetables. The company buys farmers' products at preferential prices, and processes the products before selling them. The products have been selling well throughout the country.
Producing Healthy Foods
Soon after Ren established Shanggu Farm, she began advocating the concepts of "healthy kitchens, healthy lives," and she began attaching great importance to food safety.
Under Ren's guidance, farmers started to use farmyard manure, rather than chemical fertilizers, to fertilize the land.
Ren and her employees (both on the farm and in the company) in recent years have worked hard to develop ecological farming.
Ren employs farmers to grow newly introduced varieties of crops, fruit and/or vegetables at the farm. If the plants grow well in the fields, Ren will ask the farmers to grow them at the agricultural bases.
Ren is aware that given their tight schedules, many people have little time to go shopping. Therefore, her company in 2017 established "Aicungou" e-commerce platforms (including a website and a mobile app), to promote sales of agricultural and sideline products (produced by the company).
"Farmers may post, via 'Aicungou,' information about and pictures of their products," says Ren.
The company recently employed "operating officers," in different parts of the country, to promote online sales of the company's products. That not only created more job opportunities for residents, but also helped farms sell their products.
"We will make greater efforts to promote online sales of our products, so more residents will have healthy foods," says Ren.
Three years ago, Ren made a five-year plan (for herself): To develop her company into an influential agricultural enterprise in China. She keeps moving closer and closer to her goal.
Ren Li (C) talks with officials from municipal government.
Ren Li (R3) shows the officials her farm.
(Source: Women of China English Monthly Janaruary 2018 Issue)