As the Chinese Government has made greater efforts to protect China's cultural heritage in recent years, an increasing number of Chinese have tended to place greater value on "knickknacks" and "old-folk items" than they did in previous years. When you marvel at the beauty and artistic charm of the items, you might not fully appreciate how much effort the craftspeople put into making the items.
They have spent years creating crafts, with skill, determination and patience, and they have constantly perfected their skills and innovated the technical skills used to create the crafts. We should give thumbs up to women inheritors of intangible cultural heritage, especially those who have broken the gender barrier by inheriting the crafts traditionally passed down to men. In this edition, Women of China English Monthly shares the stories of women inheritors, who create crafts by using weaving or binding skills.
Colorful Lanterns Bring Joy, Hope to Chinese
Splendid Foshan Lantern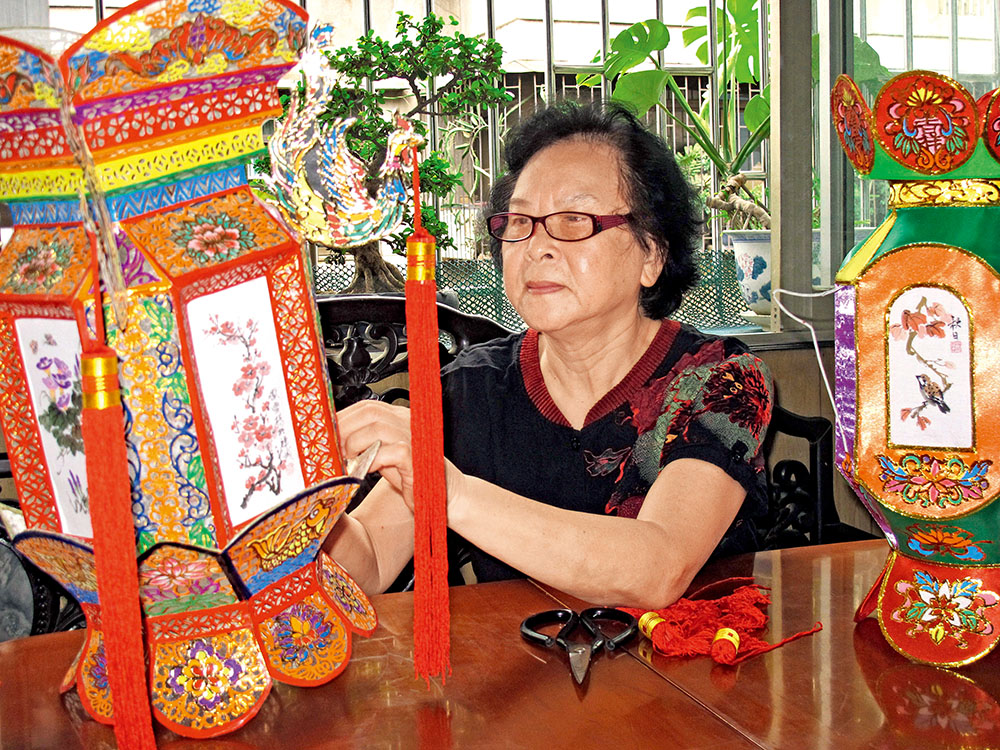 Yang Yurong
Records indicate Foshan's lanterns first appeared during the Ming Dynasty (1368-1644). Over the past hundreds of years, Foshan's residents have taken delight in appreciating the beautiful lanterns created within the city, and in watching thousands of colorful, handmade lanterns, which combine to turn night into day. The lantern show definitely is a sight to behold. Given the ingenious, creative designs used to make the lanterns, many Chinese and foreign artists recognize the craft as an exquisite art form.
The colorful lanterns come in different shapes, including figures, animals, flowers and boats. Multiple skills, such as paper-cutting, embroidering and carving are used to make the lanterns. During autumn, Foshan holds a lantern show to celebrate an abundant harvest. The lanterns are made from sesame and melon seeds and other materials.
To add to the festive atmosphere, communities in many regions of China hold lantern shows during Lantern Festival (15th day of the first lunar month, and the first full moon of the year). The tradition dates back more than 1,000 years. Chinese have long considered lanterns as symbols for joy, hope and prosperity.
Given the ingenious designs and superb workmanship, lanterns made in Foshan, a city in South China's Guangdong Province, are world renowned. Foshan, which is one of China's historical and cultural cities, is commonly referred to as "Hometown of Colorful Lanterns." The craft of making Foshan's lanterns was added to China's list of intangible cultural heritage in 2008.
Yang Yurong, a State-level inheritor of the craft, during the past five decades has strived to improve her lantern-making skills. With creation and innovation, she has breathed new life into the traditional craft. Over the years, she has taught many young people, including her son, Huang Hongyu, how to make lanterns. Huang is a municipal-level inheritor of the craft.
Yang was born in Foshan in 1945. Influenced by Yang Yan, her father, who taught painting at a local art school,Yang Yurong developed an interest in fine arts. Although she had a talent for sports, she eventually chose to become a craftswoman. In 1962, Yang Yurong, then 17, was employed by Foshan Folk Arts Research Society. She apprenticed under several skilled craftsmen, so she could learn how to make lanterns. Given her diligence and wisdom, she rapidly honed her skills.
During the Mid-Autumn Festival of 1975, orders for the lantern "A Smooth Sail," made by Yang Yuyong, flooded in from all over the world. The artwork sold well for several consecutive years.
In 1985, China's State Post Bureau issued a stamp, printed with the pattern of "A Dragon and a Phoenix," another lantern made by Yang Yurong. Within a short time, a seven-meter-high lantern, with the same pattern, was displayed during an art exhibition in Hong Kong.
During the Third International Abilympics (IA, a worldwide competition that showcases the vocational skills of disabled people in skilled trade and technology fields), which was held in Hong Kong in 1991, the 1,000-meter-long dragon-shaped lanterns, created by Yang Yurong, were eye-catching. Jackie Chan (Hong Kong's best-known kung fu film star) led disabled people, from more than 80 countries, during a performance of the dragon dance as they carried the lanterns. Guinness world records, for the length of lanterns and the items' superb workmanship, were set during the performance.
During the ceremony to mark Hong Kong's return to China on July 1, 1997, Yang Yurong was the chief designer of 13 festooned boats and lanterns on the boats. Although she suffered from overactive thyroid, she was absorbed in working with her teammates to create the lanterns and boats.
Yang Yurong laughed when she heard some people say she had created a "machine hand," to help her paint lantern patterns on paper. "There's no trick to the work. To improve efficiency, I paint fast … However, it takes more effort to create an artistic lantern. It usually takes me several months to finish the work," says Yang Yurong.
Since Yang Yurong has retired from the society, she has had more time to blaze new trails while she has made lanterns. For example, she uses different materials, such as fruit seeds and fish scales to make lanterns.
During the spring of 2004, Yang Yurong used melon seeds, collected from her friends and relatives, to make an environmentally friendly lantern. In July 2004, the design earned her a silver medal at the first folk arts exhibition in Guangdong Province.
Under his mother's influence, Huang has become an expert in the craft. He runs a local plant that produces large lanterns. He leads craftsmen in integrating modern artistic elements in their lantern designs.
Huang, the fifth-generation inheritor of the craft, has provided training courses to middle school students, to teach them how to make lanterns. Yang Yurong has assisted her son as he has taught the children.
'Watchwoman' of Kite-making Craft
Exquisite Kites
Yang Hongwei
In ancient China, the northerners called the kite a "paper eagle," while southerners referred to it as a "sparrow hawk." Kites, which originated during the early Ming Dynasty (1368-1644), were all the rage during the Qing Dynasty (1644-1911). In modern times, Weifang became one of the largest kite-production bases in China. In recent decades, local craftspeople have developed the kite-making craft into an art form.
They have vividly, yet in an exaggerated way, depicted figures and animals, in the style of traditional Chinese paintings, on the kites. The craftspeople have mainly used scenes and figures from Chinese operas and stories, many of which have been depicted in woodcut New Year's pictures.
Weifang, a city in East China's Shandong Province, is one of China's major kite-production bases. Each spring, the city holds an international Kite Festival, during which delegates, from more than 30 countries or regions, participate. In 2006, China added the Weifang Kite to the list of the country's items of intangible cultural heritage.
Yang Hongwei, who was born into a kite-making family in Weifang in 1966, is a provincial-level inheritor of the craft (of making Weifang Kites). During the past three decades, she has spared no effort in pursuing artistic perfection.
Yang Hongwei was born in Yangjiabu in 1966. The village is renowned for both kites and woodcut New Year's pictures. When Yang was still a little girl, she often watched Yang Tongke, her grandfather, create kites and New Year's pictures.
"When I was 20 years old, the first national kite competition was held in Yangjiabu. My uncle and father helped my grandpa make a 360-meter, centipede-shaped kite. The kite looked magnificent as it flew in the sky," Yang Hongwei recalled. "My grandpa received a big award during the competition. Since then, he was hailed as Yangjiabu's 'King of Kites'."
Inspired by her grandfather, Yang Hongwei told her father she wanted to work in the village's kite-making plant. In August 1986, Yang Hongwei received kite-making training in the plant. She created more than 20 kites during the first month she worked at the plant.
Impressed by her talent, the plant's leaders often sent Yang Hongwei to different regions of China to attend craft expos. "The expos broadened my vision, which in turn helped me create more original kites," says Yang Hongwei.
In May 1992, Yang Hongwei established a workshop in the village. "My father told me I must not bring disgrace on my grandpa, and he made it a rule that every kite I made had to fly," Yang Hongwei recalls.
Since then, Yang Hongwei has routinely tested the kites created by her and her employees. As long as it is a good day, with a mild wind, she will drive a car, with bundles of kites, to an open field to test fly her "large birds."
Yang Hongwei has always attached great importance to guaranteeing the quality of the products made in her workshop. She and her employees use high-end mulberry silk to make the kites' faces. "The silk is not only thin and strong, but it looks beautiful when it is colored," says Yang Hongwei. "We choose mao bamboo, produced in East China's Fujian Province, which is aged two years or better, to make the kites' ribs, so the kites will be both beautiful and durable.
"Making a kite involves 60 complicated procedures, including choosing the bamboo and making the kite's ribs, making and painting the kite's silk face, and binding pulling threads to the kite. A mistake at any stage can ruin the item," she says.
"We make kites by hand, as we believe, when it comes to artistic charm, any machine-made product will not match a handmade item. However, it is no easy task to create a kite by hand. Many years of hard work has injured our hands and shoulders," Yong Hongwei says.
Now that many skilled craftspeople are getting old, Yang Hongwei takes pains to cultivate Xu Yang, her niece, as her successor. "I hope through our efforts, the intangible cultural heritage will stay alive," says Yang Hongwei.
West Lake Umbrellas Gorgeous as Flowers
Gorgeous West Lake Umbrellas

Hangzhou has been known for its beautiful umbrellas since ancient times. During the early 1930s, Zhu Zhenfei, a worker with Hangzhou Dujinsheng Silk Weaving Mill, created the West Lake umbrella. The exquisite, gaily colored umbrellas produced by the mill were well received by many residents, especially women. In 1979, the Hangzhou Institute of Arts and Design invited Zhu to design silk umbrellas. Within a short time, the gorgeous umbrellas were selling well, both at home and abroad. There are various styles of West Lake umbrellas, including those for daily use, and those used during dances and acrobatic performances.
The umbrellas are printed, dyed or embroidered with various patterns, including landscapes, birds and flowers. Craftspeople use Dujinsheng silk, a time-honored brand, to make the umbrellas' faces. They choose bamboo, which is aged three years or more, and whose diameter is between five and six centimeters, to make the umbrellas' ribs. As such, the umbrellas will be both beautiful and durable.
To make the umbrellas, craftspeople must complete more than 18 complicated procedures — including choosing the bamboo and making the umbrellas' bamboo ribs and silk faces — by hand. There was a peak in the development of the craft during the early 1980s. However, due to the shortage of quality bamboo, the traditional Chinese craft started to wane after 2000. Given the amount of work, and given the fact that craftspeople receive very little pay, few people are willing to learn the craft. As a result, there are few successors to the craft.
Female workers show their gorgeous west lake umbrellas.
Given the ingenious designs and the superb workmanship, umbrellas made in Hangzhou, capital of East China's Zhejiang Province, are world renowned. With bamboo ribs and silk faces, the umbrellas are light and, therefore, easy to carry. Many Chinese refer to the umbrellas as "booming flowers by West Lake (in Hangzhou)." The craft of making West Lake umbrellas was added to China's list of intangible cultural heritage in 2008. Zhang Jinhua, a well-known craftswoman in Hangzhou, has been creating the umbrellas for 38 years. In recent years, she has put much effort into promoting the traditional Chinese craft.
Zhang Jinhua
Influenced by her parents, who were craftspeople, Zhang developed an interest in traditional Chinese crafts. Despite her advanced age, Zhang still takes delight in creating umbrellas, in an art museum in Hangzhou, to help visitors understand the beauty of the craft. She cannot remember how many umbrellas she has made during the past 38 years.
In 1972, Zhang, then 16, was employed by a plant affiliated with Hangzhou Institute of Arts and Design. FIn 1979, she apprenticed under Zhu, so she could learn how to make West Lake umbrellas. Given her diligence and wisdom, she quickly honed her skills. Hangzhou Paradise Umbrella Group Co., Ltd., China's largest umbrella-making enterprise, in 2010 took on the project of protecting West Lake umbrellas. Within a short time, the company sent five workers to learn the craft-making skills from Zhang.
During the past few years, Zhang has been teaching her apprentices how to make the umbrellas in the exhibition center of handmade products in Hangzhou. Many of the center's visitors have been fascinated by the umbrellas.
Zhang in recent years has encouraged young people to learn the skills needed to make the umbrellas. She hopes more people will understand the beauty of the art form (of the West Lake umbrellas). She also hopes more enterprises will invest manpower and/or financial resources to support the inheritance of China's traditional crafts, especially those on the country's list of intangible cultural heritage.
Gong Fans 'No.1 Fans in the World'
Gong Fans Superb Works of Art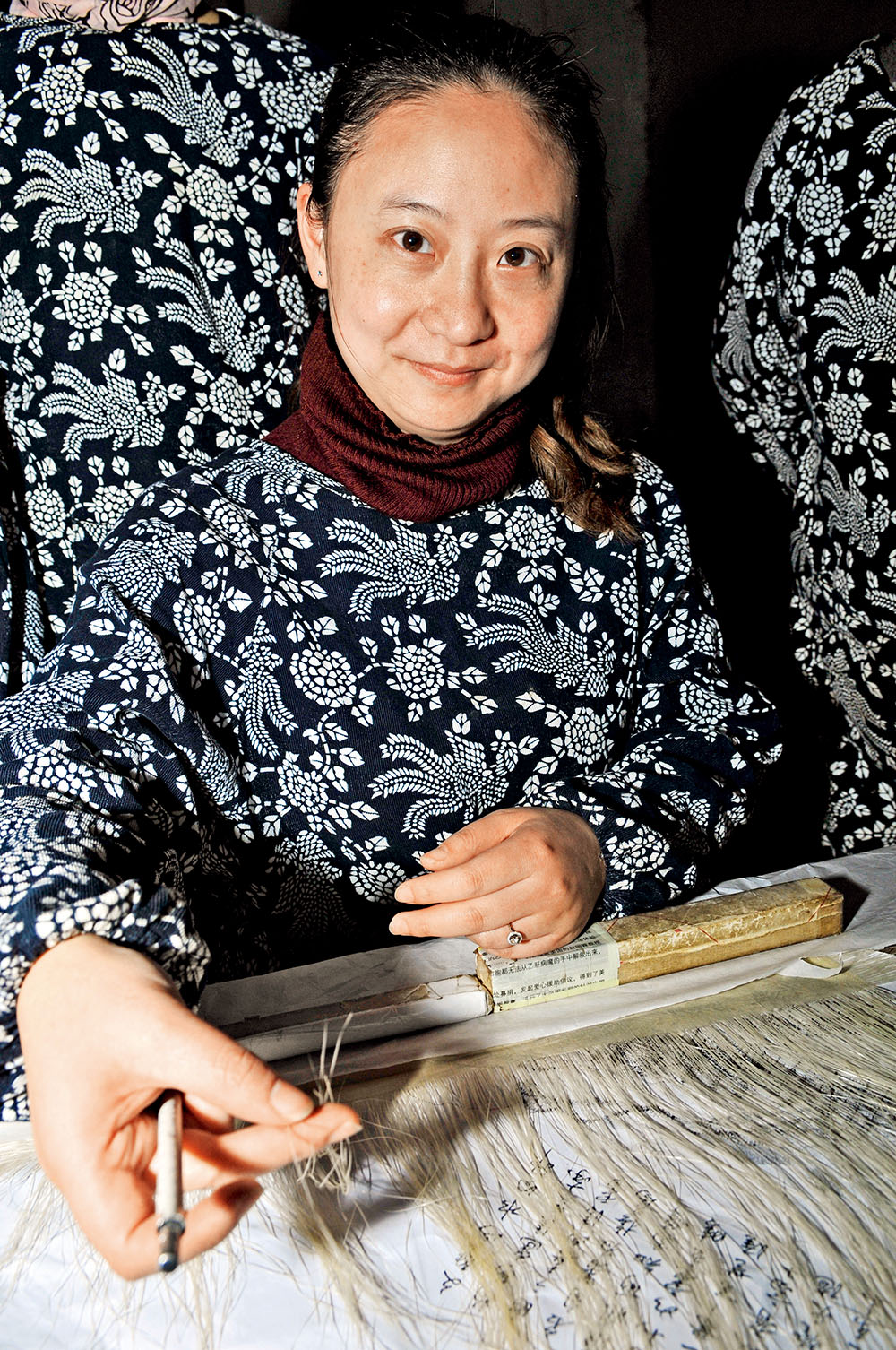 Gong Qian
Gong fans date back more than 130 years. During the late Qing Dynasty (1644–1911), Gong Juewu, a craftsman from Zigong, displayed his fan, made with fine bamboo strips, during a craft competition in Chengdu, capital of Sichuan Province. Later, the fan was presented to Empress Dowager Cixi (1835–1908). She commended Gong for his exquisite craft-making skills, and she named the item "Gong fan."
As a result, Gong's fans became popular among Chinese. Given the creative designs used to make the fans, many Chinese and foreign artists have recognized the craft as an exquisite art form. The woven patterns (made with bamboo) vividly portray figures, animals, plants, flowers, scenes and/or buildings. When you tap the fan's handle, you will hear a clear, dulcet sound, which resembles a drumbeat. Given the designs and the superb workmanship, the fans are of high artistic, collectible and decorative value.
The items can be preserved for more than a century. To make the fans, craftsmen and craftswomen must complete complicated procedures, including cutting a section of a fresh, spotless bamboo stick, soaking the bamboo in water, peeling off the bamboo's skin, scraping the bamboo stick into fine strips, weaving the strips into a "fan leaf" and packaging the work by hand.
Gong fans, also called "palace fans," are among the best-known crafts of Zigong, a city in Southwest China's Sichuan Province. In ancient times, the fans were ornaments in the imperial palaces. The faces of the bamboo, peach-shaped fans are as glossy as mirrors, and they are as thin as cicadas' wings. No wonder Guo Moruo (1892-1978, the renowned Chinese writer and archeologist) said the fans were nothing less than superb works of art (when he saw them for the first time).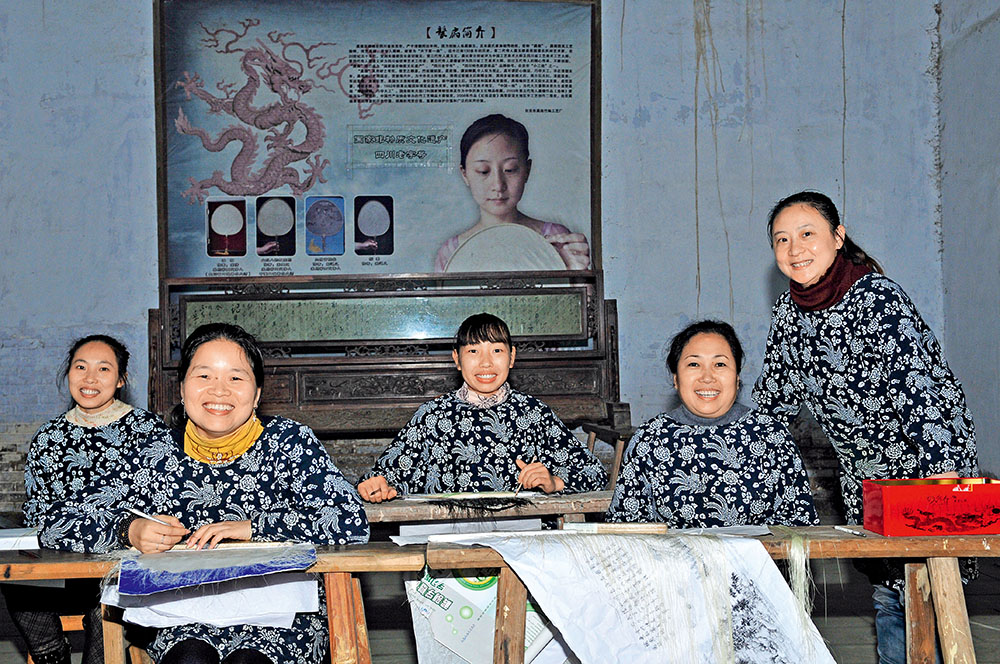 Gong Qian (R1) teaches her students how to make fans.
That was in 1974, during an art exhibition in Sichuan Province. There is little wonder, then, that the items are rated as the "No. 1 fans in the world."
Gong Qian began studying how to weave fans under Gong Daoyi, her father, when she was 8 years old. Gong Daoyi is one of the fourth-generation inheritors of the craft.
Gong Qian often wears Band-Aids on her slim hands. "You might easily hurt your hands, when you cut the bamboo, peel off its skin or scrape the bamboo stick into fine strips," she says.
Gong Qian is quick tempered, except when she creates a fan. Making a fan takes a lot of skill and patience, as craftspeople have to complete every procedure by hand. They even have to hold their breath during their work — a sneeze or a heavy breath might cause complete disarray of the fine bamboo strips. It usually takes a skilled craftsperson at least 60 days to weave patterns on a fan.
On his deathbed, in 1998, Gong Daoyi exhorted Gong Qian, then 16, to inherit and develop the craft (making Gong fans). In 2001, Gong Qian, then 19, established Zigong Gong Fans-making Plant, to promote the craft's development. Zigong Municipal Government not only allocated start-up capital to Gong Qian, but it also offered (for free) her a workroom.
Gong Qian employed 50 women, and she took on several apprentices. She made and sold fans to pay her apprentices while they studied under her. During the past few years, Gong Qian has received awards during national and international art exhibitions and craft competitions. As a result, she has become somewhat of a celebrity in Zigong, and that fame has helped her expand her business.
In 2005, Gong Qian was named a Sichuan provincial master of arts and crafts. In 2008, Sichuan Department of Culture recognized her as a provincial-level inheritor of the craft. Also that year, China's State Council (the central government's cabinet) and the Ministry of Culture included Zigong Gong Fans-making Plant on the list of China's experimental bases to promote the Gong fan-making skills.
Gong Qian in recent years has made great efforts to improve and innovate the technical skills used to make the fans. As a result, many of her products have been well received by customers.
"Many craftspeople, who are not rich, have stuck to their dream of promoting the traditional crafts throughout the world … I will continue to work hard to live up to my father's expectations, and I will try my best to promote the traditional craft, so more people will understand the beauty of the art form," says Gong Qian.
(Source: Women of China English Monthly February 2018 Issue)