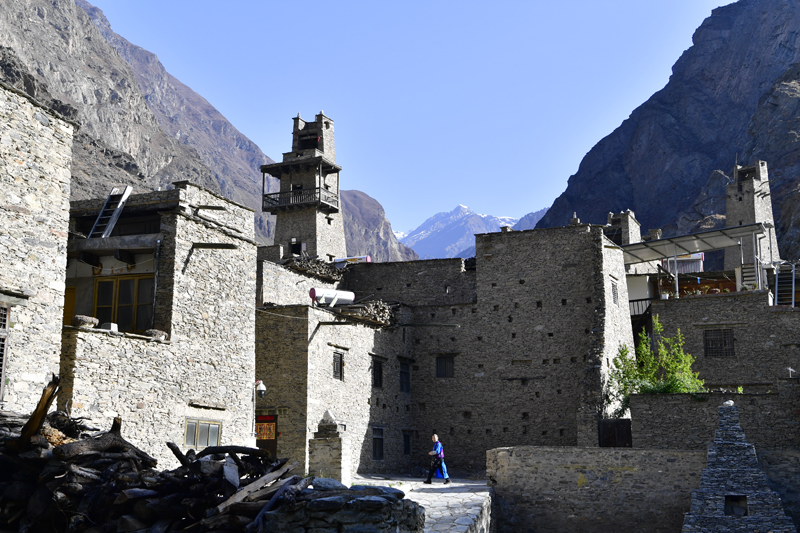 The Qiang village in Taoping is considered a mysterious "Oriental castle" [Women of China/Fan Wenjun]
Taoping Qiang Village is situated in Lixian, a county in Aba, a Tibetan and Qiang autonomous region in Sichuan. It is the only well-preserved "ancient castle" of the Qiang ethnic group in the world.
The buildings in the village were constructed from soil and rubble; yet, most of the buildings stood still during the Wenchuan Earthquake. Only a few walls collapsed. Prior to the earthquake in 2008, the buildings had actually survived a magnitude-7.5 earthquake in 1933, and a magnitude-7.2 earthquake in 1976.
The locals expanded the village after the magnitude-8 earthquake in 2008. The dwellings, and the folk customs of the Qiang ethnic group, have attracted many travelers to the village in recent years. Qiang people are good at singing and dancing.
They perform folk songs and dances to entertain tourists. They also offer various green, ethnic dishes. Now, more than 180 families in the village provide accommodations and catering services.
Zhang Juyue, 27, from Shajin, a village in Lixian County, is an inheritor of Qiang embroidery. Zhang runs a studio in Taoping, where she displays and sells various embroideries. Customers can also experience how to embroider in her studio.
In the past, women in Lixian picked mushrooms, cordyceps (a genus of fungi that is valuable in traditional Chinese medicine) and rhizoma gastrodiae (a rare herb medicine) in busy seasons, and they earned a living by selling what they picked. They only embroidered when they had free time.
Many women migrated to cities for work after the earthquake. They could only do some heavy labor, like men. Most of them had to leave behind their children and their elderly relatives.
"If the women who migrated to cities for work could return to the village, they could look after their children and the elderly people at home, and also earn money by embroidering. They could also help prevent the skills of making Qiang embroidery from being lost to the world," says Zhang.
She has been interested in Qiang embroidery since she was young. She participated in embroidery classes, organized by the local government, after she graduated from college. She also learned from some skilled embroiderers.
In 2014, Zhang established a cooperative, composed of more than 60 local women. The members of the cooperative can embroider in their homes with patterns and thread supplied by Zhang. Every winter, she organizes embroidery training for women embroiderers.
She shares some embroidering techniques with the participants, as she hopes to attract more women to make money through their diligent manual work. She has helped many women in Lixian work at home. Some skilled embroiderers can earn thousands of yuan by embroidering.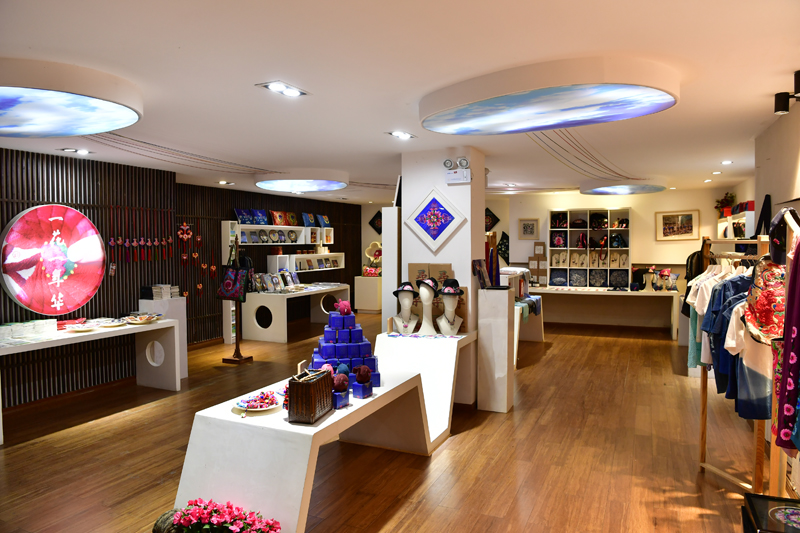 A Qiang embroidery exhibition room [Women of China/Fan Wenjun]
(Source: Women of China English Monthly May 2018 Issue)