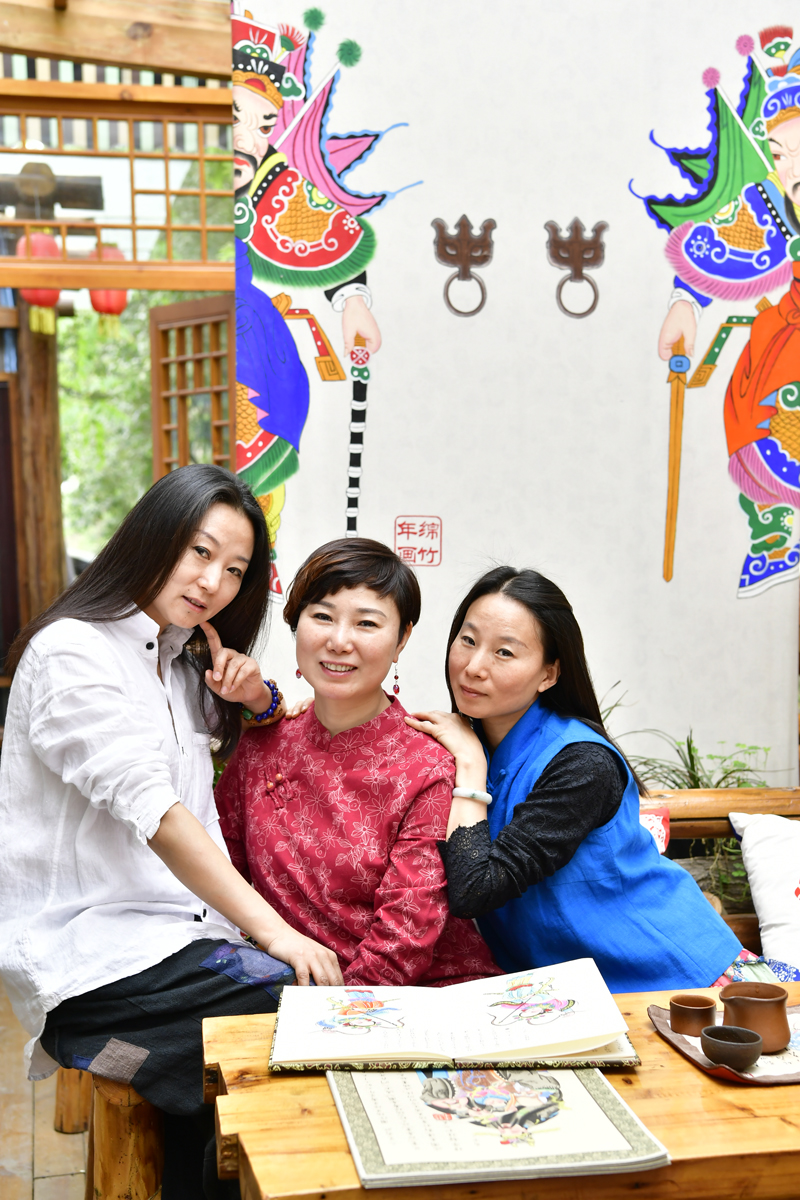 Sancai Workshop's founders, Jia Hongbing (M), Jia Jun (L) and Jia Ping [Women of China/Fan Wenjun]
The New Year's pictures produced in Mianzhu (administered by Deyang, in Sichuan Province) are considered one of the four best-recognized genres of Chinese New Year's pictures.
The others are Yangliuqing New Year's pictures, in Tianjin; Yangjiabu woodcut New Year's pictures, in Weifang (in East China's Shandong Province); and, Taohuawu woodcut New Year's pictures, in Suzhou (in East China's Jiangsu Province). In February 2002, the New Year's pictures produced in Mianzhu were added to the list of China's intangible cultural heritage.
Xiaode, a town in Mianzhu, is widely known for its development of local New Year's picture workshops. There are 15 large and medium-sized workshops in Xiaode. Sancai Workshop, established by three sisters, Jia Hongbing, Jia Jun and Jia Ping, is arguably the most famous workshop in the town.
Jia Jun graduated from the fine arts department of Sichuan Institute of Education (today's Chengdu Normal University). In 2000, she began using her spare time to make clothes and other products that contained the elements and patterns used in New Year's pictures.
Two years later, Jiang Hongbing and Jia Ping were laid off from their jobs. They were inspired by the beautiful products their sister had made. The three sisters collected a combined 150,000 yuan (US $23,810), which they used to open a workshop. Jia Hongbing was responsible for marketing and business operations, Jia Ping was responsible for management of the workshop's internal affairs, and Jia Jun concentrated on designing and producing pictures and other products.
They sold not only traditional New Year's pictures, but also cloth-art products, knitted items and other ornaments and commodities, all of which contained designs of New Year's pictures.
However, the magnitude-8 earthquake in 2008 severely affected their business. Their shop collapsed and a large number of the products in their storehouse were destroyed. The three women did not have time to care about their business. They immediately joined a team of volunteers to help rescue victims in the quake-stricken areas.
Heavy rainfall followed the earthquake. The sisters took all of the unbroken umbrellas, painted with New Year's pictures, from their storehouse, and they gave those umbrellas to soldiers and injured people, whoever needed umbrellas.
To their surprise, they later received a call from a public servant (with the local government), who told the women that many soldiers and volunteers, who had been sent to the quake-stricken area for quake-relief work, were impressed by their beautiful umbrellas, and they hoped to take some umbrellas home to give to people as gifts.
The sisters were also surprised when they learned that one of their clients did not cancel the order, but decided to wait until the sisters could produce umbrellas again. They moved some unbroken equipment to a tent so they could resume production. They produced New Year's pictures, and they gave the pictures to soldiers as gifts.
Many people began buying the New Year's pictures and related products, and in this way they helped the people in Mianzhu earn money, which they used to help reconstruct their hometown.
During the three years after 2008, the soldiers, volunteers and other aid-team members, who had been to Mianzhu, became the majority of the Jias' customers.
With support from Jiangsu Province, Xiaode in 2011 was reconstructed into a town, which has since been known for its high-quality production of Mianzhu New Year's pictures.
In 2015, the Jias spent the money allocated by Sichuan Women's Federation and the provincial development and reform commission, as well as the money they had collected by themselves, transforming their shop into a multifunctional venue. Nowadays, they not only display and sell products, they also provide catering services and organize workshops for visitors who want to try creating New Year's pictures.
"We hope to combine the development of our traditional New Year's pictures with art and tourism. We don't want to create wealth simply by selling those pictures as gifts. We must answer the various needs of our market and enrich the diversity of our products," Jia Hongbing says. The sisters are planning to begin selling items online.
In addition to making money for themselves, the sisters want to help women in their hometown make a living from home, and earn decent incomes. They currently own two shops, one in Deyang and the other in Mianzhu.
They employ more than 40 people, all of whom make New Year's pictures-related products to fulfill orders. Training sessions are held in Sancai Workshop so the women can learn to make New Year's pictures and embroideries.
As they recall the past 10 years, the three sisters are content by the fact they stuck to doing what they truly like. They have received a lot of support from the local government and women's federation.
They always warmly welcome visitors to their workshop. They like to listen to the visitors' advice on how to improve their products. The sisters are determined to work together to overcome difficulties and embrace a promising future.
Sancai Workshop, a multifunctional venue, displays and sells embroideries and related products, and provides catering services and organizes do-it-yourself workshops [Women of China/Fan Wenjun]
Visitors at Sancai Workshop [Women of China/Fan Wenjun]
(Source: Women of China English Monthly May 2018 Issue)