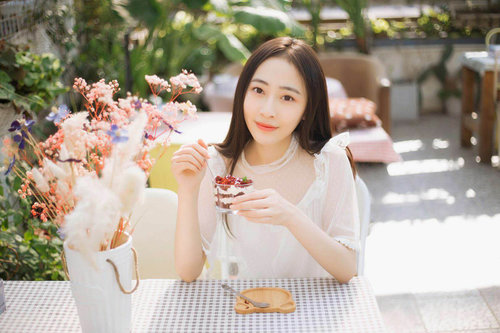 Li Yue's photo, taken recently [Women of China/Fan Wenjun]
Of the victims of the Wenchuan Earthquake, an 11-year-old girl lost her left leg when she was trapped in a collapsed building. That girl, Li Yue, was a student of Qushan Primary School, in Beichuan County. Li had long dreamed of becoming a dancer after she grew up.
On May 12, 2008, Li and several of her classmates were buried among the ruins of the collapsed school. Li survived; the rescue team pulled her out of the ruins, after more than 70 hours of hard work. However, falling floorboards had lacerated (which led to infection) and broken Li's left leg. Rescuers had to amputate her left leg so they could pull her out of the ruins.
Four months later, Li participated in a dance during the opening ceremony of the Paralympics, held in Beijing (on September 6, 2008). She held a pair of red ballet shoes as she was lifted up by a group of dancers. The red ballet shoes represented Li's longing to dance on stage.
During the summer vacation of 2009, Li started to write a book to record her memories about the 2008 disaster. Her mother, Li Jiaxiu, supported her plan to write the book. Her sister, Li Xing, helped by proofreading the articles.
Li Yue's book, Dance, I Will, was published in May 2010, two years after the quake. In 2011 and 2012, her second and third books, which recorded her growth after the earthquake, were published. In her first book, Li Yue wrote: "Now, I still have dreams for my future. I want to study hard and live a good life."
When WOC's reporters visited several quake-stricken areas in Sichuan, in late April, they contacted Li Jiaxiu. She said Li Yue had relocated to Beijing, to receive medical treatment and rehabilitation, after she had participated in the performance during Beijing Paralympics. She passed the entrance exams to Beijing No. 15 Middle School in 2010.
"Life has not been easy during the past 10 years. Li Yue received three major operations. Her health finally became stable in the past two years. Now, she is preparing to write the college entrance exams … She loves ballet so much that she doesn't want to leave this field. Even though she cannot dance, she wants to do something related to dancing, such as stage-art design and fashion design," Li Jiaxiu told WOC.
Li Jiaxiu is a single mother, who relies only on herself as she earns a living and supports her daughters. Every year, she returns to her hometown, in Beichuan, to see her father, who is over 70. "We believe we will have a better future. After all, the most difficult time has passed. I am glad to see my daughter, Yueyue, is becoming more open and optimistic," says Li Jiaxiu.
(Source: Women of China English Monthly May 2018 Issue)