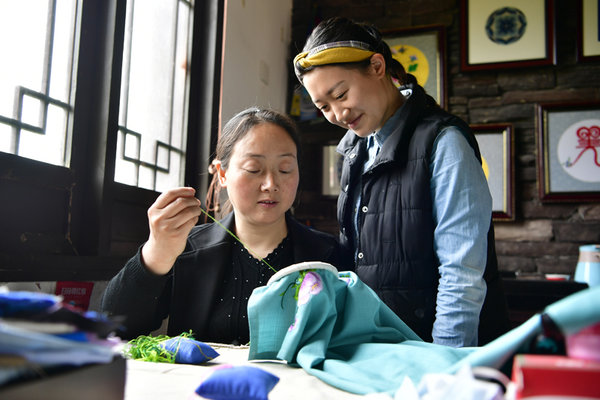 Chen Yunzhen (left) teaches her daughter how to embroider [Women of China/Fan Wenjun]
Many of the Qiang embroideries, made by local women in Beichuan, were buried in the ruins of collapsed buildings during the magnitude-8 earthquake in 2008.
Qiang embroidery highlights the made-by-hand skills passed down from generation to generation among the Qiang people.
The embroideries are widely used, as ornaments, on clothes, hats and shoes. Most of the patterns depict flowers, plants, fruits, birds, sheep, rabbits, insects and fish.
Chen Yunzhen, a woman in Beichuan, began learning how to embroider, from her mother and grandmother, when she was 9. At first, she could only embroider a small flower. With guidance from her mother and grandmother, Chen gradually grasped the skills needed to embroider complicated patterns of flowers, birds and portraits.
In 2003, the small village, in which Chen's home was located, started to attract tourists. "Besides farm work, I used my spare time embroidering. I could earn 500-600 yuan (US $79-95) per month," Chen recalled.
After the earthquake, Chen relocated to Anchang Town, so she could take care of her two children, who were studying in Mianyang. She worked for a tailor, and her works were highly praised by her boss and customers. She later joined the Qiang embroidery association, in the town, and she began making other crafts containing Qiang embroideries.
"At that time, our local government encouraged residents to learn Qiang embroidery. The government hoped we could earn money, and that we could have a more positive attitude about our lives in the future," Chen said.
The government encouraged her to provide Qiang embroidery training to others. She and her two assistants have since visited villages and towns, from March to October every year, to teach local women how to embroider. "One can grasp some basic embroidering skills after attending just one class.
It takes a woman at least six months to become a professional seamstress. To date, at least 2,000 of my students have become professional seamstresses. Some have established Qiang embroidery cooperatives," says Chen.
In 2012, Chen won top prize during the first Qiang embroidery contest held in Mianyang. That year, Sichuan Provincial Bureau of Culture named Chen a provincial-level inheritor of the intangible cultural heritage of Qiang embroidery.
One year later, she established Yunzhen Qiang Embroidery Cooperative. She said it was her mission to teach students and pass on the traditional technique. In recent years, she has taught Qiang embroidering skills to more than 5,000 students. She has helped many women and disabled people earn a living by working at home.
Chen hopes more young people will become interested in Qiang embroidery. "I started to teach my daughter how to embroider when she was 11. She majored in contemporary art design when she was studying in college. I hope she will combine what she has learned with this traditional technique," Chen adds.
"With the support of good policies issued by our Party and government, we are able to protect and inherit the traditional technique of Qiang embroidery," says He Guoliang, founder of the brand Yunyun Qiang.
He, 47, grew up in a Qiang village in Beichuan. Influenced by his mother and grandmother, He developed an interest in ethnic Qiang culture when he was young. He opened a restaurant, in the old town of Beichuan, in 1994, and the restaurant had live performances of the Qiang people's folk music and dance.
Prior to the earthquake, on May 12, 2008, He worked as a senior manager in a hotel in Central China's Henan Province. On May 14, He returned to Beichuan with 80,000 yuan (US $12,698) of his savings. After the Spring Festival in 2009, He quit his job in Henan and returned to his hometown.
His colleagues and friends donated a combined 60,000 yuan (US $9,524), and they asked He to use the money to help people in Beichuan reconstruct their hometown. He decided to develop Qiang embroidery.
At the beginning of 2009, He visited many Qiang villages and collected precious embroideries dating from the Ming (1368-1644) and Qing (1644-1911) dynasties. In October that year, he opened his own company and established an embroidery exhibition room to promote his brand, Yunyun Qiang. He invited skilled elderly Qiang women to develop and innovate embroidering skills and teach local women.
He currently runs two shops. He has eight full-time and 30 part-time seamstresses. His employees include disabled people and rural women who take care of farm work and their young and old family members at home.
Talking about his plan for the future, He says: "I hope to open a big shop in Chengdu to display embroideries that combine traditional techniques with creative art designs. I hope more and more people in urban areas can appreciate the beauty of Qiang embroidery," he says.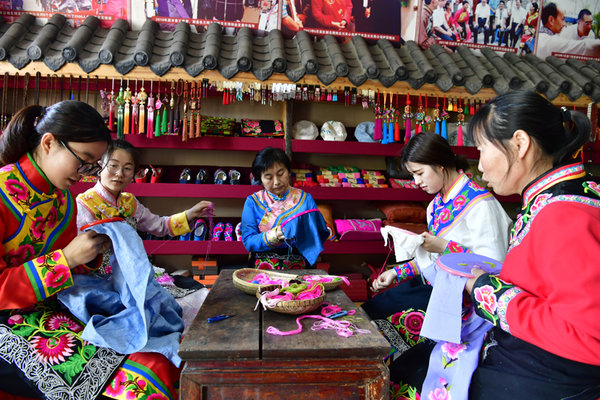 Women make bamboo-woven items at an intangible cultural heritage workshop in Beichuan [Women of china/Fan Wenjun]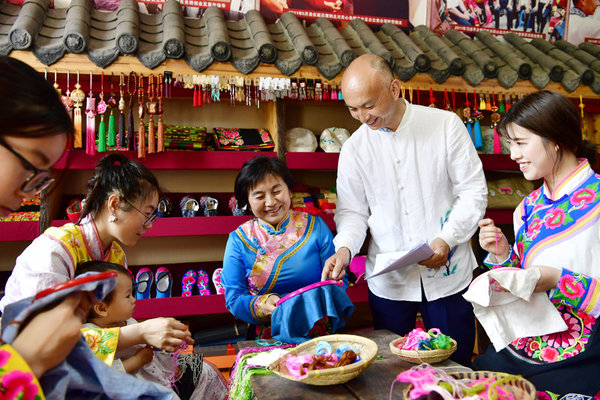 He Guoliang communicates with seamstresses [Women of China/Fan Wenjun]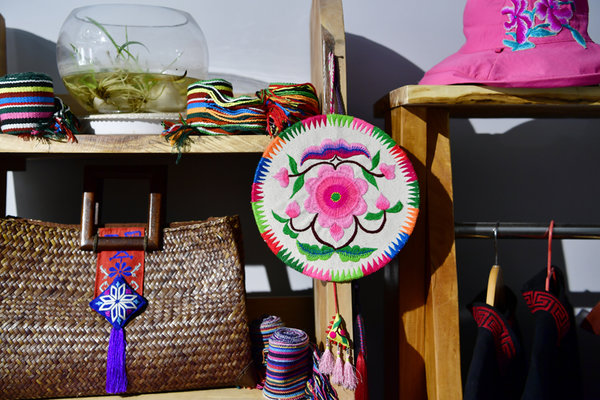 Qiang embroidery items displayed in a shop owned by Yunyun Qiang [Women of China/Fan Wenjun]
(Source: Women of China English Monthly May 2018 Issue)