NBooks Club
Cheng Yusi once told his wife, Che Yun, he would have been too nervous to quit his job two years ago to open a business if he had to do it alone. Fortunately for Cheng, Che quit her job to support him and help him start the business. Cheng is grateful that Che always stands by him. For Che, it is the support she receives from Cheng that makes her brave enough to help him fulfill their dreams.
The young couple currently operates two bookstores, NBooks Club · Origin and NBooks Club · Sylva, on Mount Nanshan, in Southwest China's Chongqing Municipality. They try their best to promote what they call a "bookstore-centered lifestyle." Such a lifestyle highlights reading and cultural activities, which people can attend at a multifunctional bookstore.
Nanshan is the highest mountain in the urban areas of Chongqing. The tourist site has a rich history, and a rich cultural background. A museum that commemorates the Chinese People's War of Resistance against Japanese Aggression is situated on Nanshan.
Two years ago, when Cheng and Che wanted to start a business that would promote the local history and culture of Chongqing, they thought about Nanshan. They rented two abandoned brick houses on the mountain, and they converted the houses into bookstores. They opened the first store, NBooks Club·Origin, on May 20, 2016, and the second store, NBooks Club·Sylva, on May 20, 2017.
Cultural Atmosphere
Cheng, born in 1987, and Che, born in 1989, both studied urban planning and design when they were students at Chongqing University. They met each other during a students' gathering, when they were both postgraduate students. Cheng fell in love, at first sight, with Che, a pretty and generous woman.
Che was attracted to the young, talented and honest man. They often went to Nanshan on dates. "It's a nice place, with a botanical garden, some tourist sites and entertaining venues. There used to be several restaurants and hotels, the facilities of which were quite simple," Che says. She told Women of China (WOC) that Nanshan impressed her as a beautiful, but somehow poorly conditioned, tourist site.
In 2014, Cheng and Che moved to work in Shenzhen, a city in South China's Guangdong Province, after they graduated. Che was employed by the Urban Planning and Design Institute of Shenzhen, while Cheng joined a property company, so he could participate in projects to develop urban space and constructions.
One day, the couple gathered with their former schoolmates, with whom they discussed the differences between Chongqing and Chengdu (capital of Southwest China's Sichuan Province). Some of their schoolmates said they considered Chengdu a city of rich history and cultural heritage, while Chongqing was a municipality with rapid economic growth. But for Cheng and Che, Chongqing had a history and culture worth promoting.
"Almost every city, which has a long history and rich culture, has an institution that well represents the cultural atmosphere of the city. A bookstore is a typical institution that represents a city's cultural atmosphere. For example, when we talk about Taipei, we will definitely mention Eslite Bookstore; when we talk about Guangzhou, we must mention Fangsuo Bookstore; when we talk about Nanjing, we think about Xianfeng Bookstore; and in Beijing, there are renowned bookstores such as Sanlian Taofen and Page One ... A bookstore is a perfect place that reflects the cultural atmosphere of a city," Che says. That, she adds, was the reason why she and Cheng wanted to open a bookstore, to represent the cultural atmosphere of Chongqing.
For the next year, the couple spent much of their spare time visiting bookstores in different cities. They both quit their jobs, in Shenzhen, in 2015. They got married, and they decided to relocate to Chongqing and start their business.
Business Partners
Cheng and Che did not tell their parents they quit their jobs before they moved back to Chongqing. After they learned their son planned to open a bookstore, Cheng's parents agreed that young people should have the courage to start a business. However, Che's parents were worried about their daughter and son-in-law. They did not sleep well the first night after their daughter moved back. The following day, they told Che they were willing to support her.
The young couple used all of their savings, and money their parents chipped in, to buy a house to start their business. Some of their friends and former schoolmates, who had full-time jobs, but who also wanted to run a business, became shareholders in Cheng and Che's first bookstore. They invested in the bookstore to help the couple realize their dream.
When Cheng and Che were preparing to open their first bookstore, they worked with one of Cheng's former colleagues. The three of them were responsible for all the work, including finding the right location, renting a house, contacting a construction team to complete the renovation, operating the bookstore, receiving customers and promoting their business.
At first, Che said, it was difficult for the couple to balance the time they spent on family and their careers. "Every day, from the moment we woke up till the moment we closed our eyes to sleep, almost all of the things we discussed were related to our bookstore. Compared with being newlyweds, our relationship was more like a couple of business partners. It took us some time to find a balance between our marriage and career. We agreed that keeping such a balance would be the best way to maintain the harmony of our relationship," Che recalled.

NBooks Club's stores have different functions. At the first store, Origin, events are organized to help people, who love reading, communicate with each other. Reading workshops and book-launch events are often held at Origin. At the second store, Sylva, comprehensive services are provided, including catering, boarding, music, film screenings, exhibitions and theater performances. Che recommends customers check out the "forest reading zone" in Sylva. "It is a long corridor with floor-to-ceiling windows, through which guests can look at the beautiful natural environment while they read books. Along the corridor, there are eight CD players for playing peaceful music," she says.
To trigger people's interest in reading, NBooks Club sometimes organizes two-day tours, during which customers not only have time to read together, they can also watch flowers and birds at the botanical garden in Nanshan, and they can taste local foods.
When Sylva opened, in May 2017, Cheng and Che had an eight-member management team. On June 17 that year, the couple held their wedding on the lawn of their second store. Che was glad that she fulfilled a dream after two years of hard work with her husband.
"I used to think if one day I could have my wedding at a place I liked, it would be a wonderful experience. I am happy that I have made my dream come true. The wedding was a gift we gave ourselves," Che recalls.
After their wedding, Cheng and Che realized that many young people in Chongqing also dreamed of holding their weddings at a bookstore. They have since helped two other couples hold their weddings at Sylva.
Home of Spiritual Life
When Cheng and Che opened their first bookstore, they hoped the store would be a "culture club" for people who were interested in culture and art. Not long after they opened the store, in May 2016, a group of customers visited the store every few months. Every time, they played classic guitars in the courtyard in front of the store. Cheng and Che later made friends with those guitar players.
"They all have full-time jobs. Some are heads of their companies and some work in architecture. They all love music, so they formed a band to play classic guitars," Che says. On Christmas Day, in 2016, Cheng and Che organized a concert, performed by the guitar players, in their first bookstore. They were surprised that the people in the audience were wearing nice and formal dresses — some even wearing tail coats. Last year, they organized the guitar players' second concert, but in their new bookstore.
"When we hosted the band's concert the first time, we simply had people seated around a fireplace. There was neither a stage, nor specially designed lighting effects. Last year, we were able to build a stage for the band, and we had good facilities to make the concert more professional. When my husband and I watched the band, we thought about our original intention and passion for running a bookstore, which would make Chongqing people proud of their hometown. Now, we are pleased that we have fulfilled our goal," Che says.
Cheng says many young people in Chongqing, especially those who have returned home after working in other places, attach great importance to spiritual life, which includes the culture- and/or art-related activities in which they participate during their spare time.
Cheng hopes NBooks Club can enrich young people's spiritual lives, and make them more willing to stay in Chongqing. He and his wife have invited local illustrators to hold exhibitions in their bookstores. They have also organized theater performances, wine-tasting events and craft- making workshops. "We hope people will realize they can do more things than reading in our bookstores," Che adds.
In October 2017, Cheng and Che's story was included on the list of China's Top 10 Love Stories for that year. The award was presented by China Central Television (CCTV). Cheng and Che were the youngest couple to receive the honor.
They discussed why they won the award. "Almost all of the other award recipients have special experiences. For example, there is a couple who lives in a watchtower on an isolated island; and a husband who accompanies his wife while the wife fights cancer ... We are the only couple who represents ordinary young Chinese couples who support each other in starting a business.
For a couple of partners, companionship is the best gift they can give each other. More importantly, the couple must learn to move forward together. They should not only maintain well the relationship as husband-and-wife, they should also be good friends and business partners," Che explains.
Cheng uses some words, taken from Chinese writer Wang Xiaobo's book, Love You Like Love One's Life, to describe his view of the love he shares with his wife. "People should do their best to express their emotions and enjoy entertainment during their lifetime.
But if I am alone, I dare not do all the things on my own. I'm afraid others may think I am crazy. But if I am with you, I won't be afraid any more. I have the courage to face whatever awaiting me," he says.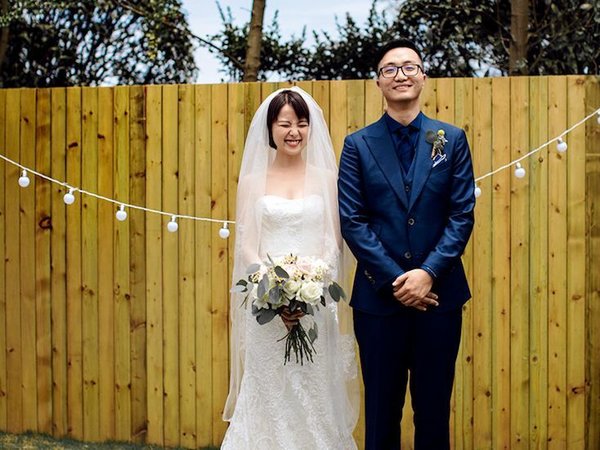 This young couple held their wedding at NBooks Club · Sylva in June 17, 2017.
The young couple at a wine tasting party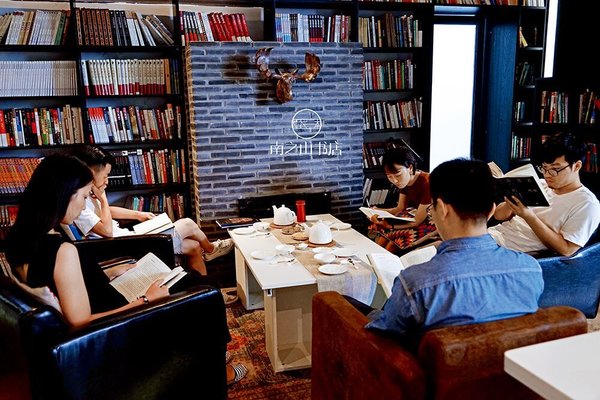 A reading workshop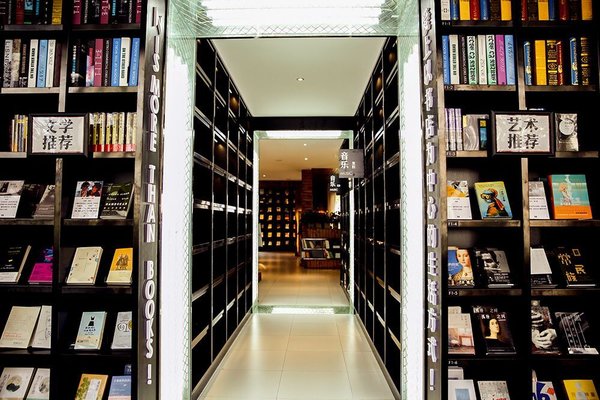 Reading Area
(Source: Women of China English Monthly February 2018 Issue)