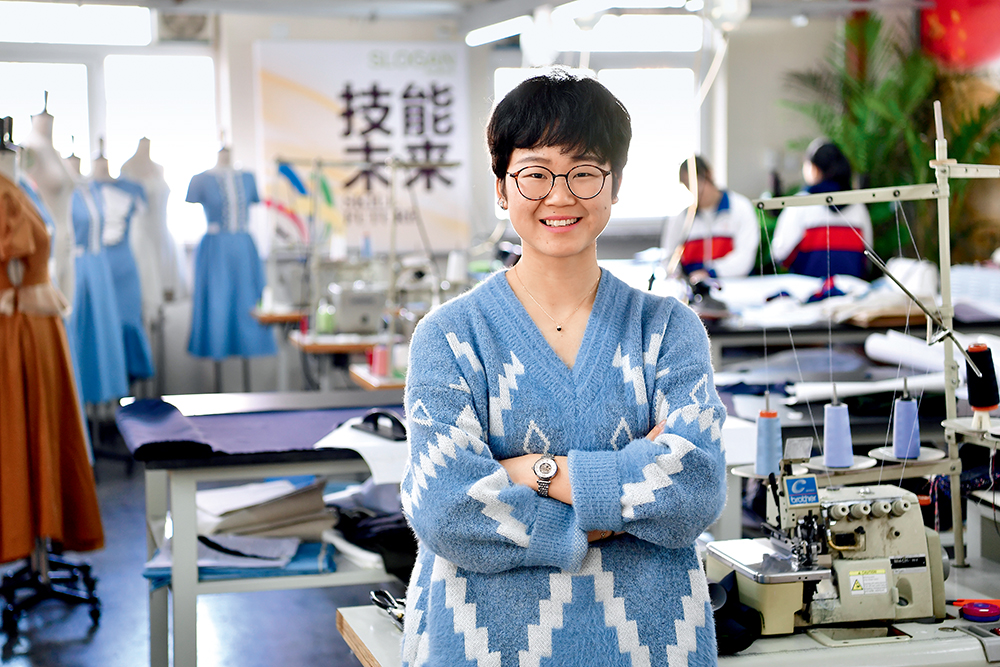 Hu Ping
Hu Ping, 22, is a student at Beijing Industry and Trade Technicians College. Hu won the gold medal in fashion technology at the 44th World Skills Competition, held in Abu Dhabi, capital of the United Arab Emirates, in October 2017. She was the only woman gold medalist in China's delegation to the competition.
Hu Ping was interested in making crafts, especially making clothes for dolls, when she was young. She enrolled at Beijing Industry and Trade Technicians College (BITTC), to study costume designing and manufacturing, in 2017, after she graduated from middle school.
"At first, my parents hoped I would continue my studies in a high school. They believed only incompetent students studied in a vocational school. However, I had long yearned for fashion design … I was full of confidence about my future. I could earn my own living by using the techniques. Finally, I convinced my parents," recalls Hu.
"I studied how to sort cloth, design a garment, make the pattern and cut and sew the cloth … I felt like a fish swimming in the sea. However, the professional knowledge … was much more complex than making clothes for dolls. It was quite difficult for me to make the pattern. During the pattern-making process, I needed to use many formulas to calculate the garment's neckline, bust, waist, and other data, based on the garment's design. A small error in data would affect the quality of the garment. I was not good at mathematics. So, I practiced making the patterns… I had a tough time before I was skilled at making patterns," continues Hu.
Chen Bihua, a student at BITTC, won the bronze medal in fashion technology at the 43rd World Skills Competition, in 2015. The World Skills Competition, which is held every two years, is the biggest vocational-education and skills-excellence event in the world. Fashion-technology competitors use their technical skills to design and make garments.
Hu admired Chen, as she won a medal at an international competition. Hu hoped she would be able to win a medal and drape China's national flag over her shoulders. In 2016, BITTC held a competition to select competitors to attend the 44th World Skills Competition.
Hu was selected as one of the candidates to vie for the opportunity to represent China at the competition. She studied costume designing and making, in a systematic way, for more than one year. She practiced for more than 10 hours per day. Finally, she defeated other candidates, and she was selected to represent China.
There are five parts to the fashion-technology competition. The first part is the completion of a drawing of a garment, based on a photo of the garment, and the using of muslin and pins to create the pattern. The second part is the designing of two to four garments, and explaining the details of the garments in writing.
The third part is the designing of a one-piece dress. Each competitor selects the elements of his/her dress, and he/she designs the dress with the chosen elements. The fourth part is the actual making of the dress. The fifth part is the decorating the dress with adornments, such as lace, beads and feathers.
During the third part of the competition, Hu designed a blue dress, with white dots. During the fourth part, she did not need to symmetrize the patterns of the dress. However, she symmetrized the white dots carefully, so it was hard for people to find the seams. Hu was the only competitor who symmetrized the pattern of his/her dress. The competition lasted 18 hours (not continuously). Hu defeated 29 competitors from other countries or regions.
"I have benefited a great deal from the competition. What I have gained is more than a gold medal. My skills in costume designing and making have improved ... I have a good attitude … In the past, it was hard for me to settle down and focus on my studies. Now, I can concentrate on my work. I needed to make full use of every minute during the competition. Now, I do not waste my time. Also, I believe there are many possibilities for my future. I have become more confident. In the past, I hoped to become a technician at a clothing enterprise. Now, I hope to continue my studies in fashion design in an art college in Europe, after I graduate from BITTC. Then, I will return to BITTC and become a teacher," says Hu.
Yang Yu, Hu's design teacher, worked in the apparel industry for more than 15 years. "The garment industry in China is disadvantaged by the lack of creative designers and the shortage of technicians who can turn fashion designs into clothes. I hope to cultivate garment technologists who know both how to design and make costumes.
We not only train traditional sewers, we also cultivate all-round talented professionals, who know both costume designing and making. We hope more students, who are skilled at both costume designing and making, will help promote the transformation of the garment industry in China," Yang says.
Hu Ping (L) is tailoring a dress.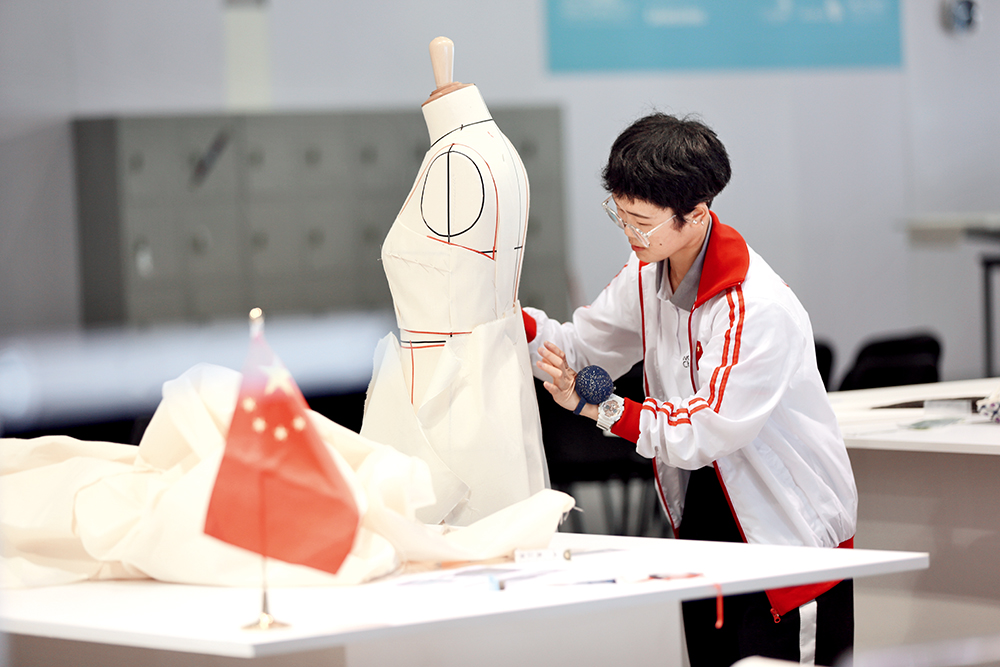 Hu Ping puts her heart and soul into making a dress.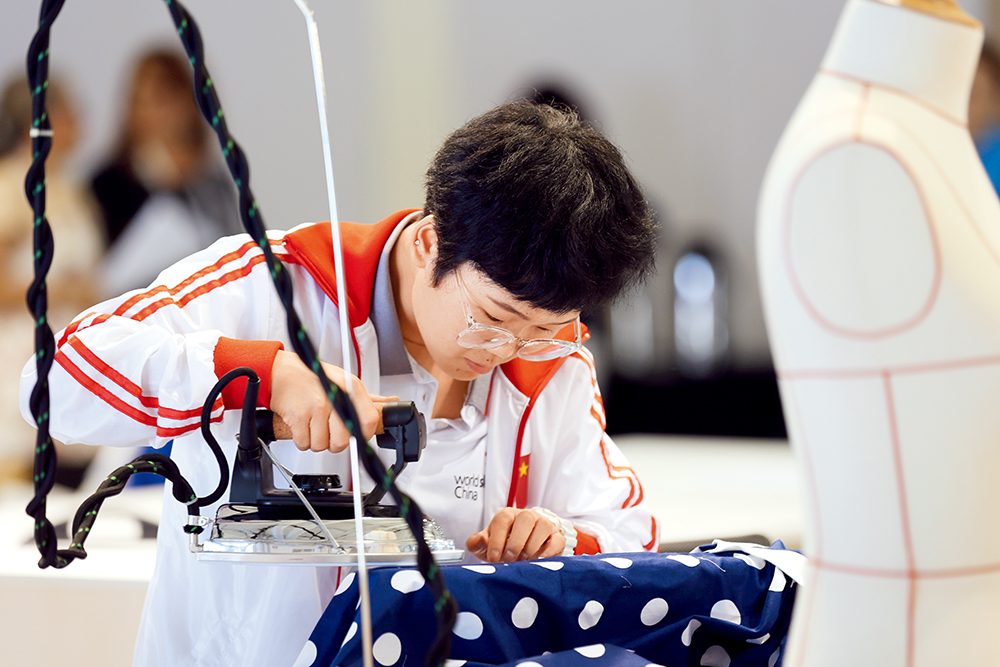 Hu Ping puts her heart and soul into making a dress.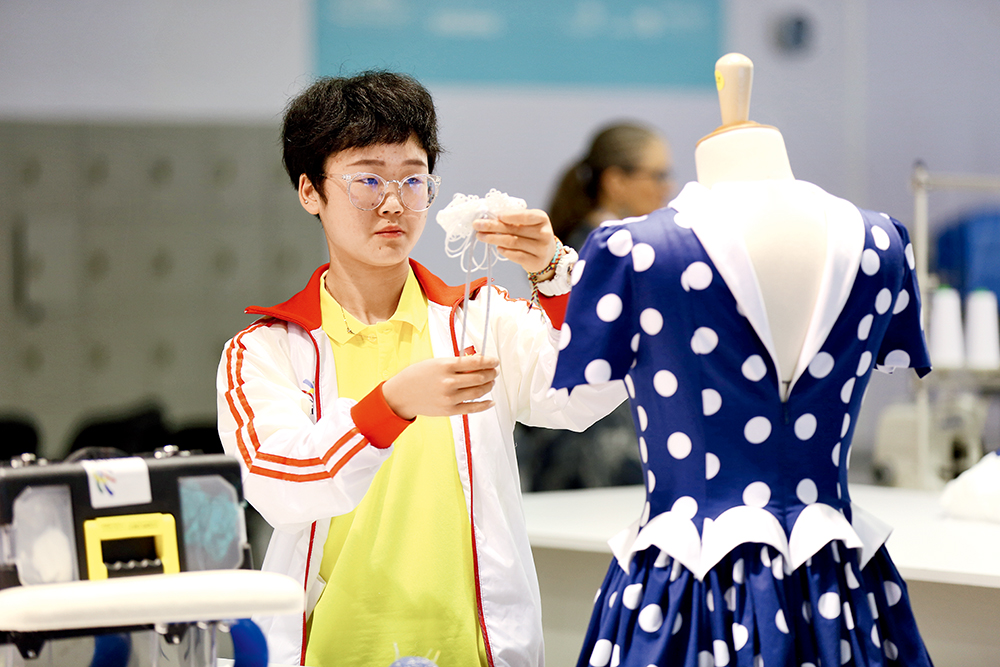 Hu Ping puts her heart and soul into making a dress.
Hu Ping puts her heart and soul into making a dress in the competition.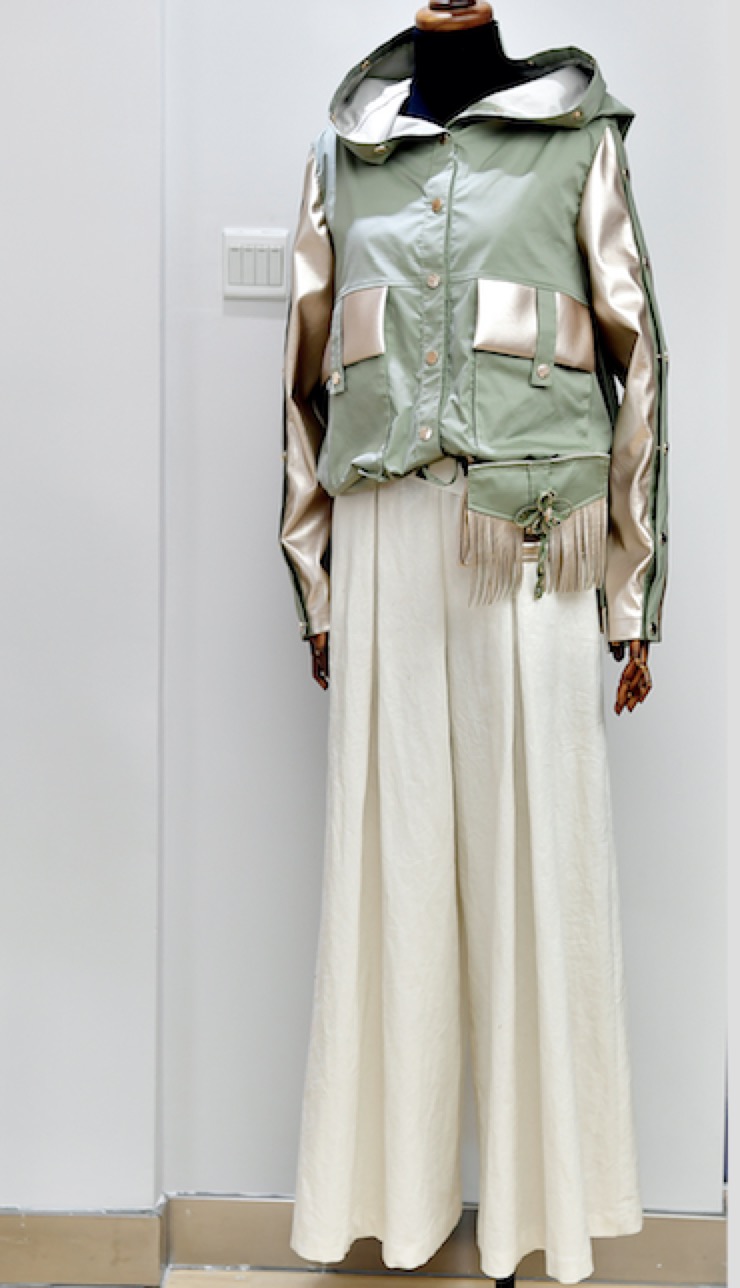 A piece of work made by Hu Ping
(Source: Women of China English Monthly February 2018 Issue)