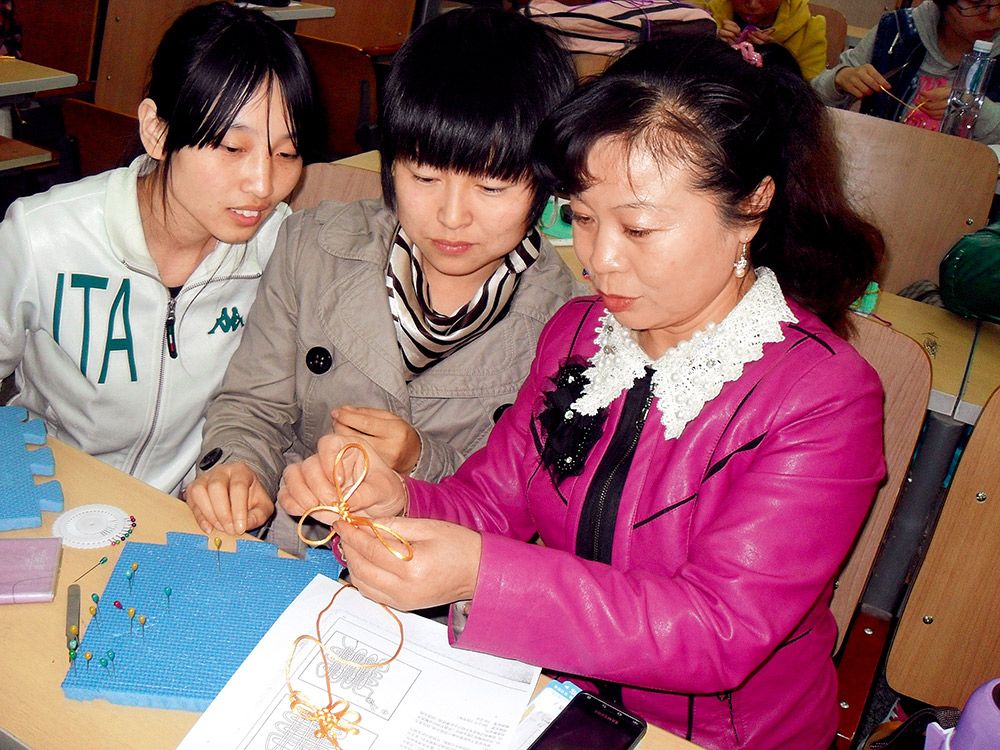 Lü Min (R1) teaches her students how to make a Chinese knot.
You might be surprised to learn Lü Min, who was once a laid-off worker, gives lectures at Nankai University, in North China's Tianjin Municipality.
Lü during the past few years has taught many foreign teachers and students, and trainees for TCSL (Teaching Chinese as a Second Language) teachers, the skills needed to create Chinese knots.
Lü hopes her students will take on more apprentices in other countries, so they can help more people, worldwide, understand the beauty of the traditional Chinese craft.
Outstanding Entrepreneur
Lü was born in March 1970 in Northwest China's Xinjiang Uygur Autonomous Region. In response to the country's call for residents to support the development of border regions, both of her parents joined the Xinjiang Production and Construction Corps in the 1960s.
Lü began learning, from her mother, how to knit sweaters when she was a little girl. In 1984, Lü's family returned to Tianjin, her father's hometown.
In 2001, Lü was laid off by the State-owned factory where she had worked for several years. Despite the setback, she never gave up hope. To support her family, she operated a small, street-side stall, from which she sold Chinese knots that she had created.
Early in 2008, Lü's artwork, entitled Chinese Usher in the Beijing Olympics, was featured during an online national craft competition hosted by the All-China Women's Federation (ACWF). The 56 Chinese knots symbolized China's 56 ethnic groups.
With the help of Tianjin Women's Federation, Lü, within a short time, established a work studio. After she joined Tianjin's Women's Handweaving Society, in 2008, the federation and the society helped her expand her business.
With support from Hebei (a district in Tianjin) Women's Federation, Lü and other laid-off women workers established Jianchangdao (a street in Hebei)'s Women's Handweaving Society. Lü, who was president of the society, offered training to the society's members, so they could improve their knot-making skills.
Lü in recent years has strived to improve her craft-making skills. If you visit her studio, the colorful Chinese knots displayed on the walls will surely catch your eyes. The artworks, with various patterns (including animals, plants and palace lanterns), embody the unique culture of the Chinese nation.
By drawing inspiration from life and traditional Chinese culture, she has created a unique style in designing the knots. To meet locals' aesthetic preferences, she has put a lot of effort into creating knots with modern, fashionable elements.
"Creating Chinese knots has become an important part of my life. I enjoy studying the artworks' rich cultural implications, so I can create better items," says Lü.
'Girl Teacher'
On a pleasant summer day in 2011, Lü received a phone call from Li Yingzi, a professor with the Institute of Intercultural Communication, under Nankai University. Li invited Lü to give lectures on Chinese knots to Nankai's TCSL teacher trainees.
Lü initially hesitated to accept Li's invitation, as she doubted whether she could provide lectures to university students. Then, she thought it might be a good opportunity to promote the craft (of making Chinese knots) throughout the world, so she accepted Li's invitation. Since then, Lü has had a new lease on life.
Lü will never forget September 1, 2011. That was the day when she gave the first lecture (on Chinese knots), at the Confucius Institute, also under Nankai University.
"At first, I was nervous. However, I calmed down when I saw the young people look at me with longing eyes," Lü recalls. "Impressed by the students' eagerness to learn, I tried my best to teach them how to create the knots."
As she has gradually gained some experience in teaching, Lü became an excellent lecturer. While she explains the knot-making skills to the young people, she often writes or draws on the blackboard.
She also outlines the craft's historical development. She tells the students that records indicate the art of creating the knots originated during the Tang Dynasty (618-907), and that the craft was at the height of its popularity during the Ming (1368-1644) and Qing (1644-1911) dynasties.
Then, many households, stores and shops were decorated with colorful Chinese knots during the New Year, Spring Festival, the Mid-Autumn Festival and during other festivals.
Many of Lü's students consider her a good teacher, who is kind, amiable and patient. Many students call Lü "Girl Teacher," as she looks younger than her age.
Deeply passionate about her work, Lü took great pains to improve her teaching. For example, she made up a doggerel, to help the students better understand the craft-making skills. As a result, many students, including male students, attended Lü's lectures.
Lü attended the Annual Meeting of the New Champions (also known as the Summer Davos Forum) 2012 and 2014, both of which were held in Tianjin, as a representative of Chinese craftspeople. Lü's exquisite Chinese knots enthralled many representatives from various regions of the world.
In September 2015, one of Lü's artworks was displayed during an exhibition in New York. The New York-based Global Artist League hosted the exhibition to mark the 70th anniversary of both the founding of the United Nations (UN) and the victory of the World Anti-Fascist War (World War II).
Many visitors, from various regions of the world, marveled at the unique beauty of Lü's 1.9-meter-high item, which was composed of more than 1,000 Chinese knots. One side of the item bore the auspicious Chinese character "福" (happiness, good fortune).
On the reverse side, there was the UN's emblem, surrounded by seven peaches, which symbolized the 70th anniversary of UN's establishment. The pair of doves with olive branches in their mouths, above the emblem, symbolized world peace.
Lü received first prize. "I feel a sense of pride and accomplishment each time I help a student create a Chinese knot. I hope more people worldwide will understand the beauty of the art form," says Lü.
Given her tremendous efforts to promote the craft, and to help women find work, Lü has received many awards throughout the years, including being named one of Tianjin's March 8th Red-banner Holders and receiving the May 1st Labor Medal (in Tianjin).
Lü hopes more people, especially youngsters, will learn the knot-making skills, so the traditional craft will be handed down from generation to generation.
"I'll make greater efforts to study English," says Lü. "I will attempt to integrate the artistic and cultural elements of other countries in the designs of my knots. I hope the knots will become a bridge that enhances friendship among people in different nations and regions."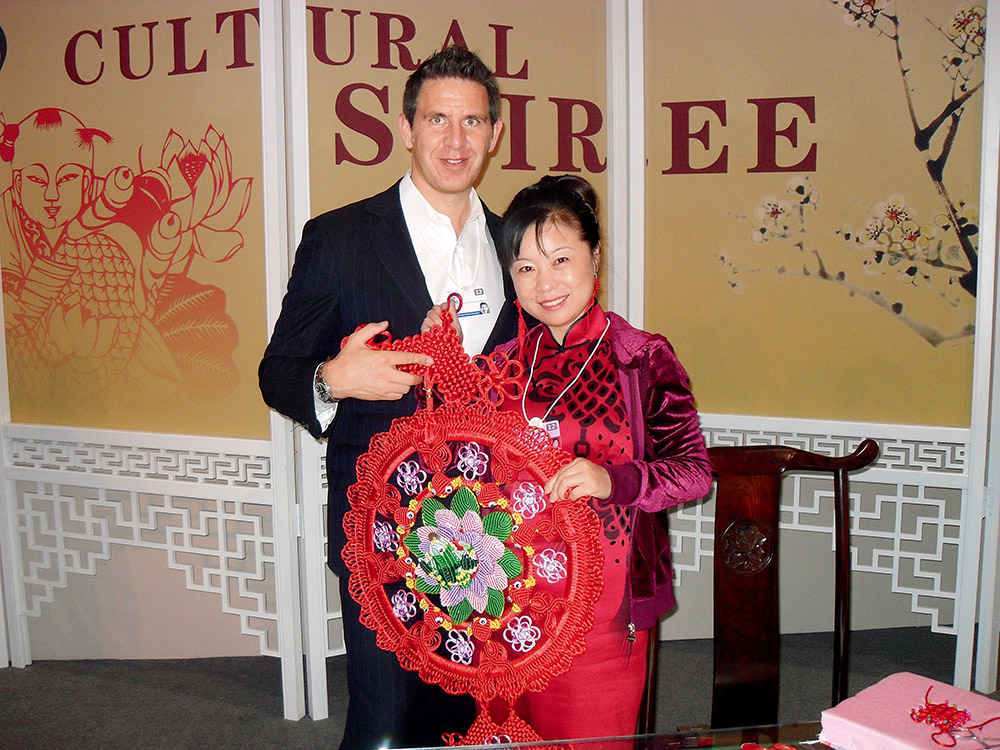 Lü Min (R) poses for a picture with a foreigner.
(Source: Women of China English Monthly 2018 February Issue)