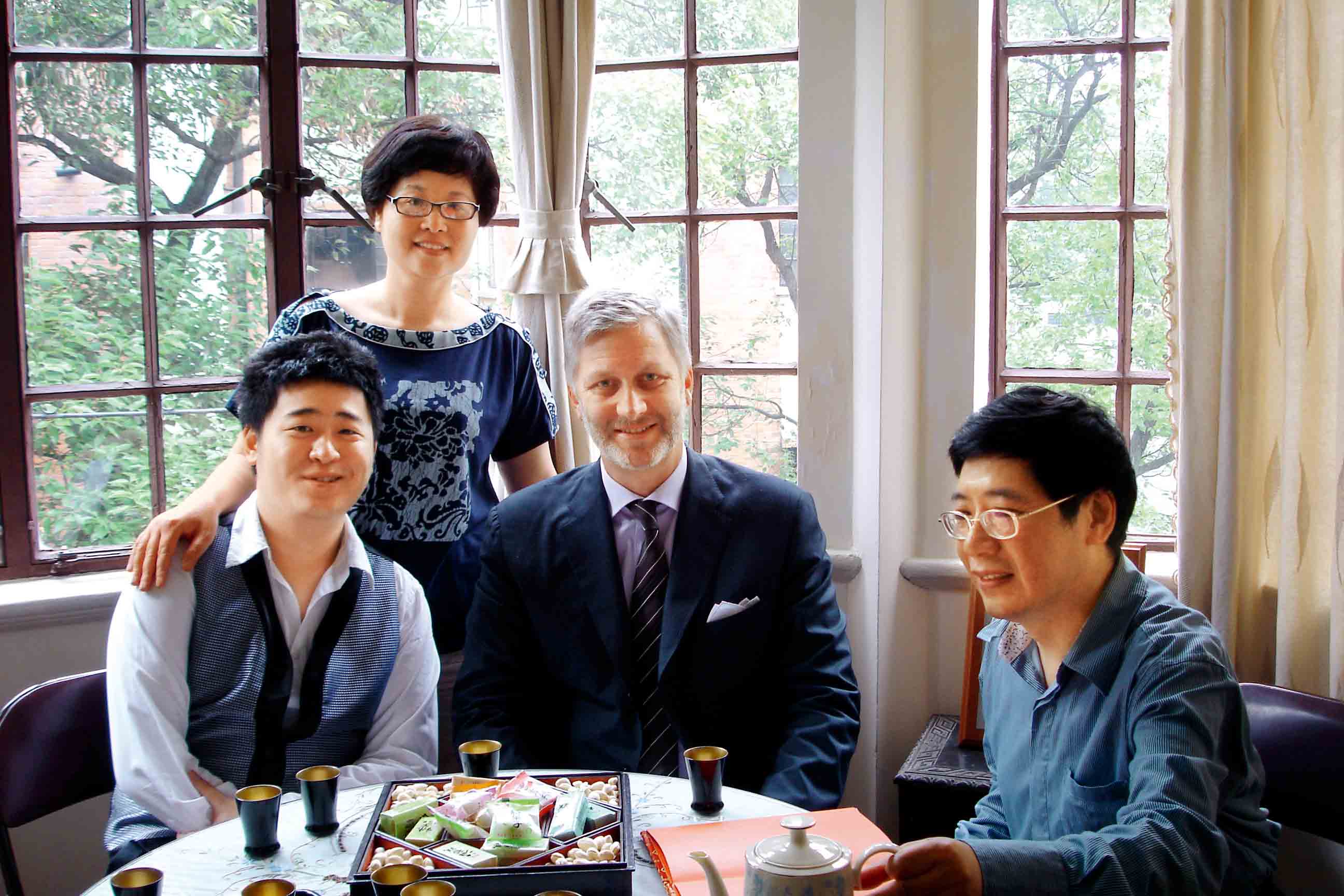 Lu Yaping (back) with her friends
Shannancun, in Luwan District, is a community in Shanghai that maintains old architecture. Lu Yaping's family lives in the community. Tourists from around the world visit Shannancun, to learn about its history and locals' lifestyles. Lu often opens the door to her apartment, so she can welcome foreign guests to her home, and so she can promote Shannancun's history and culture.
"We live in today's Shanghai; yet, we are 'keepers' of the city's old days," Lu says.
Shanghai normally becomes busy after 7 a.m., especially during workdays. But Shannancun, located near the intersection of Fuxing Zhong and Shaanxi Nan roads, is the exception.
The community contains 16 apartments, each of which has four floors. Small courtyards, which are nicely taken care of by gardeners, are scattered between the apartments. The community was constructed in 1940 by Belgian businessmen with investment provided by a French catholic church. It was formally named Shannancun after Shanghai was liberated in 1949.
More than 100 families live in today's Shannancun. Lu's family is one of those families. "The house was smartly designed. Our rooms are interconnected by corridors that lead to our living room, bedroom and kitchen.
Our bedroom has a movable ironing board and heating pipes installed in the walls." Lu says her home contains many elements that date back to the 1930s, such as cupboards, a sofa, a gas burner and taps. Each item records the history of people's lives in old Shanghai.
As a resident of such a time-honored community, Lu believes it is her family's duty to promote old Shanghai's history and folk customs, especially to visitors from other countries. Since 2003, Lu's family has accommodated tourists from the United Kingdom, the United States, Germany, France, Japan and Israel.
Lu and her family cherish very much their communications with foreign guests. "We had a French guest, who lived in our house before 1948. When he brought his daughter to our home, he was surprised that we still kept the sofa, on which he used to sleep when he was a child. A Japanese guest said it's amazing that our family kept well a sofa, which was produced eight decades ago," Lu says.
Both Lu and her husband, Lin Weilin, are teachers. Whenever a foreign guest is about to visit Lu's home, she will discuss with her husband and son what they must pay attention to after their guest arrives.
They will check carefully the customs of each guest's home country. They will decide what foods they will cook, how they will dress and how they will decorate their home.
Lu's family had a particularly busy time in 2010, when the World Expo was held in Shanghai. They received more than 40 foreign tourists' groups in about six months. Lu was excited, as her family had good opportunities to communicate with people from other countries.
To help her guests understand traditional Chinese culture, she learned how to play erhu (a two-stringed bowed instrument), so she could perform Chinese folk music for her guests.
Lu's son, Lin Da, had a great interest in classical music. He played the piano to accompany his mother's erhu performances. In addition to music, Lu's family prepared traditional Shanghai snacks for their guests. Lu even taught some guests how to make tangyuan (glutinous rice balls).
Sometimes, Lu and her family find it difficult communicating, verbally, with their guests. "For example, we received a group of French athletes, who participated in the 2007 Special Olympics World Summer Games.
We couldn't speak French, so it was almost impossible for us to chat with them. But my husband developed a game, during which we taught those athletes how to use chopsticks, and we put the chopsticks, in different shapes, to form numbers and athletes' images. The game enabled us to break the barrier caused by the different languages we spoke," Lu explains.
She says her family never considers it a burden to host foreigners in their home. Instead, her family treasures the happiness and friendships they have made during their communications with guests from other countries. Lu has six notebooks at home.
The notebooks are filled with foreign guests' messages and photos. Whenever Lu and her husband and son look at the smiles on those guests' faces, they feel extremely content.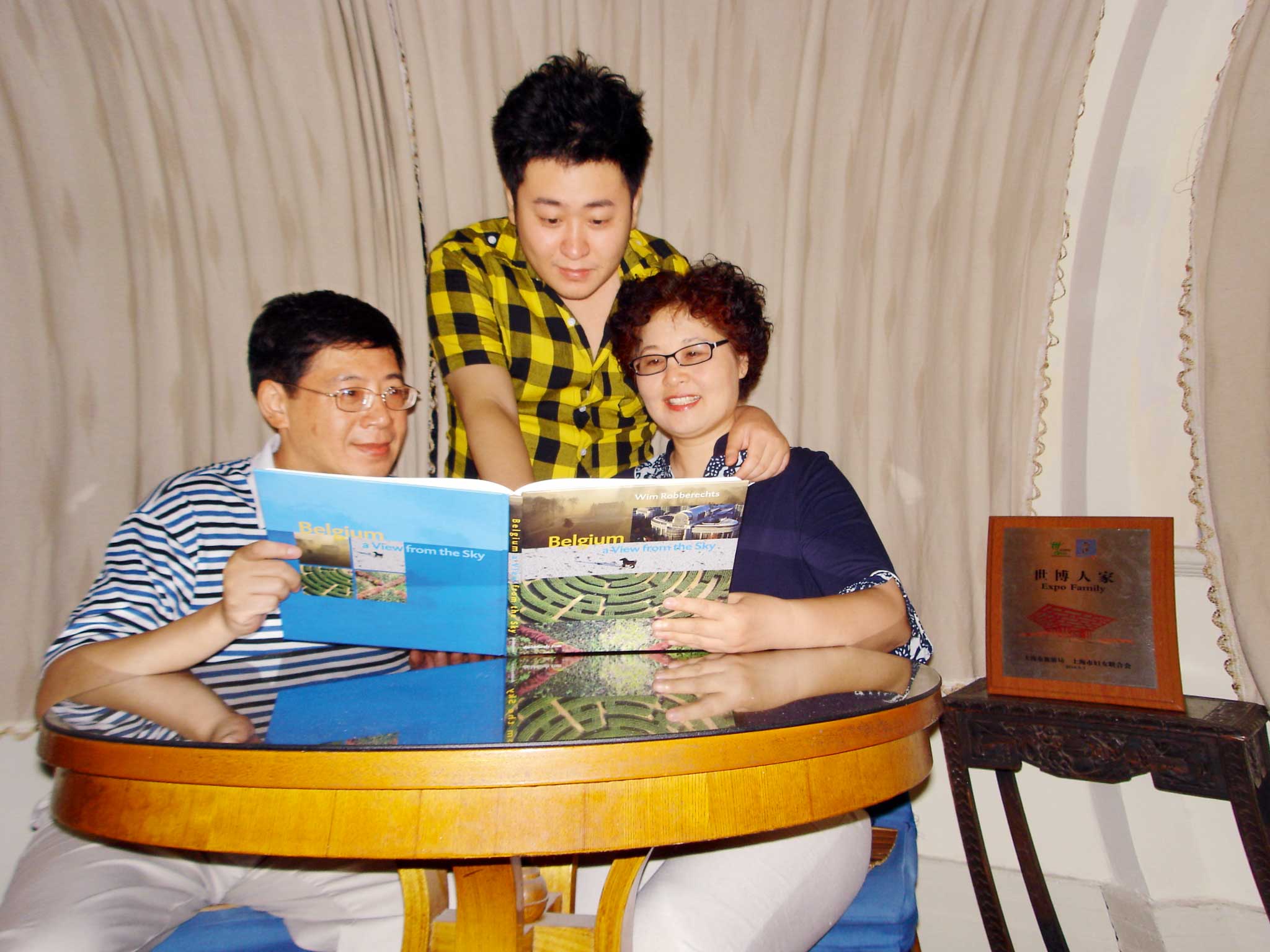 Lu Yaping (R1) reads a book with her family members.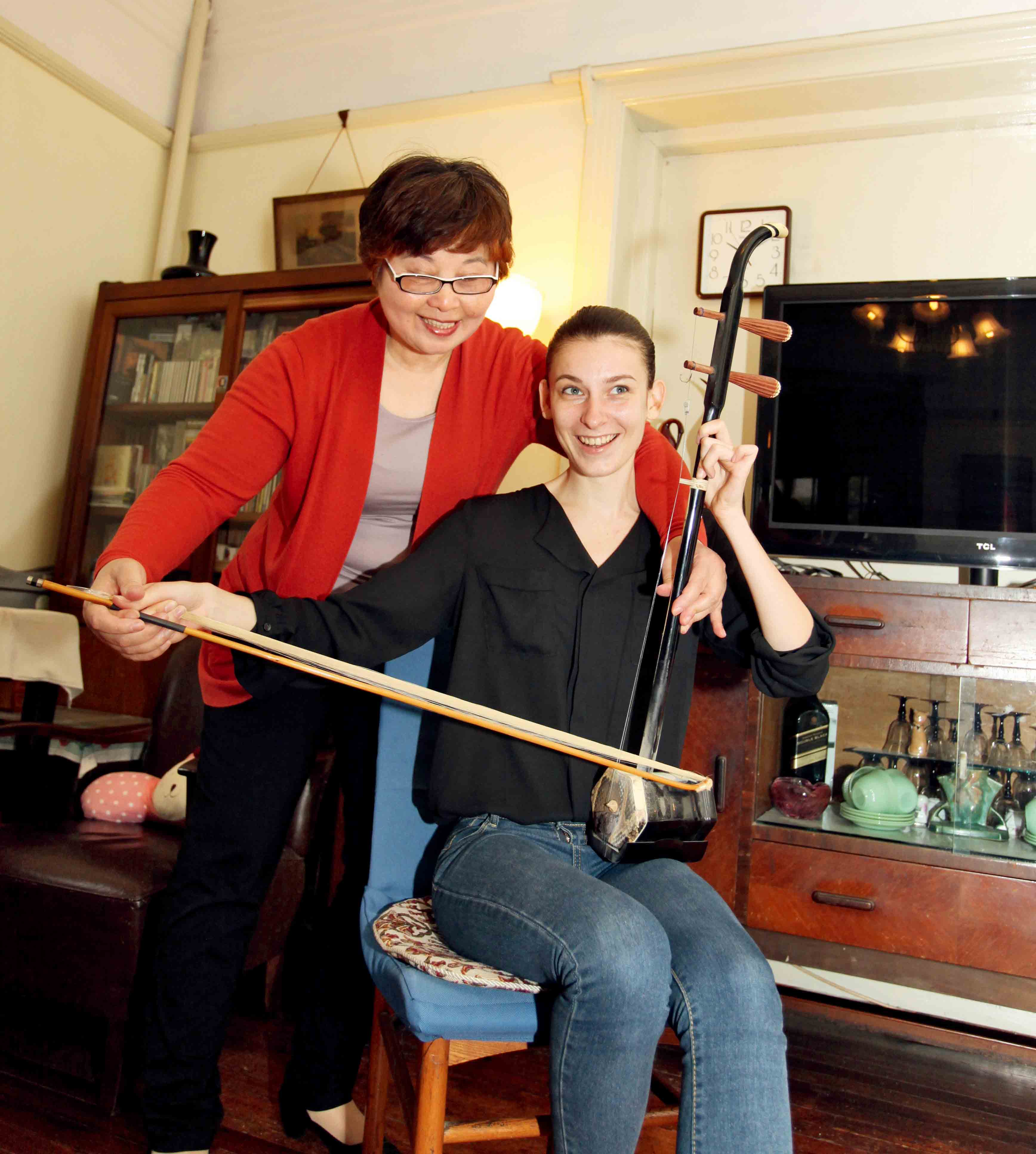 Lu Yaping teaches a foreigner how to play erhu.
(Source: Women of China English Monthly 2018 March Issue)