Chen Hai (L) and Chen Qi (R)
The Mogao Grottoes, located on the eastern slope of Mingshashan (rattling sand mountain), in Dunhuang, in Northwest China's Gansu Province, is the largest, best-preserved and richest treasure house of Buddhist art in the world. The grottoes preserve numerous murals and painted sculptures, which were created over 1,000 years, between the Northern Liang (397-460) and Yuan (1271-1368) dynasties. Fascinated by those works of art, a young couple, Chen Haitao and Chen Qi, made their home in Dunhuang in 2006. They spent 10 years studying murals and sculptures in Cave 254 of the Mogao Grottoes. Together, they wrote The Illustrated Book on Cave 254 in Dunhuang.
There are 492 caves in Dunhuang, and those caves house a combined 45,000 square meters of murals and more than 2,000 painted sculptures. Researchers give a number to each cave to facilitate their studies and research. According to The Dictionary on Studies of Dunhuang Caves, written by Shi Weixiang, Cave 254 contains works that represent the early stage of Buddhist art created in the Mogao Grottoes. The classic works in Cave 254 include four murals, which date to the Northern Wei Dynasty (386-534). Given its long history, how well it is preserved, and its great artistic value, Cave 254 is seldom open to the public.
Chen Haitao and Chen Qi, both graduates of the Fine Arts School Affiliated with China Central Academy of Fine Arts (CAFA), completed their postgraduate studies in 2006. Chen Haitao received his master's degree, in animation, from Beijing Film Academy while Chen Qi received her master's degree, in oil painting, from CAFA. After they completed their master's degrees, the young couple relocated to Dunhuang, to study and research Dunhuang art. They have designed and produced two animated films about Dunhuang art. They have also written essays and organized workshops to promote Dunhuang culture.
Moved by a Mural
Earlier this year, Chen Haitao, 39, gave a lecture at the National Library of China, in Beijing. He is neither a celebrity nor a pop star, but he is a scholar dedicated for more than a decade to the study of Dunhuang art. During his lecture, Chen Qi, his wife, sat in a sound-control booth at the back of the room. She watched carefully as her husband promoted the charm of Dunhuang art.
Chen Qi recalled their visit to Dunhuang in 2006, when they were both 28. At that time, they chose not to join either an animation production company or be freelance artists. Instead, they escaped the hustle and bustle of Beijing to live in Dunhuang. They were both employed by the Dunhuang Academy. The young couple got married in Dunhuang, where they have since enjoyed a rich, and peaceful, life.
Why did they choose to live in Dunhuang? "I was attracted by a mural, on the southern wall of Cave 254, which depicted a prince sacrificing his life to save a mother tiger and its cub," Chen Qi answered.
She saw that mural, for the first time, when she was in the first year of her postgraduate studies. Her supervisor, famous artist Yuan Yunsheng, emphasized the importance of inheriting aesthetics, which was established and developed in ancient China. In the 1990s, Yuan often encouraged his students to get inspiration from murals, sculptures and ancient stones painted with portraits. Chen Qi visited Dunhuang to complete a field-research project when she was in the first year of her postgraduate studies. She spent two months observing and completing a series of paintings, which were copies of the murals in the Mogao Grottoes. She was particularly impressed by that mural on the southern wall of Cave 254.
Chen Haitao, who was then Chen Qi's boyfriend, participated in the project too. Day by day, they workedto identify the blurred shapes depicted in the murals. They discussed the overall arrangement of the images, and they were both impressed by ancient Chinese artists' talent in promoting Buddhist stories through marvelous paintings.
The young couple returned to Beijing after they finished the research project. They showed their paintings to Fan Jinshi, then-president of the Dunhuang Academy. Given her lifelong dedication to the protection and promotion of Dunhuang art, Fan was referred to, by people from home and abroad, as the "daughter of Dunhuang." When Fan was looking carefully at Chen Haitao and Chen Qi's paintings, she explained some details about the murals in Cave 254.
For example, the couple drew a scene about a man, who picked up a white package-like item. Fan said the "package" was actually filled with the bones of the prince, who used his own flesh and blood to feed the hungry and dying mother tiger and its cub; and the man who picked up the "package" was the prince's brother. After they listened to Fan's explanation, Chen Haitao and Chen Qi were impressed by the way ancient artists depicted one's grief at having lost a family member.
To deepen their understanding of ancient Chinese literature, art history and archeology, Chen Haitao and Chen Qi attended many lectures held in CAFA, Peking University and Beijing Normal University. When they were about to graduate, Chen Qi told her boyfriend that she wanted to move to Dunhuang. Chen Haitao supported her decision, and he accompanied his girlfriend to Dunhuang. The couple has since dedicated themselves to exploring and promoting works of art in Dunhuang.
As members of the Dunhuang Academy's fine arts school, Chen Haitao and Chen Qi shoulder the responsibility of drawing and painting copies of the murals in Cave 254. Their paintings are important references for those who study and protect the murals in the Mogao Grottoes.
Murals in Cave 254, which have been kept for more than 1,000 years, are fragile. Many sections of the murals have changed colors and/or fallen off the walls. As a result, Chen Haitao and Chen Qi have to sit in the cave for a long time, so they can observe carefully the details of the murals. They sometimes feel as if air in the cave resembles a person, who helps them establish emotional connections with the aesthetics of ancient China.
In their spare time, Chen Haitao and Chen Qi read documents and search for relevant pictures and photos, so they can learn more about history of the construction of the Mogao Grottoes. According to their research, the region, where Dunhuang located, was invaded by alien races during the fifth century. The region was also ravaged by natural disasters in ancient times. Many of the murals in Cave 254 were created during that period. Therefore, those murals contained a lot of images about ancient Chinese people, who sacrificed their lives while they strived to overcome various difficulties.
Echo from Their Hearts
Since they have read many historical documents about Dunhuang, Chen Haitao and Chen Qi realize it is important to study not only the works of art in Dunhuang, but also the history and culture of this place. They have written The Illustrated Book on Cave 254 in Dunhuang to deepen the public's understanding of ancient Chinese civilization. They hope their illustrations and explanations will enable spectators to feel, more vividly, the charm of Dunhuang's heritage, which has existed for more than 1,000 years.
Among the 735 caves of the Mogao Grottoes, 492 contain murals and painted sculptures. Chen Haitao believes Dunhuang represents a huge treasure house, which contains rich and colorful works of art. To help spectators better understand and appreciate Dunhuang art, Chen Haitao and Chen Qi analyze, in their book, the murals and painted sculptures in Cave 254. They use specific case studies to explain the stories, images, patterns and aesthetic theories hidden behind those works of art.
Besides the book, Chen Haitao has used his experiences in animation production to produce two animated films, both of which tell stories depicted in the murals in Dunhuang. He constantly thinks about practical methods, of adopting digital techniques and media platforms, to get young people interested in Dunhuang art.
When Chen Haitao began working in Dunhuang, more than 10 years ago, he first worked as a tour guide. He recalled the experiences of organizing tourist groups — each with 10-20 members — to go sightseeing in the caves. "Some visitors spent several hours traveling by plane, or a whole day traveling by train, before they arrived in Dunhuang. When I explained vividly the stories behind those works of art, I noticed the visitors soon became energetic and attracted by the stories," Chen Haitao said.
Inspired by his experiences, Chen Haitao started to produce animated films based on the murals. He and his wife have also uploaded high-definition images of 30 caves onto the Internet, so netizens from home and abroad can easily obtain information about Dunhuang art.
Fan wrote in the preface of Chen Haitao and Chen Qi's book: "In recent years, researchers at the Dunhuang Academy have continued to make progress on a road, which was initially paved by experts and scholars of older generations. Our researchers have made exciting achievements in all sectors of Studies of Dunhuang."
Young researchers, such as Chen Haitao and Chen Qi, are using new technology to explore and enrich the methods of studying Dunhuang art. For example, digital viewing is the first stop when visitors attend a tour in the Dunhuang Academy. Digital films and pictures give visitors an overall impression of the Mogao Grottoes in an efficient way.
Chen Haitao currently works as deputy director of Dunhuang Cultural Creativity Center. He and his wife have developed a series of products, entitled "Niannian Dunhuang," which means "an echo comes back following one's constant thinking of something." One of the most popular products is rouge, the colors of which resemble the lip colors of Buddhas in Dunhuang. The couple calls the rouge "Across One Thousand Years." Tourists can use pigments to make rouge by themselves. "Now when we talk about Dunhuang, we are likely to think about its old and desolate natural environment. But, in fact, Dunhuang is a symbol of prosperity during the development of Silk Road over centuries," the couple explains.
Last year, Chen Haitao was surprised when there was more rainfall than normal in Dunhuang. The desert, in which he and his wife had worked for more than 10 years, looked a bit green. "As we know, meaty plants have their seeds buried deep in the earth. The plants keep waiting for an occasion, such as rain or suitable weather, for its seeds to grow quickly. Our ancestors in Dunhuang were like meaty plants. They seized the right moment when they established marvelous grottoes here. Today, researchers, like us, are following the path created by our ancestors. We hope we can be like the green color in the desert, which continues the vigor of cultural heritage in this place," says Chen Haitao.
The inside scene of Mogao Grottoes cave 254
The cover of The Illustrated Book on Cave 254 in Dunhuang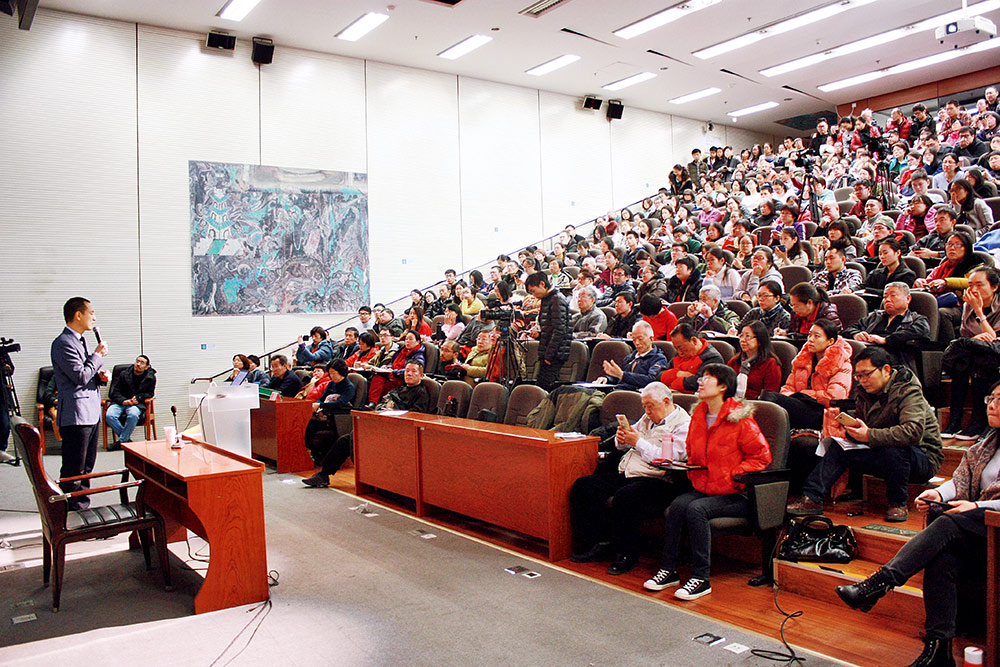 Chen Haitao delivers a speech to promote Dunhuang art.
(Source: Women of China English Monthly 2018 April Issue)