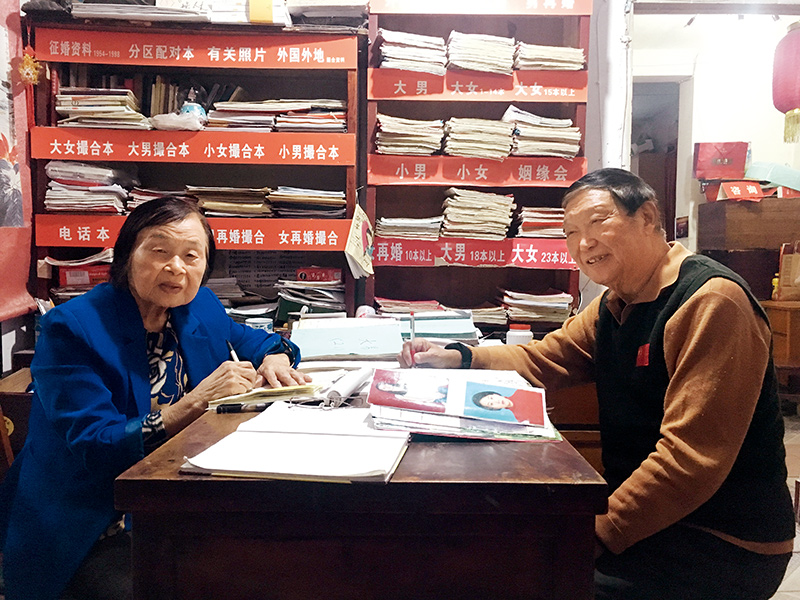 Lan Yuyun (L) and her husband Chen Yilun
Lan Yuyun is somewhat of a celebrity in Wuchang, a district in Wuhan, capital of Central China's Hubei Province. Why? During the past 64 years, she has devoted much of her energy to her "sweet career" — introducing, free of charge, prospective marriage partners to single residents. Many residents have jokingly called her "Super Matchmaker." With the help of Lan and Chen Yilun, Lan's husband, who are both octogenarians, more than 1,700 men and women have tied the knot during the past six decades.
Every morning, before Chen Lan Studio opens at 8 a.m., many single residents line up to wait their turn for the matchmaking services provided by Lan and Chen in their 50-plus-square-meter house. Most of their customers, who appreciate the elderly couple for their hard work, consider the couple their benefactors.
Thick and Thin
Lan has shared the love story of her and her husband with some of their customers. Many of their customers have been impressed by the faithful love between the couple, a love that has endured for more than 60 years. Through the couple's experiences, the customers are able to realize that love works miracles, and that nothing in the world can change true love.
Both Lan and Chen retired in 1990. When Lan told her husband she wanted to help more single residents find their "other half," Chen supported her decision. In 1991, they established the studio in their house.
Harmonious Family
Lan stresses that promotion of harmony within the family is the basis of social stability. She takes delight in sharing her understanding of love and marriage with her customers. "Couples should respect, understand, trust and be tolerant with each other," Lan says.
She has never regretted her decision to marry Chen, and she stresses that she is content with her life. "To mark our sweet career, we named the studio after our family names," says Lan.
Tremendous Success
Talk about a daily routine! At 8 a.m., Lan and Chen begin providing matchmaking services to their customers in the studio. The couple compiles files on their customers, who visit the studio for the first time, so the couple can introduce prospective marriage partners to them. Lan usually chats with a first-timer for several minutes, to learn about his/her needs, and then offers him/her some advice on seeking an ideal marriage partner. For those who have visited the studio more than two times, Lan matches the customers, according to their needs, to their prospective marriage partners.
The couple seldom takes a break until 7 p.m., when the studio closes. They receive more than 100 visitors a day on average. So far, the couple has compiled files on more than 90,000 residents. Lan is so absorbed in her work that she sometimes gets up at midnight and writes down the names of potential matches.
The cupboard in the studio is filled with customers' files, which are categorized by the customers' gender, age, place of birth and marital status (divorced or never married). Despite her advanced age, Lan has a good memory. When she matches a customer to his/her prospective partner, she can easily find the partner's file.
"I hope every one will have a happy family. Each time I see my customers fall in love with each other and get married, I feel a sense of pride and accomplishment, as we are striving to make contributions to the promotion of social stability and harmony," says Lan.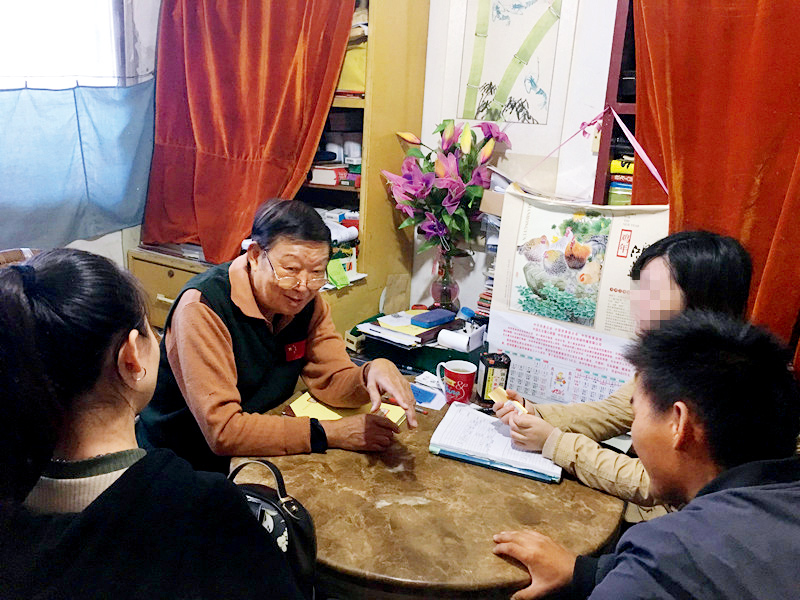 Chen Yilun talks with customers.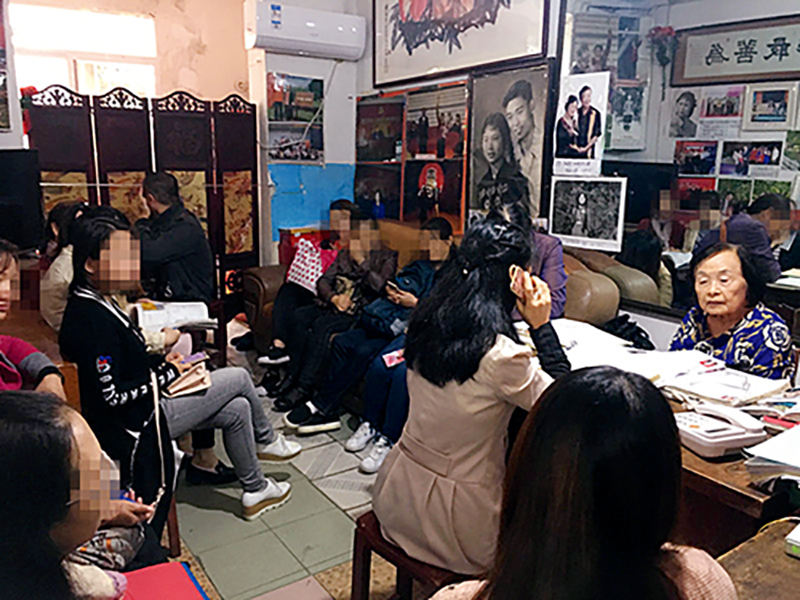 Customers at the Chen Lan Studio
Customers' files kept by the couple
(Source: Women of China English Monthly 2018 April Issue)