[Women of China/Zhang Jiamin]
Yuhua Heritage Museum was established in Changsha, capital of Central China's Hunan Province, three and a half years ago. At the museum, visitors can eat food made through processing skills regarded as intangible cultural heritage. Visitors can see, buy, learn, and sometimes play with, crafts of intangible cultural heritage. Yuhua Heritage Museum is a venue that collects and promotes old crafts. The museum also helps heritage inheritors, many of whom are women, innovate craft-making skills and run good businesses.
Deng Yunjiao founded Yuhua Heritage Museum in September 2015. She has since served as the museum's director. Deng has developed a new mode of protecting intangible cultural heritage — combining inheritors with sales platforms, exhibitions and workshops. In this way, she helps inheritors innovate their crafts, and she helps promote education related to the protection and development of intangible cultural heritage.
In response to the All-China Women's Federation and Hunan provincial government's arrangements on poverty alleviation, Hunan Women's Federation launched a project to create 100 "hand-weaving bases," cultivate 1,000 women talents (who excel in making crafts), and to help 10,000 rural women start businesses. The federation granted Yuhua Heritage Museum and Huxiang Needlework Innovators Center the titles of Hunan Women's Handicrafts Employment Base. Since the base was formally established in Yuhua Heritage Museum, on November 1, 2017, thousands of women have benefitted from the initiative, and they have started their craft-making businesses. The museum has organized various workshops to promote cultural heritage, such as the Chinese knot, paper-made flowers, women's scripts and woven crafts.
Heritage from Across China
Deng developed her interest in traditional Chinese crafts during her childhood. For her, running Yuhua Heritage Museum is the best way to protect things she loves, and to pass on China's precious craftsmanship with the efforts of numerous crafts makers.
Deng is a native of Xintian County, in Yongzhou, a city in southern Hunan Province. She is now in her forties. Recalling her childhood, Deng says, "Villagers in my hometown liked to grow ramie (an herb of tropical Asia with dark green leaves). In harvest season, my mother cut the plants, dipped them in water, scraped the surface layers and left the inner fibers to weave into clothes. My grandmother often lit an oil light in the evening and wove the fibers. I fell asleep in the repeated, and peaceful, sound of making crafts."
At the beginning of this century, it was difficult for people who produced crafts, such as wood-carved crafts, bamboo-made crafts and palm-leaf-woven crafts, to earn much money. Many old crafts makers had quit their businesses and changed their careers. The younger generations were not interested in traditional crafts.
Deng and her husband, Guo Cunyong, who is a carpenter, paid great attention to the protection and inheritance of traditional craft-making skills. They set up a wood-carving shopping center in early 2014, and they invited crafts makers to open stores and sell their wood-carved or bamboo-woven products.
Given the support from the local government, the couple transformed the center into Yuhua Heritage Museum in 2015. Deng set a goal: To collect and display heritage items from all over China in the museum.
Seeking Inheritors
To achieve her goal of collecting heritage items from across China, Deng realized she had to first find inheritors, in various places, who were making and protecting the heritage items. She asked her husband, Guo, to go with her to meet potential inheritors. Whenever they saw news reports about inheritors of intangible cultural heritage, or when their friends brought interesting crafts to them, Deng and Guo would locate and try to visit the inheritors.
Deng once heard the batik produced in Danzhai, a county in Southwest China's Guizhou Province, was a fantastic craft. She visited a village in the county, which was highly regarded for its batik production. "I was attracted by a granny, who concentrated on her work. She didn't have a design draft, but she drew the patterns directly onto cloth. The batik clothes produced in the village looked so beautiful," Deng said.
She decided to open a store in Yuhua Heritage Museum, to introduce the batik crafts from Danzhai. She encouraged local women to relocate to and run their businesses in Changsha. But many of the batik makers in Danzhai were not young, and they did not have relatives or friends in Changsha, so they refused to leave their hometown.
Deng did not give up on her idea of opening a batik store. She eventually met a woman, Yao Liuju, who also loved batik crafts. Yao had opened a batik-processing plant and exhibition hall in western Hunan Province. Yao was about to develop her business in Changsha. Deng asked Yao to open a batik store in Yuhua Heritage Museum. In addition to the batik crafts in western Hunan, Deng asked Yao to introduce classic batik crafts from Danzhai, and to combine the techniques from the two places to make innovative items. The batik store has become one of the best-known stores in Yuhua Heritage Museum.
During the past three years, Deng and Guo have invited more than 200 inheritors of intangible cultural heritage to open stores in the museum. Items of more than 300 intangible cultural heritage programs are displayed in the museum.
For example, Zhou Jialin is a craftswoman known for her palm-leaf-weaving skills. Despite being hearing impaired, Zhou has studied the craft and tried to innovate the techniques during the past 30 years. She has changed the craft's traditional packaging and selling mode, and she has developed creative, palm-leaf-woven products, which have exquisite packages and innovative designs.
Diverse Ways to Promote Crafts
Since she founded Yuhua Heritage Museum, in 2015, Deng and her husband have tried different methods to attract people to visit the museum, and to help inheritors in the museum develop their businesses.
"To bring the crafts 'alive' is the best way we have figured out to develop our museum," Deng says. "By 'alive,' I mean that we not only display and sell various crafts at our museum, we also invite inheritors to demonstrate how they make those crafts. By organizing workshops, we encourage visitors to learn how to make those crafts."
Free lectures are open to the public almost every week at Yuhua Heritage Museum. Residents are encouraged to learn about calligraphy, paper-cutting, pottery making, traditional Chinese dance and instrument performances, tea and incense ceremonies, and many other intangible cultural heritage programs. Deng has also introduced the traditional tofu (bean curd) processing technique at her museum. Spectators can watch how soybeans are made into soybean milk, bean curd jelly or other tofu products.
What's more, Deng has organized hundreds of activities to promote traditional Chinese art and crafts. She has also set up a start-up street, which serves as a platform for outstanding college students to run businesses related to crafts protection.
[Women of China/Zhang Jiamin]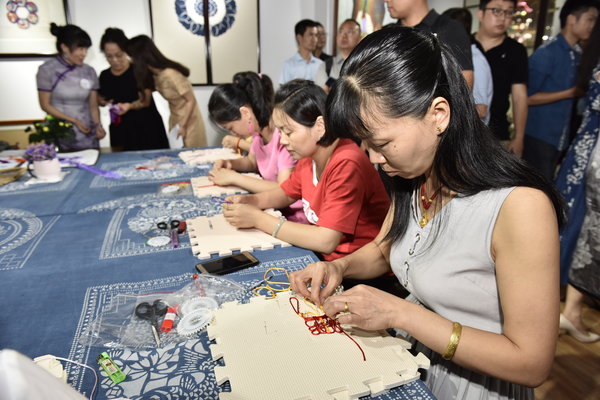 [Women of China/Zhang Jiamin]
(Source: Women of China English Monthly January 2019 issue)