Wuyinga takes photos of the lamb raised by her family.[Xinhua]
Gan Youqin lives in South China and Wuyinga lives in North China. Both use live streaming, as a direct and efficient method, to promote their interesting, daily lives in their hometowns. Given the rapid development of technology innovation in the so-called "Internet-Plus" era, more and more Chinese women are using new techniques and applications to showcase wonderful things and events in their hometowns.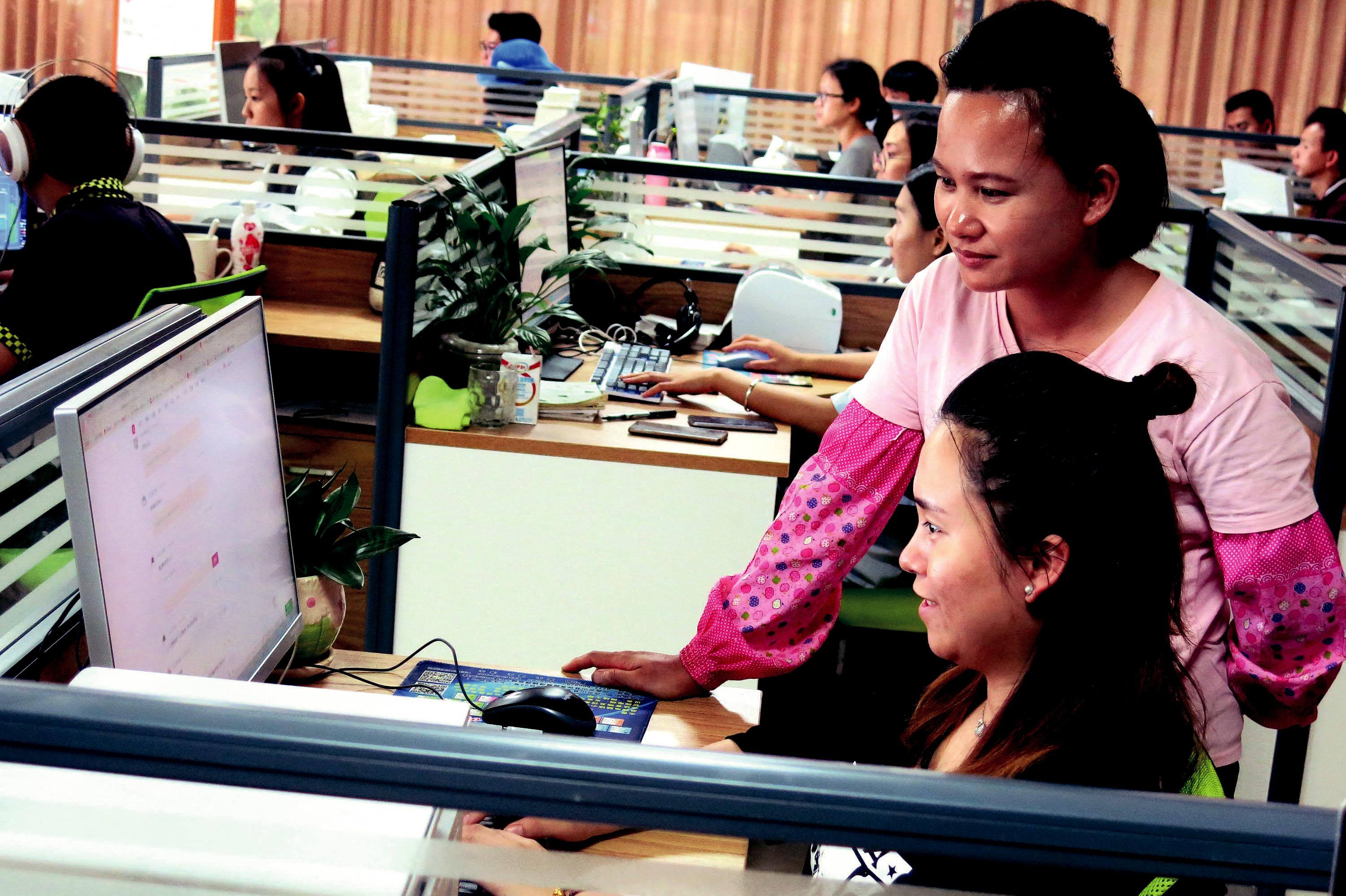 Gan Youqin gives e-commerce lessons to local women.[For Women of China/Gao Feng]
'Celebrity' Promotes Rural Vitalization Dream
Qiaofu Jiumei (literally translates to "handywoman Sister Nine") is a "celebrity" on the Internet. She is known for broadcasting her daily life in the countryside, in South China's Guangxi Zhuang Autonomous Region. "Sister Nine" says she never imagined she would be so popular, even after she began promoting her hometown through live streaming in May 2017.
"Sister Nine," whose real name is Gan Youqin, is 38. She lives in Suwutang, a remote village in Lingshan County, Guangxi. Gan lives with her husband, Lu Qisong, and their son, Xiaoliu.
In 2008, Gan relocated from Guangdong Province to her hometown, in Lingshan County, with her husband and son. They contracted land in the mountainous region of Suwutang, where Gan and her husband reclaimed the wasteland to plant fruit trees and breed fish.
In May 2017, Gan's nephew, Zhang Yangcheng, who had studied video production in college, started a business in Lingshan County. Zhang shot short, interesting videos, and he posted the videos online to promote life in his hometown. He persuaded Gan to participate in the videos by demonstrating how to cook meat tarts, a typical snack of Lingshan.
It was the first time that Gan cooked in front of a camera. She was so nervous that she could not properly explain the cooking procedures. It took six attempts to complete a five-minute video. To their surprise, the video attracted 200,000 viewers in a few days. Later, another video, of Gan catching a goose, attracted more than 800,000 viewers. Since then, Gan has been interested in filming videos and live streaming.
Now, Gan is much more familiar with the process of shooting a short video. One early morning, for example, she began a live stream by picking up a dried litchi she had made at home. "How does it taste? I will try one for all of you," Gan said as she peeled a litchi. Her mandarin was not standard, but her sweet smile was appealing to viewers.
In addition to cooking delicious foods, Gan likes to share her daily farm work. Planting crops, breeding fish, climbing a tree to pick fruit … All of those seemingly boring farm chores can be interesting topics in Gan's videos. She also likes to communicate with her followers, so she can learn their thoughts about her home-made foods.
Gan Youqin shows the fruits in her hometown through the video.[For Women of China/Gao Feng]
Given her efforts during the past two years, Gan has become the best-known e-commerce fruit seller in her hometown. "It is never easy to complete a shoot. My aunt works really hard," Zhang says, as he gives Gan thumbs up.
Since Gan has become a "celebrity" online, many villagers in her hometown have asked her to help promote their agricultural products. "I hope to do the best as I can to help my fellow villagers create wealth. I am simply a peasant, who hopes more and more young people will like to return to our hometown to develop agricultural production in Lingshan County," Gan says. Influenced by Gan, an increasing number of villagers are using live streaming and e- commerce to develop their businesses. Hundreds of people have opened we -media accounts on short- video sharing platforms . The people's government and women's federation of Lingshan County have encouraged Gan to set a good example for local women, so the women will escape poverty and embrace a prosperous and promising future.
Wuyinga shoots a video about the specialty foods in her hometown.[Xinhua]
Mongolian Woman Shares Hometown's Scenery, Culture Online
Wuyinga was born into a family of herdsmen in Alateng'aodu Gacha (a village-level, administrative region), in West Ujimqin, a banner in Xilin Gol, a league in northern China's Inner Mongolia Autonomous Region, in 1995. She graduated from Inner Mongolia University of Finance and Economics, with a bachelor's degree, in 2017. She returned to her hometown at the beginning of 2018, and she began promoting both the folk culture of the Mongolian ethnic group and the beautiful scenery of her hometown via short videos and a live-streaming platform.
"For the families of herdsmen in a pasturing area in the autonomous region, parents hope their children will pass the college-entrance exam, and then be enrolled by a university. Only in this way can their children leave the pasturing area and live a decent life in a big city. I became an intern at the Labor and Employment Service Bureau of the West Ujimqin Banner after I graduated from the university. At that time, I participated in Internet-based training given by an electronic-commerce enterprise. I realized that I would also have a bright future through the electronic -commerce industry in my hometown. So, I gave up my job, and I went back to my hometown," recalls Wuyinga.
"I grew up in the pasturing area. I felt I was free when I was living on the grasslands. I hoped to live a less stressful life in my hometown. Many people knew little about the current lives of the Mongolian people who live on the grasslands in Inner Mongolia. I hoped to introduce our daily lives and the folk culture of our ethnic group to more people. My parents supported me … In the beginning, my mother helped me shoot the videos, and my father often suggested the culture and specialties of our ethnic group that should be showed to the netizens. My father is fond of the Mongolian culture. He supports me in promoting our culture to more people," Wuyinga continues.
She has shot a series of videos composed of 270 -plus episodes. The contents of her videos include the local dishes, breathtaking natural scenery of the vast grasslands, and the Mongolian culture and festivals. She also explains how she performs her farm and household work in her daily life. She named the series of videos, Impression of the Grassland. The videos have received more than 60 million hits, combined. She also live broadcasts her life, and she communicates with viewers via a live-streaming platform. Now, she has more than 500,000 followers on the Internet. She has also attracted many foreign viewers on the foreign platform.
"The most attractive videos … are the ones about the delicious foods of our ethnic group. I once shot a video about shoubarou (boiled mutton eaten by hand). The video has already had more than one million hits. I have not only promoted our scenery and culture … I also make money by selling the local specialties online. Many people have traveled to Inner Mongolia because of my videos," Wuyinga says.
"Wuyinga shows the lives of the grass-roots herdsmen on the grasslands via we-media It is meaningful for West Ujimqin Banner to promote the folk culture through the platform of incubating an Internet celebrity (of the Mongolian ethnic group). We can do many things in this aspect in the future," says Hudagula, President of the Women's Federation of the Inner Mongolia Autonomous Region.
(Women of China English Monthly March 2019 issue)