Kids at a kindergarten in Jiangsu province play a game of "standing spring eggs" with their teacher on Spring Equinox. [Photo/Xinhua]
Being a kindergarten teacher is not an easy job for Zhang Wei, 22, who works for a private institution in Chaoyang district, Beijing.
She arrives at the kindergarten before 7:30 am and has a tight schedule every day. Besides teaching classes and organizing outdoor activities for nearly 30 children, she also prepares teaching plans, attends meetings and deals with all kinds of inquiries from parents.
Zhang has to maintain constant vigilance to ensure the safety of the lively children who are prone to injury and minor accidents, which leads to a lot of psychological pressure.
"Sometimes I wake up from a nightmare in which a boy strikes his head on the edge of a table, and I am scolded by the headmaster and the boy's parents," says Zhang.
Recent child abuse scandals in kindergartens in Beijing and Shanghai have caused widespread public outrage.
And preschool educators, especially teachers in private kindergartens, have faced harsh criticism from society.
Zhang is also feeling the tide of public opinion turn against her.
"More parents are demanding that our kindergarten install surveillance cameras. And many parents question their children about whether they have been maltreated by their teachers. I feel that sometimes we are treated as 'potential enemies'," says Zhang.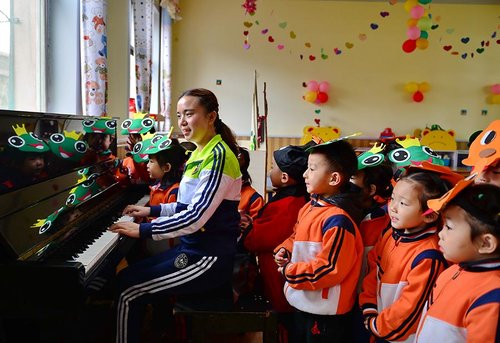 Children at a kindergarten in Hebei province sing songs accompanied by their teacher on piano on World Poetry Day. [Photo/Xinhua]
According to Zhang, this distrust by parents has left many kindergarten teachers feeling distressed. Failing to gain understanding and respect, some of Zhang's colleagues have quit their jobs and chosen different career paths. A high turnover is now common among kindergarten teachers.
Salaries for kindergarten teachers in China are generally low. In bigger cities like Beijing, kindergarten teachers are paid between 3,000 yuan ($460) and 5,000 yuan a month, even less than the wages paid to babysitters. The average monthly salary in Beijing was 9,942 yuan in 2017.
Kindergarten teachers in the public education system earn less than their primary school equivalents. And they also have fewer avenues for advancement.
According to the Ministry of Education, of the 2.5 million kindergarten teachers and headmasters working in China in 2016, 73 percent were not granted any professional title.
At a recent teacher recruitment fair, 58 kindergartens from Shanghai's Jiading district were planning to recruit 281 teachers, but they only received 70 qualified applicants.
Li Yan, the director of the Preschool Education Department of Shanghai Normal University, says that Shanghai adds nearly 3,000 preschool teacher jobs each year, while the number of preschool education university graduates in Shanghai is far from adequate.
"Preschool education graduates are in short supply and students are booked long before graduation. It is common for 200 kindergartens to compete for only 100 preschool education graduates," says Li.
The lack of kindergarten teachers is a major constraint on the development of China's preschool education sector.
According to a report from the Center for Education Policy of Southwest University, China's implementation of the second-child policy in 2016 will see the demand for preschool education resources increase from 2019 and hit a peak in 2021.
The report estimates that the shortfall of kindergarten teachers in China will reach 2 million by then.
Meanwhile, thanks to the scarcity of professional kindergarten teachers, many institutions have lowered their standards when it comes to hiring.
According to statistics released by the Ministry of Education, in 2016 the highest education level of the majority of kindergarten teachers in China was junior college, with 56.37 percent holding the qualification, while 22.4 percent of kindergarten teachers held senior high school diplomas or lesser credentials. Only 61 percent of current kindergarten teachers had preschool education qualifications.
According to Yu Yongping, the director of the China National Society of Early Childhood Education, China has seen growing investment in preschool education in recent years. As a percentage of China's education budget, preschool education spending increased from 1.67 percent in 2010 to 3.88 percent in 2015.
Yu says China's investment in preschool education is still insufficient to ensure a quality education, and estimates that preschool education spending should account for more than 6 percent. He says measures should be taken to ensure better treatment of teachers.
"The income and status of kindergarten teachers must be boosted, as that will help attract and retain qualified teachers."
Chinese parents greatly value early education for children and they have high expectations of kindergarten teachers. And they want the teachers to be versatile and have a professional understanding of children's growth.
As for Zhang, she says: "Kindergarten teachers are crucial for a child's growth. I want to gain more knowledge and professional training to become more competent."
(Source: China Daily)