Students and experts at the taxation school make lanterns to celebrate the Spring Festival. [Xinhua]
In recent years, East China's Jiangsu province has seen many local college students with creative ideas and who are eager to start up their own businesses.
The province has hence introduced multiple preferential policies for their companies' smooth running, while the young makers were sometimes at loss tackling tax-related ones.
So in order to enrich their taxation knowledge, a spare-time school made up of several local tax experts opened at the provincial capital of Nanjing on Feb. 9.
Zang Guiqin, a faculty member and officer of the Nanjing Local Tax Bureau, said the school, the first of its kind in Jiangsu, will help the young makers gain better profit from national preferential tax policies.
Students from 10 colleges, including Nanjing Tech University and the Nanjing Audit University, were among the first group to join the school. They will spend their winter holiday at the school and get various tax-based courses, lectures and targeted directions.
Zhu Yapeng, who started his business of water treatment equipment two years ago, said China's welcoming attitude to going green and eco-friendly investment has helped his business gain momentum.
Now, as a student maker and manager of seven employees, he says his eagerness to join the school was to learn more about taxation and play a leading role in legal tax payment.
A promotion board showing the QR code of the college student taxation school in Nanjing, Jiangsu province. [Xinhua]
The children photographer and veteran maker Wang Teng expressed her gratitude to have gained solid support from tax experts since starting business in 2013.
"My business has been greatly fueled by the experts' guidance, that of preferential policies for small and micro enterprises like me," Wang said.
The school has also taken the tide setting up a WeChat group, China's most popular online social app, and invited the experts and students to come and share.
Mao Wei was just one among the most enthusiasts. His innovative idea recently won him a national award and the young man was itched to start up a business.
"On one hand I will continue improving my idea, while on the other hand the WeChat group enables me to get my tax problems solved on time," Mao said.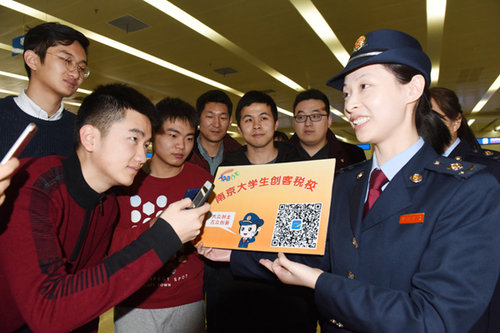 An officer from the Nanjing Local Tax Bureau briefs the student makers on tax knowledge. [Xinhua]
(Source: China Daily)