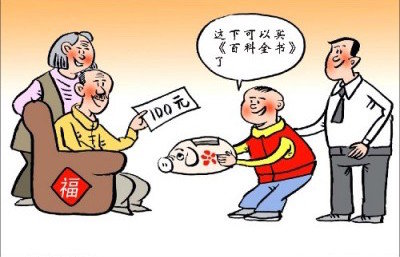 Grandparents hand out yasuiqian (gift money) to grandson. [Xinhua]
Giving gift money for New Year is more popular than ever nowadays in China as some children receive "red envelopes" of several hundred, or even 10,000 yuan (U.S.$ 1,586).
Gift Money or WeChat Red Packet?
Primary and secondary school students commonly wish to get red envelopes through the popular messaging app WeChat, but many parents and older people prefer giving cash.
In their eyes, although transfers via online payment are convenient, red envelopes with cash are more related to a sense of ceremony, love and festivity.
A mother surnamed Zhang gets fresh notes from the bank every year and puts them into red envelopes for her nephews and nieces, treating such physical red envelopes as tokens of a fresh start in the new year.
Teach Children How to Manage Gift Money
A woman called Feng gave out over 3,000 yuan (U.S.$ 476) in red envelopes this year while her 10-year-old daughter Lin Yu received 4,000 yuan (U.S.$ 634) in gift money from relatives and friends.
Feng encouraged her daughter to give her the money for safekeeping, but Lin refused and insisted keeping the final say on the red envelope money she received.
Lin's act amazed Feng, but she nevertheless helped set up a bank account to deposit her daughter's money and required a discussion session with Lin in case she wanted to spend the part of the money managed by herself.
"When you let your kids spend gift money, it means that you hand out both rights and liabilities. This creates a good opportunity to educate your children so that they will value money," said a financial adviser.
The adviser also called on parents to guide kids to spend their gift money on books, stationery and other items with practical use. Children should be reminded to take notes on income and expenses to get a clear idea on their finances.
Express Gratitude
Xiao Shuxian, a sophomore student in high school, got 6,000 yuan (U.S.$ 951) from her relatives during Spring Festival holidays. She chose to buy an infrared therapy LED for her grandpa to help with his waist pain.
"I started to manage my own gift money since the second year in middle school, so I bought my parents and grandparents presents every year on their birthdays," said Xiao.
Some educators encourage parents to help children write down the details of every red envelope and match the usage of money to the gift-giver.
Meanwhile, parents should let kids know that gift money is not to be taken for granted. It represents a kind of caring and blessing from seniors.
Children should be grateful for every good intention from loved ones.
(Source: China Women's News/ Translated and edited by Women of China)