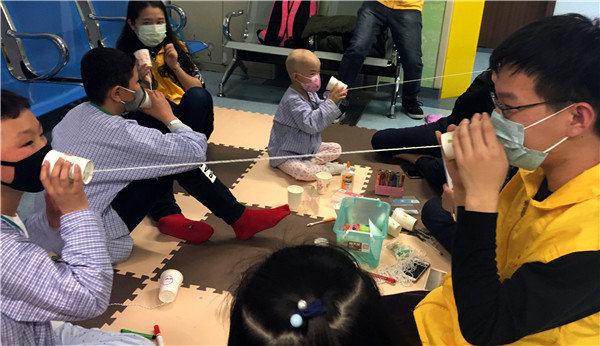 Volunteers help children to use "telephones" made from paper cups and string to explain how sound waves move. [Xinhua]
The children are ages 2 to 14, and their classroom always smells of disinfectant. They all wear masks. Few have hair, but those who do have just a few thin strands. They all have leukemia.
Every year, about 15,000 children in China are diagnosed with leukemia, a form of cancer caused by overproduction of damaged white blood cells. Most are ages 2 to 7, and their treatment usually lasts two to three years.
In addition to enduring the pain of bone marrow treatments and chemotherapy, their immune systems are impaired, leaving the children at risk of infection, so they have to say goodbye to a normal life. The disease confines them to hospital wards or home, isolating them from the outside world.
At Peking University First Hospital in downtown Beijing, 80 percent of the child patients with leukemia come from other parts of China. To help them continue their studies, the Beijing New Sunshine Charity Foundation has cooperated with the hospital to run a free school since 2012.
The classroom, a public space in a corridor, welcomes children of all ages. Generally, a full-time teacher and student volunteers give two classes every week, each lasting 90 minutes. Courses at the "corridor classroom" include Chinese, math, English, arts, health and science.
The idea was inspired by Zuo Yan from Anhui province. When the then-8-year-old was diagnosed with aplastic anemia a decade ago, the foundation sponsored his treatment in Beijing. Volunteers found a picture he had drawn of his school days that carried the caption, "I miss school." That set the idea in motion.
"I realized these children were very eager to keep learning," said Liu Zhengchen, who was diagnosed with leukemia when he was a university student. In 2001, he founded the foundation to help children with the disease.
However, Liu and his team have discovered that it can be difficult to teach the children. Some close themselves off from other people and rarely speak. Others are restless and uncooperative, and they are always crying.
Understandably, most parents are indulgent with their children. "I don't know how long his life will last. I'll try my best to make him happy," said one father.
However, instead of pandering excessively to the children, Liu insists that the teachers treat them like regular students. If children have behavioral problems in class, he guides them to rectify the situation immediately.
"After they recover, they will eventually go back to school and their communities. Then, nobody will care about the doctors in the way their parents and doctors do now," Liu said. "We want to help them fight the disease, but we also expect them to have the ability to deal with normal life."
Yu Maoyuan comes from Guizhou province in Southwest China. The 4-year-old was diagnosed with leukemia two months ago and was referred to doctors in Beijing "for better treatment".
On March 18, she attended the class for the first time. The lesson showed how to make a "telephone" with string and two paper cups. Teacher Liu Weixiong used the simple experiment to explain the movement of sound waves to the children.
At first, Yu was timid. She lowered her head and leaned on her mother. She did not say anything, but followed the teachers' instructions.
"She didn't want to go, so I took her to the class," said Yu's mother, who was encouraged by the student volunteers. "My daughter hasn't gone to kindergarten for a long time."
The illness has changed Yu. The course of chemotherapy killed off her cancer cells but weakened her. Her mother said Yu was once an active girl, who loved singing and dancing, but now she is quiet. "She seems upset, but doesn't want to tell us," she said.
Yu completed the paper cup telephone in 30 minutes. When she was asked to test it, she raised the cup and said, "Mom, I love you."
Everybody cheered. Yu laughed and repeated the phrase, but louder. Her mother, on the verge of tears, said it was the happiest day she had known since Yu first went to the hospital.
In the ward, happy times are brief, and pain can strike at any time.
Sun Peirui drew a picture of a golden lion which was pinned on the wall. However, he stopped coming to class when he became too weak as a result of undergoing a new course of chemotherapy.
The 10-year-old's parents abandoned him after they divorced, so he was taken in by a welfare home. Last year, the home sent Peirui to Beijing from his hometown in Shandong province for treatment.
He has frequent nosebleeds that can last as long as an hour and his mouth is covered in sores, which makes it difficult for him to eat.
"He misses the class very much and has asked me when he can return," said care worker Bu Xiurong, 62.
Although many college students have offered their services as teachers, they have no concept of parenting skills.
Lyu Wanxin, a volunteer sophomore student, tried to help a boy who cried at having to wear a face mask, but failed to pacify him. "The job demands more than I ever imagined," Lyu said.
The doctors and nurses are unable to ease the mental stress of their patients.
Liu Weixiong, who used to care for children with mental issues in Malaysia and Singapore, is keen for people of all ages and from all walks of life to join the program, because the classroom is about companionship as much as study.
"We welcome seniors, who can share their stories and experience. They are needed to help the children grow."
So far, the Beijing New Sunshine Charity Foundation has opened 26 ward classes in and around hospitals in 13 provinces. More than 5,000 children have attended them. However, the classes only have 17 full-time or part-time teachers, such as Liu Weixiong.
The students aren't all leukemia patients, though, as some have other forms of cancer, and kidney diseases. All require long-term treatment.
Liu Zhengchen plans to expand the faculty and provide more courses for children of different ages.
"I hope we can help more children with serious illnesses to maintain their studies and social adaptability so they can return to living normal lives as soon as possible," he said.
(Source: China Daily)
A boy shows off a piece of art he has made. [China Daily]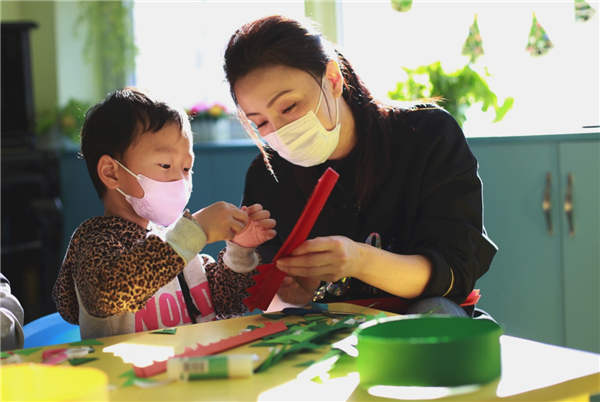 A teacher helps a patient during an art class. [China Daily]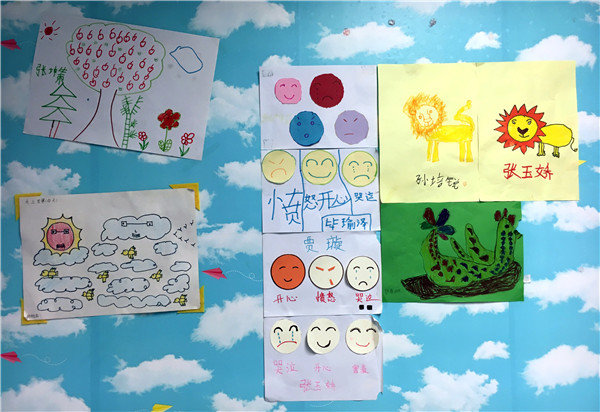 Drawings by child patients are displayed on the classroom wall. [China Daily]
Drawings by child patients are displayed on the classroom wall. [China Daily]