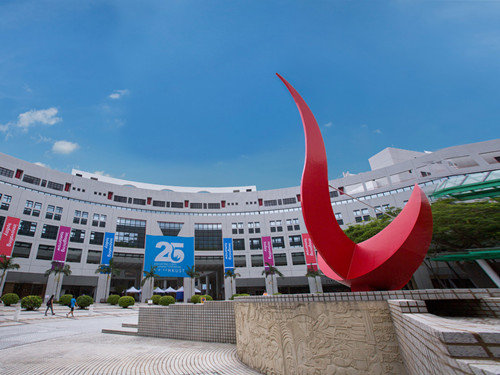 Hong Kong University of Science and Technology [www.ust.hk]
Hong Kong institution crowned world's best young university
Hong Kong University of Science and Technology has been ranked as the world's best young university for 2018 in a new Times Higher Education ranking.
It's the first time the Chinese institution has taken the number one spot, after coming in second place last year.
The list only includes universities that are 50 years old or younger.
The 27-year-old Hong Kong university knocked former Ecole Polytechnique Federale de Lausanne in Switzerland, which is 49 years old, into second place.
City University of Hong Kong remains in seventh place, and further down the list at number 18 is Hong Kong Polytechnic University.
Hong Kong University of Science and Technology (known as HKUST), founded in 1991, improved on four main areas according to the Times Higher Education weekly magazine, based in London.
Teaching environment, research environment, citation impact and international outlook were the categories noted.
Wei Shyy, acting president of HKUST, told Times Higher Education, that while the university has "limited manpower and resources", it "has a clear position on the research spectrums we want to excel in, that would keep us abreast of the needs of modern-day society".
These include artificial intelligence, data science, public policy and sustainability.
A clear vision has enabled the institution to produce a high volume of research with "major impact in their own areas – such as our researchers' discoveries in the mechanisms under Alzheimer's disease, which could bring about a cure, or our computer scientists cracking the code of HIV using big data", he added.
Shyy noted that the university has been steering its curriculum toward a multidisciplinary, highly individualized and student-driven direction over the past decade.
Times Higher Education said a notable trend in the young university rankings list is the high number of institutions focused on engineering and technology, with such universities claiming six of the top 10 places.
Universities from the United Kingdom, Australia, France and Spain are also among the list.
The rankings are based on criteria including reputation, quality of teaching, research influence, and international staff and student numbers.
Universities are excluded from the rankings if they do not teach undergraduates or if their research output amounted to fewer than 1,000 articles between 2011 and 2015 with a minimum of 150 a year.
(Source: China Daily)